30 Th Award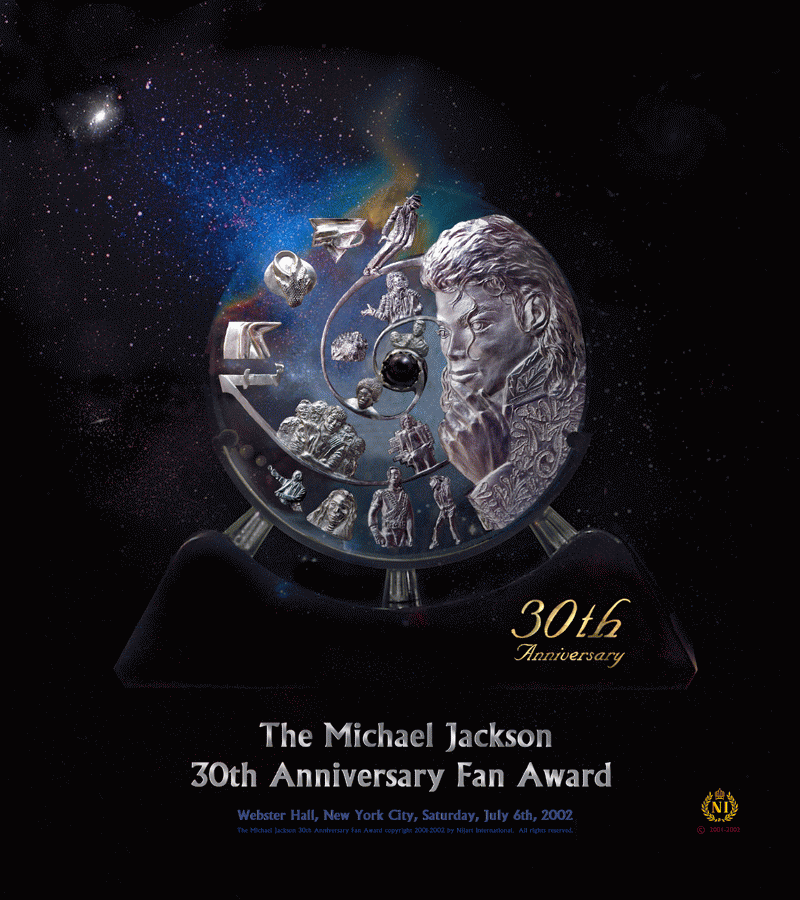 What is the MJ 30th Anniversary Award?
The MJ 30th Anniversary Award is an award for Michael from YOU - the fans - celebrating him being on stage for 30 years! Thanks to fans all over the world, who donated for this award to being created, the dream of this award became a beautiful reality!
The award is not just an award, it is also an amazing work of art! It was sculpted by the wonderful artist Nijel, BPG.

Together with the award Michael was given a scroll listing name, country, and age of each fan that contributed money towards the award. It included a detailed description of the award explaining what it's specific parts stand for. Below is the wording.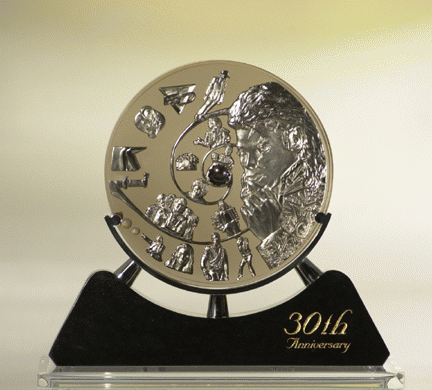 When did Michael receive his award?
Unfortunately the 'Michael Jackson 30th Anniversary Fan Award' could not be given to Michael at his 30th Anniversary Celebration concerts in New York (USA).
The appointment was made for September 10, 2001 but due to Michael's very busy schedule and the following tragic events in New York, we were unable to present the award to him.
Supported by...
The 'Michael Jackson 30th Anniversary Fan Award' was supported by MJFC, King of Pop Fanatics, The Magical Child, MJWN, MJ Newspage Fan Club, Fanship Tunrs To Friendship, ODJF, Dangerous, Jackson Trader, Together For A Better World, Scream International Project, Jackaon Nation,
and 3 Generations.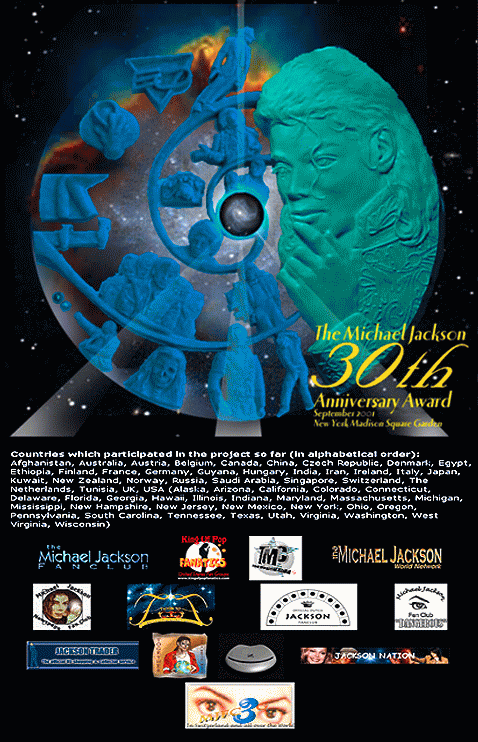 Poster handed for the participating fans-club for the promo of the award of which our fc logo below...
Michael Jackson Receives 30th Anniversary Award
It was handed over by Nijel, BPG, the artist who sculpted the award.
Instead the award was presented to Michael on July 6, 2002 in New York City (USA) during the '30 Years of Magic' Fan Celebration.


The '30 Years of Magic' Fan Celebration has been organized by MJFC and Navi with kind support by The Magical Child, King Of Pop Fanatics, MJJ Forum, The Michael Jackson World Network, Together for a better World, Michael Jackson...Magic, Heal 4 Michael, The Invincibles, and Diana d'Alo'.
Source photo:copyright by Nijart International. All rights reserved

. - texte MJFC