28.12.09
Paul Anka's Emotional Live Tribute
Paul Anka, the song writer of Michael Jackson's This Is It performs a live and very emotional tribute featuring the voice of Michael live in Tel-Aviv, Israel.
20.12.09
Invincible voted as the best album of the decade!
Last month Billboard.com asked the Internet users to vote for appointing the album of the 2000s. And to the general surprise, it is "Invincible" who arrived at the top of the votes.
According to Billboard.com, their readers have voted Michael Jackson's album Invincible of 2001 as the best album of the decade.
Invincible was a big success when it was released 8 years ago, and it continues to rock the public votes.
This "success" of "Invincible" (2001) is surprising as we know that for lack of promotion observed of this album in 2002, and even added with exasperating critics on behalf of numerous media and fans.
"Invincible" was an album with an underestimated potential at the time of release and the sales of CD these last few months did not increase a lot, the public preferring to buy highlights or "Thriller"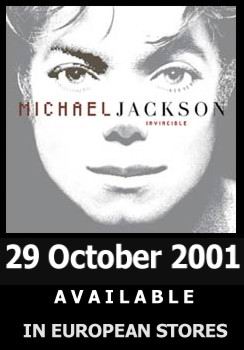 Just to remind: Invincible hold the record of the album the most sold in a record time : 3 millions of copies in less than 3 days!
It is a fact that the result of this vote is in real relation with the influence act as an earth of the customer society further to the death of Michael, because we, fans, we remember very well that 2000s were not his best. Actually everybody idolize him and forgot the critics and the plots around him as to get him down.
19.12.09
Captain EO Returns to Disneyland Resort
Twenty-three years ago, at the height of his phenomenal entertainment career, Michael Jackson joined forces with Disney to create "Captain EO," a groundbreaking 17-minute 3D film experience.
We are excited to confirm that the classic musical spectacular that thrilled Disneyland park guests from 1986 – 1997, will return for an exclusive, limited engagement at Disneyland park beginning in February 2010!
The attraction's return to Tomorrowland will provide new audiences the opportunity to experience the original 3D production for the very first time, as well as a nostalgic look back for longtime fans wanting to see "The King of Pop" in a rare performance created for the big-screen, just one more time.
Source:Disney Parks Blog
18.12.09
Moonwalk Shoes Sold At London Auction
Michael Jackson's "Moonwalking" shoes and hat sold in London for 22,800 pounds ($37,343).
The items, worn at Michael Jackson's 2001 concerts celebrating his 30th anniversary as a solo performer, were offered by Bonhams with a presale estimate of 10,000 pounds to 12,000 pounds.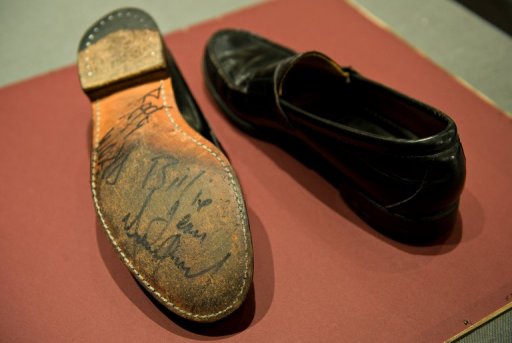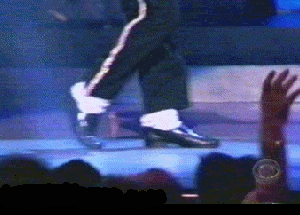 Michael Jackson had signed the black loafers in black marker on the soles, said Bonhams. He had inscribed them "Rock My World Billie Jean." The fedora also had his name in gilt lettering on its band.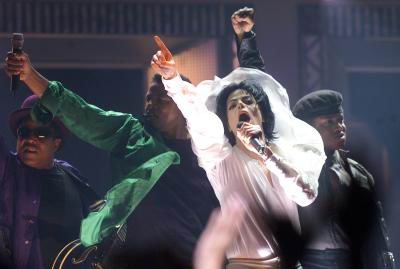 Michael Jackson can be seen wearing both in footage of his concerts at Madison Square Garden in New York, on September 7 and 10, 2001. The performance was broadcast by CBS on November 13, 2001 and attracted more than 25 million viewers.
Source: MJFC / Bloomberg
15.12.09
Which Michael Jackson version do you prefer?
Hot Toys always loves to hear from fans. Now you can let us know your preference on your favorite version of Michael Jackson for the M ICON series. Bad, Smooth Criminal, History, or Billie Jean from "Motown" legendary performance version?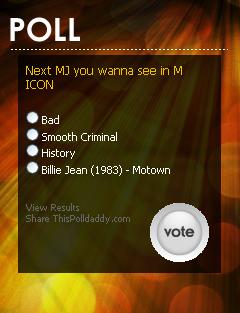 Simply vote on our website and we will consider your preference for launching the well-received versions in 2010!
Source:http://www.hottoys.com.hk/
13.12.09
Opus Delivery Update
For those fans who have ordered The Official Michael Jackson Opus, Opus Media Group has provided a delivery update.
Following the hugely successful launch of The Official Michael Jackson Opus in Los Angeles earlier this week, inclement weather conditions and customs intervention have caused us to adjust our shipping schedule slightly for the Opus. Below is the updated Opus shipping schedule:
For Opus orders placed before December 1:

Rest assured that your Opus will be delivered well before Christmas and, in the majority of cases, by December 18 2009. To help you better track your package, once your order is fulfilled, you will be sent a shipping email and tracking code from Fedex, either later today or early next week.
For Opus orders placed December 2 and after:

Opus Media Group will make every effort possible to ensure these are also delivered before Christmas, but we can only guarantee delivery before Christmas for orders placed before December 1. To help you better track your package, once your order is fulfilled, you will also be sent a shipping email and tracking code from Fedex.
11.12.09
$240 million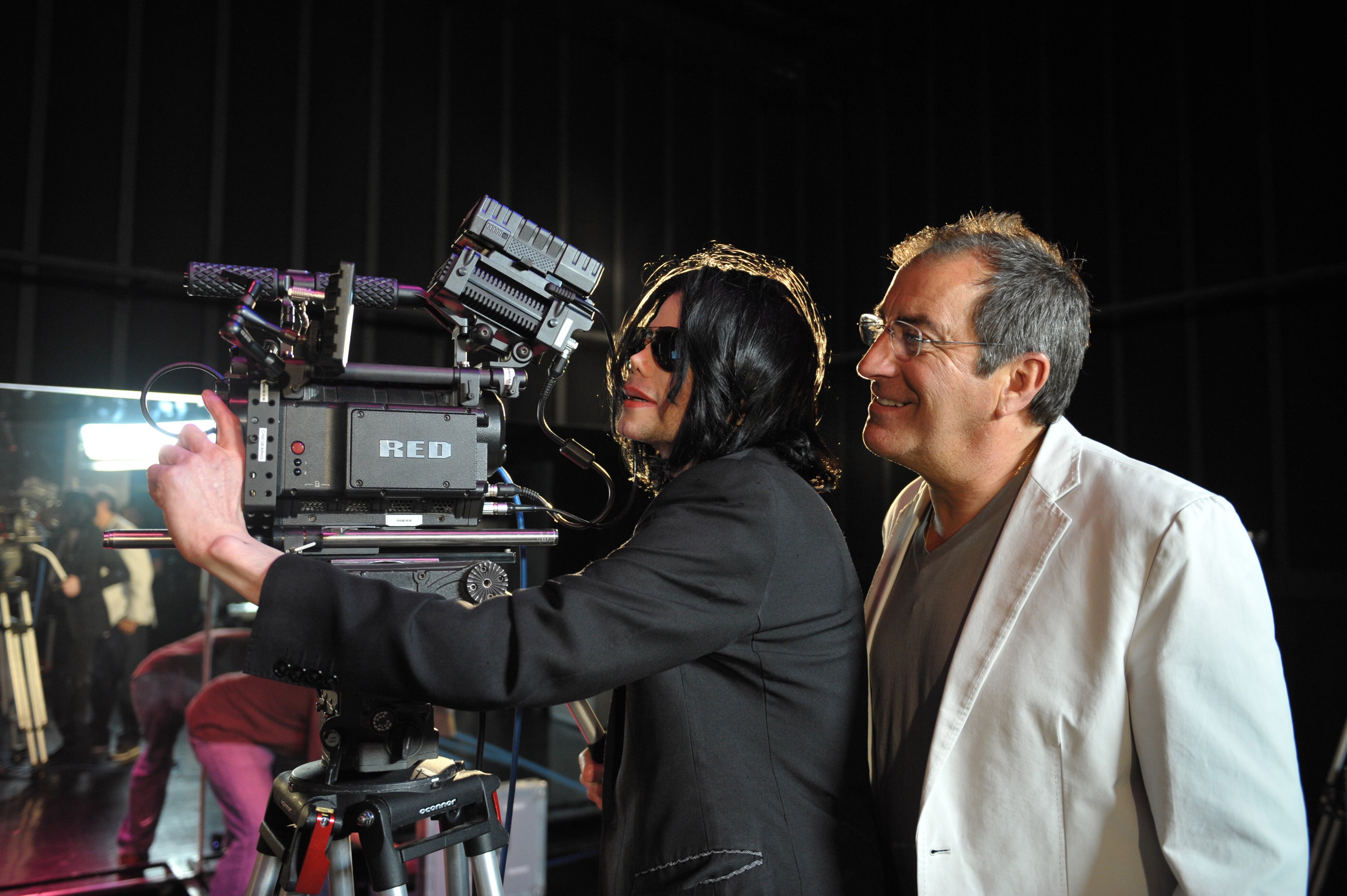 'This Is It' the movie, has now earned a staggering $240 million worldwide, making it the biggest concert/documentary film ever!
4.12.09
MJ visits has hanging Macaulay " Mom I missed the plane "
2.12.09
Pictures of the DVD and the Blu-Ray
Discover the pictures of the DVD and the Blu-Ray "This is it" who will be marketed next year.
Blu-Ray will contain approximately 165 minutes of bonus.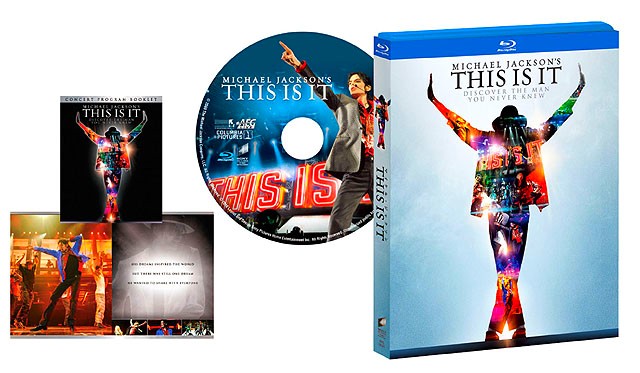 The DVD "THIS IS IT" will be sold in several versions:
- Collector Edition (Publishing) (2 Discs) - Bonus: 80 minutes.
- Deluxe Collector Edition (Publishing) (2 Discs) - Bonus: approximately 130 minutes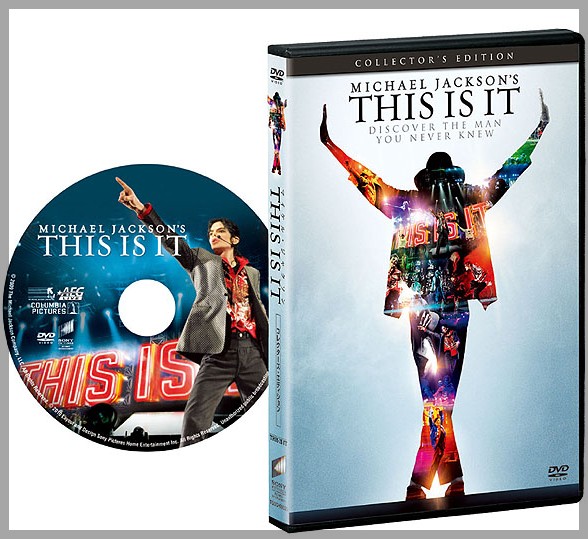 - "DVD Memorial DVD BOX" (cf. image below, the box will be realized in limited edition)
- Bonus: approximately 130 minutes
Other bonuses:
A special T-shirt (Size M)
An original booklet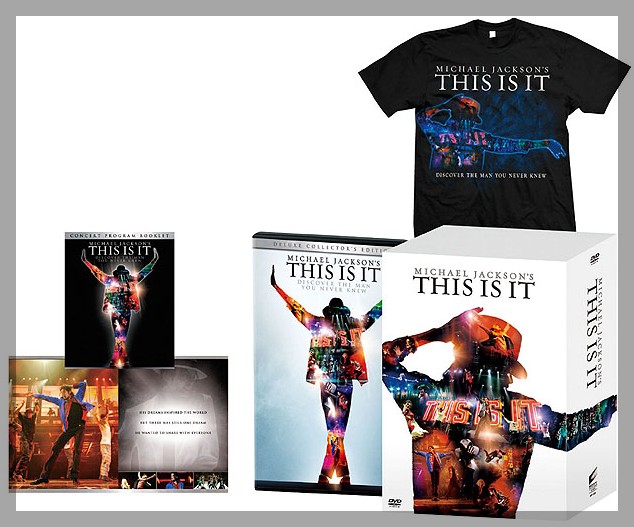 Sources : The Michael Jackson Company
30.11.09
Michael Jackson was planning to start a university course in fine art after his daughter Paris begged him to follow his dream of studying.
Michael wanted to head back to the classroom to become a qualified art historian.
But it was 11-year-old Paris who gave her famous dad the push he needed to study.
Last May he got his assistants to contact both Christie's Education and Sotheby's Institute of Art, both in New York, with a view to starting a year-long course in September next year.
Last night a source close to the star, who died in June, aged 50, said: "It was all because of Paris that Michael decided to follow his dream.
"She gave him the confidence to finally contact the colleges that are attached to the famous auction houses."
The course Jackson had pencilled in was called "Certificate in Modern Art, Connoisseurship and the History of the Art Market".

The source added: "Michael regretted the fact that he never got the chance to go to university because his music career started so early.
"But he made up for it by reading widely. He absolutely devoured books on art and crafts and was an avid collector. He had an insatiable thirst for knowledge.
n"People don't realise but Michael was surrounded by a whole gang of academic friends. Many of his closest associates had nothing to do with showbiz.
"He was also inspired by a motivation to prove his father wrong, as Joe Jackson constantly accused Michael of being stupid. Most of all, Michael wanted to be an inspiration to his own kids."
Sources : Daily Star
27.11.09
Nate Giorgio Opus Book
Artist Nate Giorgio recalls the last time he saw Michael Jackson, just days before the singer's death.
The pop icon wanted Giorgio to create dazzling murals of his children as well as artwork for his "This Is It" concerts, and Giorgio got out his pen during their talks.
"I was doing little drawings on the spot of him, and he loved it," says Giorgio of his black-and-white sketches. "He was great, he was really excited."
Those never-before seen sketches, as well as other rare artwork and photos of Jackson, are now part of a lavish new leather-bound book, "The Official Michael Jackson OPUS," out Dec. 7.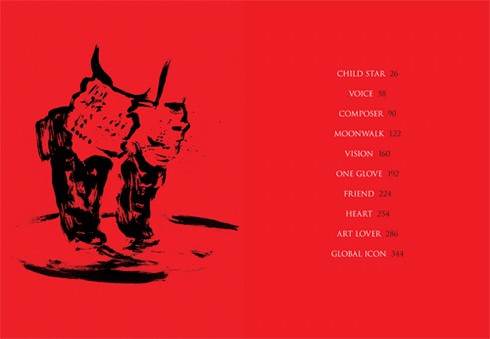 The book, the only publication officially sanctioned by Jackson's estate, not only contains unseen images of perhaps the world's most famous face, it also has essays about the superstar written by friends and those who worked with Jackson over the years, from Motown founder Berry Gordy and Paula Abdul to John Landis and David Blaine.
While many Jackson books have been printed since Jackson's June 25 death at age 50, Jeff Wald, president of OPUS Media Group, which published the book, says his stands out.
He and his team decided "this would not be a red carpet sound bite kind of a book," he says. "It wasn't about, 'Yeah, he's a great singer, a great dancer.' It was much more in depth about the human being that he was."
To that end, OPUS executive vice president Jordan Sommers elicited essays that weren't quite tributes, but personal reflections. Some talk about Jackson the jokester; others recall his artistic genius; still others reflect on his friendship.
"There's a lot of information from the book that comes directly from sources that will clear up a lot of misconceptions," he says. "There are stories told directly from the likes of Smokey Robinson (and others) that they've never told before."
The photos, some of which were provided by friends like Gordy, range from Jackson's childhood to his many transformations as an adult.
"Our mandate ... was to have most of the photos either not be seen ever before or never ever seen in the format in which they had been (shown)," says Wald.
There are also drawings of Jackson done by Giorgio and other artists. Giorgio says Jackson was a voracious art collector and was very specific about the kind of imagery he wanted of himself, jotting down instructions, some of which are included in the book.
While Wald talked about the book (which costs $249) benefiting the Jackson children and his mother, the Jackson family did not play any role in the creation of the 400-page, 26-pound book.
"We just decided this would be something apart from the family," Wald said. "It was about Michael... We really stayed narrowly to that."
Jackson's continuing appeal is highlighted by the success of the film "This Is It," which has become the all-time top-grossing music documentary, and the honors that still arrive, such as Jackson posthumously winning four American Music Awards on Sunday night.
Wald first met Jackson as a teen and stayed in touch with him throughout the years. Jackson reached out to him earlier this year because he was a fan of the OPUS books and wanted two done on him: one based on the "This is It" concerts and another chronicling his career.
Wald said Jackson, who at times had battled an addiction to prescription drugs, was lucid and energetic when they met for two hours at his home.
"He seemed clear eyed, not drugged... he was in great spirits," he says. "He was just happier than hell, he had a sense of humor about him... it was nothing like you hear on all those breathless reports on television."
Giorgio, who illustrated the book's cover sketch, recalls Jackson being anxious for him to start work on huge murals he planned to put in his Las Vegas residence: He wanted a painting of himself and his children walking through a forest.
"He kept telling me, come on, we gotta start on this - the kids are growing, and they are changing," he says.
While Giorgio drew elaborate, fantasy images of Jackson for the legend, he says the quick sketches he took of Jackson just before he died reveal the most: "They really capture more of the essence of him."
Source:The Associated Press.
24.11.09
Michael Jackson mosaic breaks record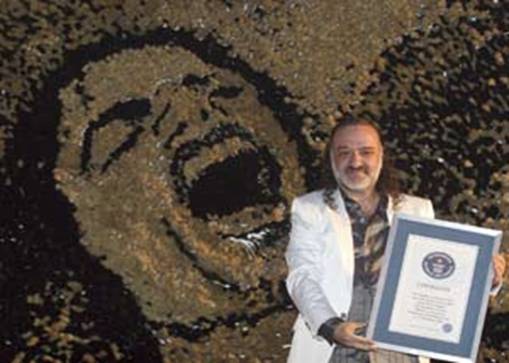 A mosaic of the late Michael Jackson composed of 230,000 paintbrushes by Albanian artist Saimir Strati entered the Guinness World Records as the world's largest paintbrush mosaic on Friday.
Almost as big the side of the truck on which it stood, the mosaic of brown and black paintbrushes showed Michael Jackson singing with his head slightly thrown backwards and his arms outstretched.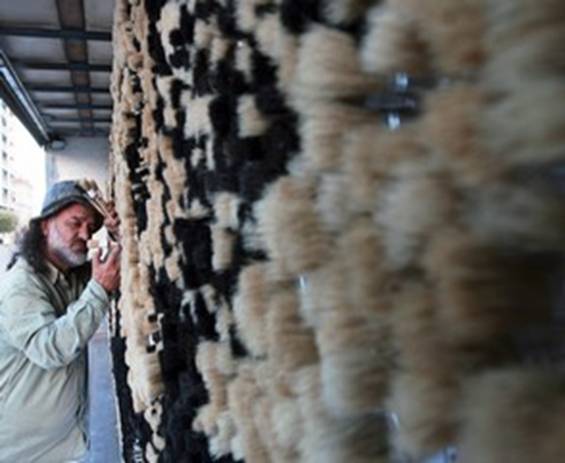 "I have measured the mosaic and this is a new Guinness World Record," Guinness adjudicator Andrea Banfi told the crowd, who cheered loudly in Tirana's main Skanderbeg square.
"Saimir is an old member of the Guinness World Record family and we are glad to have him back," says Banfi.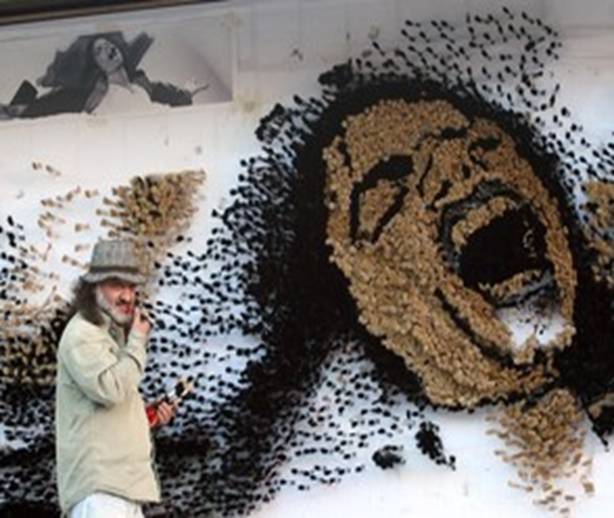 Strati worked for 16 hours each day for a month listening to Jackson's music at high volume and showed his work around Albanian towns before taking it to the center of Tirana.
"All the time I was being guided by his music and made a silent deal with him to help me find the secrets of his great singing," he says.
Source: Reuters
22.11.09
Michael's Movie Ambitions
As most Michael Jackson fans know, MJ always wanted to make movies. Now sadly, in an ironic twist of fate, 'This is It' has become the hit movie that he never managed to make while he was alive.
Jackson 's most prominent big-screen role was as the Scarecrow in 1978's 'The Wiz,' but he continued to explore his love of film with projects like the 14-minute "Thriller" video, 'Captain EO,' and 'Ghosts.' There were also brief cameos in sci-fi films 'Men in Black II' and 'Miss Castaway.' In an interview for EW's recent cover story, 'This Is It' director, Kenny Ortega revealed that Jackson continued to harbor cinematic ambitions right up to the end of his life.
He told me he wanted to create a partnership with me to do films. We were talking about doing Legs Diamond. And we were talking about doing a full-length, 3-D feature of 'Thriller.' "
Co-chairman of Sony Pictures, Amy Pascal, says that over the years she and Jackson had discussed a number of film projects that never came to be. The biggest of these unmade projects was a musical fantasy film called 'Midknight' that Jackson wanted to make with Batman production designer Anton Furst. Unfortunately that project fell apart when Furst committed suicide in 1991. Pascal says,
"A million years ago, when I worked with [then-Columbia Pictures president] Dawn Steel, she and I tried to convince Michael to do a remake of 'The Red Shoes.'
The Red Shoes is a classic 1948 British musical drama, based on a Hans Christian Andersen fairy tale, about a ballet dancer whose compulsion to dance ultimately destroys any hope she once had of a normal life, leading to the dancer's tragic death. The project never happened. Pascal says,
"Michael's life became The Red Shoes, I'm afraid."
20.11.09
Opus
The official book coming out December 7 reveals new pictures of photo shoot for the single "Smile". It is simply magnificent.
A store of the same firm as the book exists in London.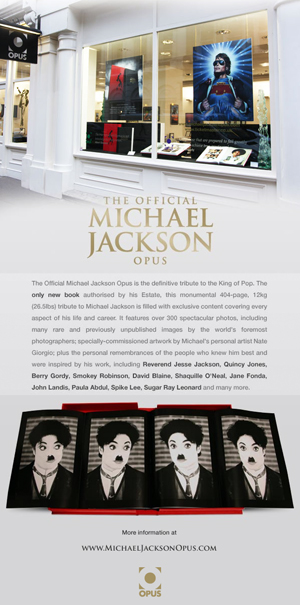 16.11.09
Moonwalker Game May Come Back To Europe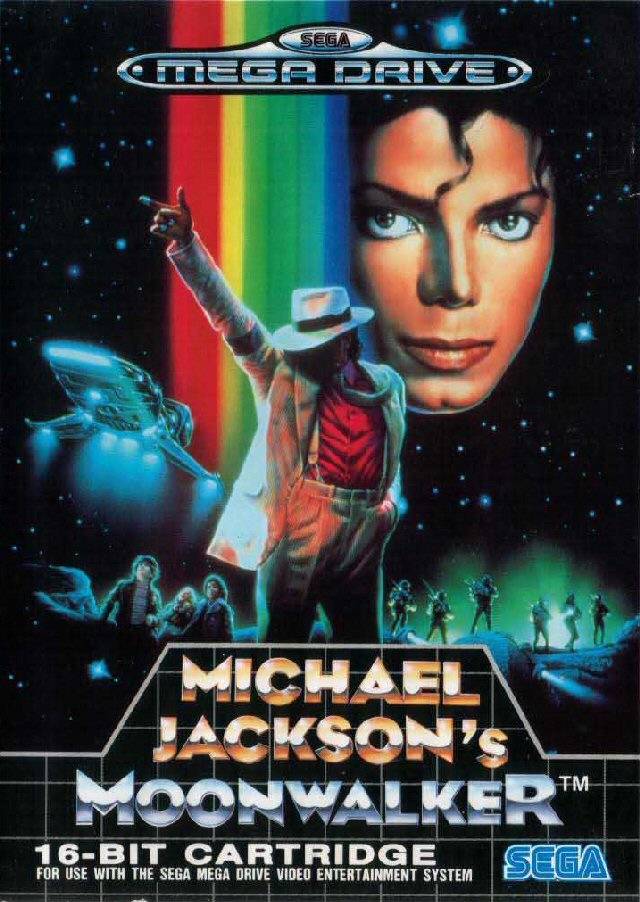 A recent PEGI (Pan European Game Information) listing has revealed that Michael Jackson's Moonwalker might be released for the Virtual Console in Europe. This is a significant listing, primarily due to the fact that there aren't many licensed titles on Virtual Console.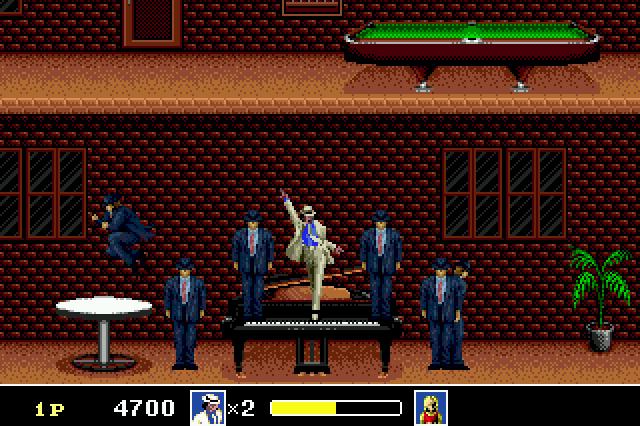 The listing states that Sega of Europe will publish the title, although it is unknown which version will be released since there was a Sega Genesis, Sega Master System, and arcade version of the game. It is also unknown if the title will be released in other territories, since the game was originally released in North America, the PAL territories, and Japan.
Source: MJFC / Nintendo World
15.11.09
Pre-order the DVD and Blue Ray!
In the shop for pre-order the 3 versions of the film "This is it"
13.11.09
This Is It Tops $200 Million Worldwide
Movie "This Is It" has taken more than $200 million at box offices worldwide in the first two weeks of release, the studio behind the movie said on Thursday.
Sony Pictures Entertainment said the movie had grossed $61 million in North America and more than $140 million internationally. Japan ($27.2 million) and the UK ($14.3 million) were particularly strong markets.
The movie is now the 22nd biggest grossing movie worldwide of 2009, according to industry tracker boxofficemojo.com
Sony paid concert promoters AEG and Jackson's estate about $60 million for the right to make and distribute the movie.
Source: AFP
12.11.09
Andy Warhol Portrait Sells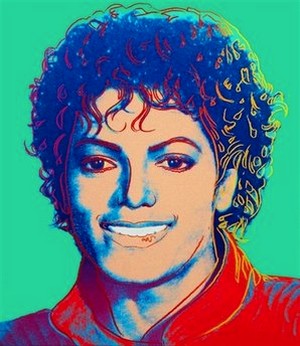 A "Thriller"-era silk-screened portrait of Michael Jackson created by Andy Warhol has sold for $812,500 to an anonymous collector. The artwork sold at Christie's in New York City Tuesday evening.
Christie's estimated that the portrait would sell for $500,000 to $700,000. The 1984 portrait depicts a smiling Jackson in a jacket with squiggles of red and yellow in his hair. The auction house says the seller is an anonymous private collector based in New York who bought the image from the Andy Warhol Foundation in the 1990s. It did not say who bought the artwork.
The image was one of 47 lots auctioned Tuesday, including two other Warhol paintings.
Source: Associated Press
11.11.09
Karen Faye On Her 3 Decades With MJ
Karen Faye, long time hair and make-up artist to Michael Jackson, recently gave an interview with Aristan Magazine, in which she discussed her nearly 30 year relationship with the late King of Pop.

How did you meet Michael Jackson?
I began working with Dick Zimmerman, who was a very popular celebrity photographer back then. He booked me on a shoot for an album cover with Michael Jackson. The album was Thriller. Michael and I got along really great! Michael requested me for his next photo session with ET … and his next assignment, Beat It… and everything after that … the rest is history. Michael was embarking on The Victory Tour with his brothers. Michael required my complete attention, so I brought in Carme to help me. I met Carme earlier while working at the Barbizon School where we both had been teaching. We had become good friends. This began Carme's 10-year working relationship with Michael's brothers.
Michael could trust you.
Yes, he could. The media started hounding me after the Thriller album was released. I remember being called by a tabloid reporter offering me $75,000 for any information about Michael or the video shoot we were working on for the song "Thriller." I said no. They said, "how much then?" It just wasn't something that tempted me. The offers got more outrageous from there. They finally all got to realize I was a dead end for information and it tapered off a bit. But during major controversies they still were very persistent.
Was Michael spiritual?
Anyone who is creative is naturally connected to the universe. Michael always attributed his talent to God. He said God was channeling through him, and it had nothing to do with him.
I know how much Michael loved all children of the world.
That's right but what I find more interesting is how children are drawn to him, like a magnet. I think they recognized a kindred spirit. They recognized his unconditional love and related to him because he was a child at heart. Children look at the world through fresh, unjaded eyes. Michael had the ability to see the wonderment of the world like they did.
What was his favorite food?
Michael wasn't a big eater. He thought it was a waste of time, like a child having to sit at the dinner table while hearing all the other kids outside calling him to come out to play. He chooses organic and healthy food but sure can enjoy a bucket of KFC (Kentucky Fried Chicken). Akasha was his chef many years ago, and now has a restaurant in Culver City, California. She would find the perfect compromise. She would make him organic cheese enchiladas that he covered with hot sauce. He would want to eat them every day. She also made a killer banana cream pie that was a favorite. I will never forget these wonderful cookies she made that he nicknamed "ookies."
Michael is known in the Guinness Book of World Records as holding the record for celebrities giving to charities. Can you share about that?
It is a little difficult to share too much about that because it is not something Michael would talk about. He would just do it. He just did. When we were touring the world, while everyone was going out to restaurants and clubs, Michael's joy came from visiting orphanages and hospitals. I used to go with him. He would have his team contact them before his visit and find out what they needed. He would fill up his vehicles with toys and treats and we would go. He arranged for playgrounds to be built, bought busses and provided vehicles, paid for expensive operations for children.
Can you share with us when and where was the photo taken?
The photo was taken, high on a hill at Neverland by Jonathan Exley before the trial began.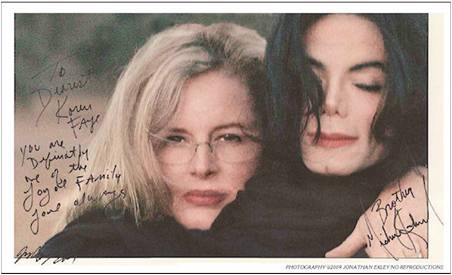 What were Michael's favorite make-up products?
Easy, hands down, Lancôme Dual Finish Powder! Lancôme would provide it by the case for me. Shout out to Lancome … thanks for so many years of your generosity. Michael would have it and leave it everywhere. He had it in every pocket. Everyone around him knew if they found a compact, to return it to me, so I could recycle it back to him.
I know Michael's nickname for you was "Turkle." How did you get that name?
I'll never tell.
Source: MJFC / Artisan Magazine
9.11.09
Video Preview of the Official MJ Opus
Kranken Opus, publishers of the Official Michael Jackson Opus have recently posted a video preview of the forthcoming publication.
The Michael Jackson Opus is the only new publication approved and endorsed by Michael Jackson himself, and by his estate. The book will be a definitive photographic tribute with exclusive and unseen images, and words and essays by those who knew and worked with Michael Jackson.
Moore 'infos Here
Source: Opus
8.11.09
3D Eye Solutions, Inc To Provide 3D Conversion
The company 3D Eye Solutions, Inc. has been retained to provide a 3D conversion for "This Is It." Along with practice footage from the ill-fated London concerts, "This Is It" also gave fans a tantalizing glimpse of creative film and visual effects that were produced by media creator and founder of Stimulated, Inc, Robb Wagner.
Stimulated, Inc was chosen by Kenny Ortega, AEG and Michael to provide elements to be included on the tour. Wagner was appointed to be Producer of The Dome Project, along with Michael and Kenny Ortega as Executive Producers.
Wagner worked with veteran Visual Effects Supervisor Bruce Jones to direct. The concert called for 25 songs with 16 songs having a film or video element added. "Thriller," "Earth Song" and "Smooth Criminal" were each going to feature highly developed short films to be presented along with the live action, the films to be produced in stereographic 3D, a groundbreaking effort.
The video was to be presented on a 90 foot by 30 foot LED screen stationed directly behind the concert stage. The screen was to be the first of its kind, giving the audiences a 3D experience.
Wagner explained the concept for how the films were supposed to work. "MJ's plan for the shows was that the audience would be cued to put on 3D glasses. Then, at a certain point in each film, live action would leave the screen and would continue as a theatrical concert performance. MJ called that the '4th dimension."
3D Eye Solutions was commissioned by Stimulated, Inc., "For the dream sequence in Earth Song. Michael wanted to show the world as imagined by a little girl. He envisioned beautiful images dancing in her head from exotic locations throughout the globe. When we began production we immediately knew that it was not going to be practical for our budget or our schedule so we enlisted the services of 3D Eye Solutions to convert the stock footage from 2D to 3D. They were able to turn over the work very quickly and adapt to the creative changes that came down the pipe. Without them, we would have never made our delivery for the concert or the film," stated 3D Producer, Todd Cogan.
"This film is a tribute to an artist who created excitement every moment he was on stage. We are thrilled and honored to have worked with such a creative group and to have our work displayed to the millions of Michael Jackson fans worldwide," stated Mike Gibilisco, CEO of 3D Eye Solutions.
Source: MJFC / audioviseoproducer.digitalmedianet.com
6.11.09
MJ's Dream Of Peter Pan Theme Park
Blog : http://disneyandmore.blogspot.com/2009/11/d-exclusive-michael-jacksons-peter-pans.html
It has long been rumored that Michael Jackson dreamed of a theme park based on the J.M. Barrie story of "Peter Pan." A theme park complete with looping roller coasters, 3-D flight simulators, water rides, stunt shows, dinner theater, nighttime spectaculars and hotels.
Well now, on the Disney and More blog, you can read the full story of how the dream almost became a reality, including blueprints and concept art from the envisioned project.
In 1997, the King of Pop partnered with Burbank-based Landmark Entertainment Group — the creators of the Spider-Man ride at Islands of Adventure and the Jurassic Park water ride at Universal Studios Orlando — to draft a plan for Peter Pan's Neverland theme park.
The concept for Peter Pan's Neverland envisioned a grand entrance into Victorian London with replicas of Kensington Gardens, Big Ben, Tower Bridge and the Houses of Parliament. Once past the grand entrance, guests would then go to Neverland Island, and Landmark designers had designed two different ways to go there, both of which were attractions.
Guests could either go by boat or they could "fly!" During the short boat ride the boat would have go through mysterious caves before arriving at Neverland Island with its lush vegetation and waterfalls. In the flying option, guests would have sat on a platform which would have turned down on a 50 degrees angle and a movie would have been projected on a huge Omnimax dome located under the platform, giving to the guests the illusion of flying over London and Neverland - led by Tinkerbell, of course!
On Neverland Island, there would have been six themed lands:
* Lost Boys Woods
* Mermaid Lagoon
* Indian Village
* Pixie Kingdom
* Pirate's Village
* Future Zone
No price tag or location was ever announced for the ambitious project, and the partnership dissolved after a few years.
To read the full story and to see the amazing artwork of the project, please visit the Disney and More Blog
Source: latimes.com / http://disneyandmore.blogspot.com/2009/11/d-exclusive-michael-jacksons-peter-pans.html
5.11.09
Michael Programmes
On Friday November 6th, Sky 1 in the UK, are showing a range of Michael related programmes including the 'Michael Jackson - Private Home Movies' which they will be showing in four parts.
7.00 p.m. Michael Jackson - Private Home Movies – Part 1
7.30 p.m. Michael Jackson - Private Home Movies – Part 2
8.00 p.m. Michael Jackson - Private Home Movies – Part 3
8.30 p.m. Michael Jackson - Private Home Movies – Part 4
9.00 p.m. Michael Jackson - The Search For His Spirit
10.00 p.m. Michael Jackson – The Live Séance With Derek Acorah
5.11.09
Black And White
The ultimate issue of the mythical magazine about Michael Jackson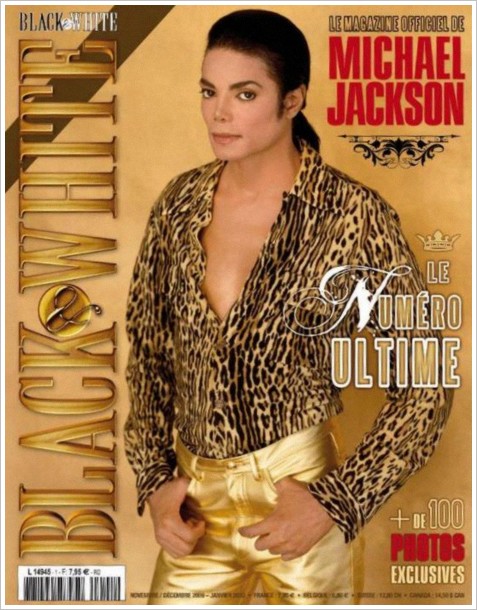 On 7 November, Captain Eo Productions announce a final number of legendary Black & White magazine has been delighting fans until early 2001.

Featuring 84 pages and over an hundred photographs, this special issue 100% Michael Jackson
4.11.09
$101 million
As the title "This is it" indicates, he wanted to change something: "only get 4 or 5 years before the world disappears". That probably disturbed a few people ...
Michael Jackson's This Is It" has pulled in $101 million worldwide in its first five days, and distributor Sony says it is extending the farewell performance film beyond its planned two-week run.
THIS IS IT sets 5th in the ranking of films starting the strongest in the world:
Japan : $ 10.4 million
Germany : $ 6.3 million
France : $ 5.8 million
Australia : $ 3.6 million
China : 3.2 million $
Italy : $ 2.9 million
Spain : 2.6 million $
3.11.09
The Rock and Roll Hall of Fame honors music's 25th
Stevie Wonder Pays Tribute To Michael
The night's emotional highlight came courtesy of Wonder, who sang Michael Jackson's upbeat "The Way You Make Me Feel," in tribute to the fallen King of Pop. During one part in the chorus, Wonder stopped singing, bent his head and started to sob, but he quickly gathered his composure to finish the song, ending it joyously by leading the crowd with chants of "We Love Michael Jackson" and "Long Live Michael Jackson."
Soul crooner John Legend shared the stage with Wonder during the song. He said while backstage that Wonder's emotion for Jackson "is very heartfelt, and you can see it, you can feel it."
"I was just honored to be with him to celebrate Michael's legacy," Legend said.
Source:MJFC
2.11.09
Ortega Says Expect 2-3 Hours Additional Footage On DVD
Kenny Ortega, director of 'Michael Jackson's This Is It' recently spoke to Collider.com about the upcoming DVD release of the film. Ortega says that fans can expect to see at least 2-3 hours of additional footage on the 'This Is It' DVD when it is released in early January.
MJ's Fashion Comeback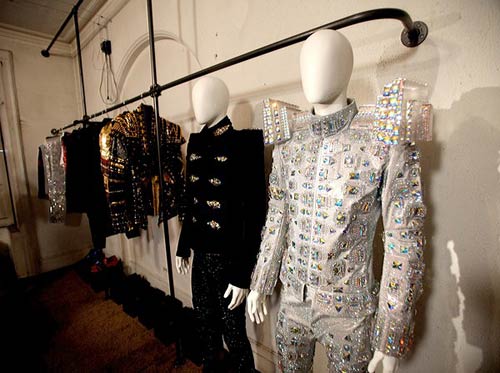 In "Michael Jackson's This Is It," moviegoers will not see the elaborate costumes created for the tour that never was, bedazzled with 4 million Swarovski crystals and lighted up using LED technology. Those are on display at the O2 Arena in London, and will go on to New York and Tokyo.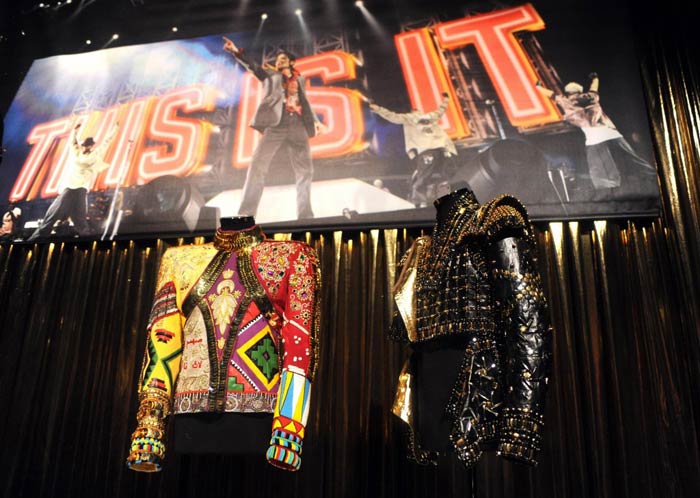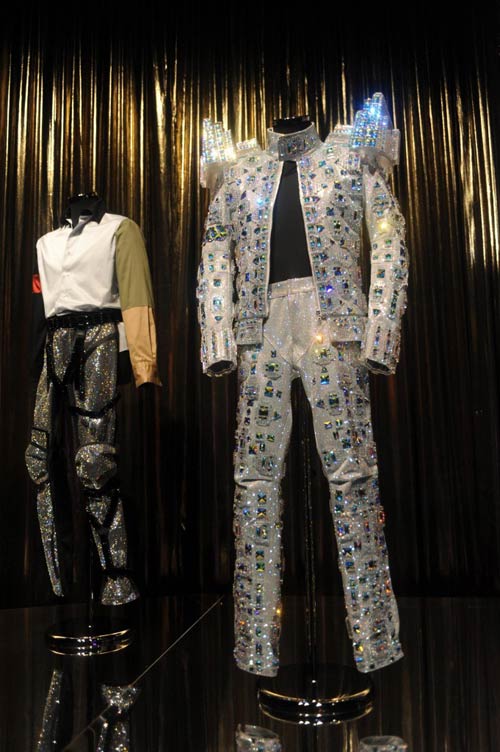 But what they will see is an amazing array of designer outfits Michael Jackson wore to rehearsals.
In the film, Michael Jackson looks fabulous much of the time, save for a few unfortunate print shirts and patched sweat pants that could well be the influence of L.A. fashion impresario Christian Audigier, who had approached Michael Jackson .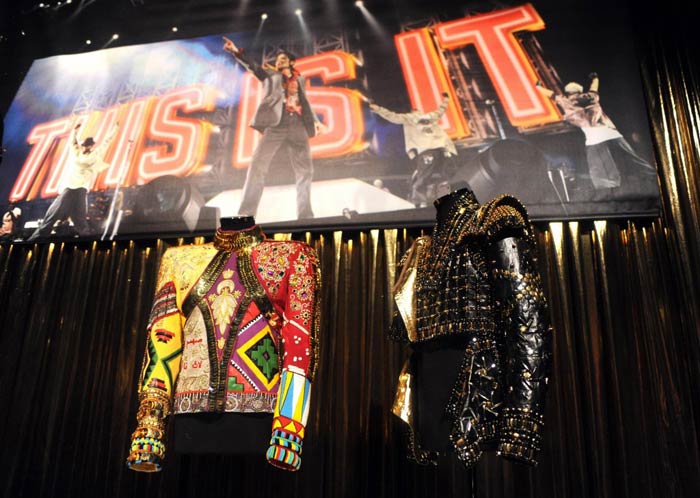 Jackson was to have 10 costumes by Zaldy and six by Bush and Tompkins. The tour costumes will be featured in a "This Is It" DVD.
Bush's "Smooth Criminal" costume is a white, 1940s-inspired pinstripe suit. Zaldy's updated "Thriller" jacket is hand-embroidered to look as though it has blood dripping from the shoulders.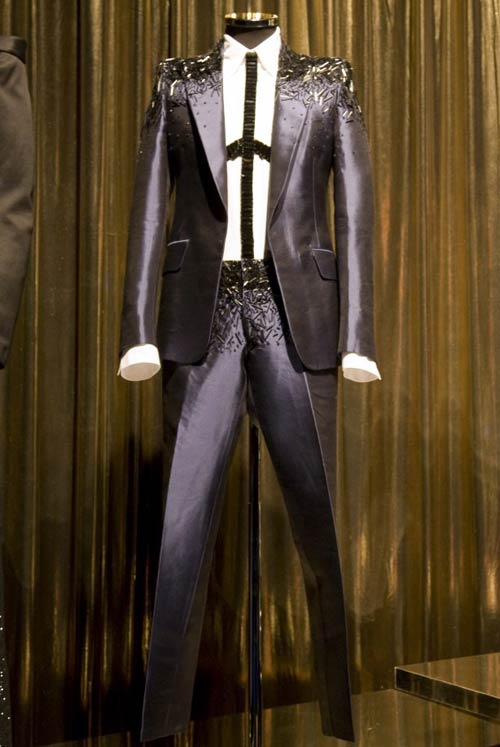 "That was probably the hardest piece to do because it was so iconic," Zaldy said.
But his "Billie Jean" costume was the pièce de résistance, with a jacket, tuxedo pants, ankle socks and a single glove that would light up using remote control, thanks to new Lumalive LED textile technology.
Zaldy remembers, "In the fitting, when Michael tried it on, his mouth literally dropped and he said, 'It's everything I always wanted.' "
Source: MJFC / LA Times
1.11.09
This Is It: more than tow weeks in theaters?



"Advance sales have been very good," Sony distribution topper Rory Bruer said. "This is something unique. It's an event, and we're very excited about the potential but really can't quantify it yet."

"This Is It" opens amid reams of media attention and broad expectations of a big opening. Advance ticketing has been strong for the picture, which Sony says will play in theaters for two weeks only.

Online ticket sales began about a month ago, with hundreds of performances quickly selling out, including all the 9 p.m. shows Tuesday at the L.A. Live venue.

Sony executives likely will reassess the two-week limited release strategy if it performs well at the box office.
31.10.09
Happy Halloween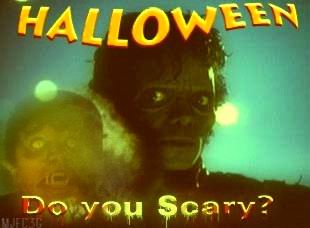 Source:MJFC3G
28.10.09
This Is It" premiered Los Angeles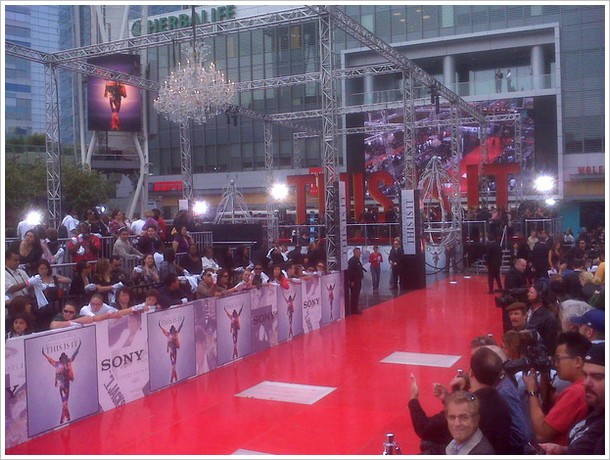 This Is It" premiered Los Angeles to high praise from fans who applauded at each number as though they were at a concert and marveled as the singer stepped nimbly through his moonwalk and other signature moves.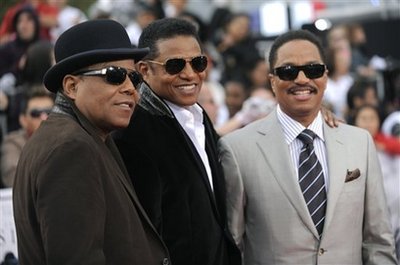 Following premieres on Tuesday in 17 cities around the globe, "Michael Jackson's This Is It" began screening for the public after midnight. The documentary about the King of Pop's prep work for his planned concert series has broken international ticket-sales records and online ticket outlets have reported thousand of sellouts.
Michael Jackson's 'This Is It' is a hit!
27.10.09
A New Interview With Kenny Ortega
By now, most anybody who has read of the upcoming Michael Jackson movie, "This Is It" which debuts globally October 28, knows it was directed by Jackson's friend and dance choreographer Kenny Ortega.
Ortega had been hired to stage the King of Pop's London concerts, also called "This Is It," which would have begun last July had the "Thriller" singer remained alive. Jackson died, of course, on June 25 from a lethal combination of drugs.
After Jackson's death, Ortega was hired to edit together 80 hours of video taken on stage and behind the scenes of the "This Is It" rehearsals for the 111-minute movie. Many of the recent interviews with Ortega have been about Jackson's sudden death and the events around it, so Reuters took a minute to talk about the movie and what fans will actually see.
Q: How about for a change of pace, we focus on the movie:
A: (laughs). Thank you.
Q: It has been called part documentary, part concert film, but what does that mean? What's the "It" in "This Is It"
A: It's such a unique idea. I call it a "musical mosaic." We took the remnants of what we had and constructed a musical story that I think will help fans appreciate what Michael was putting into "This Is It", what his dreams for it were, what his goals were for it."
Q: Does it have a plot or themes? What happens onscreen?
A: It doesn't have a plot line. There is not a narrative, however there is definitely a story. It is a story of a master of his craft, a great genius in his final theatrical work and creative process. You see him interacting. It's a privileged path to observe Michael as the creative architect and mastermind behind his work. And this is something that I don't think people knew he did, let alone ever seen him do.
Q: So, we get a picture of Michael as a creative force.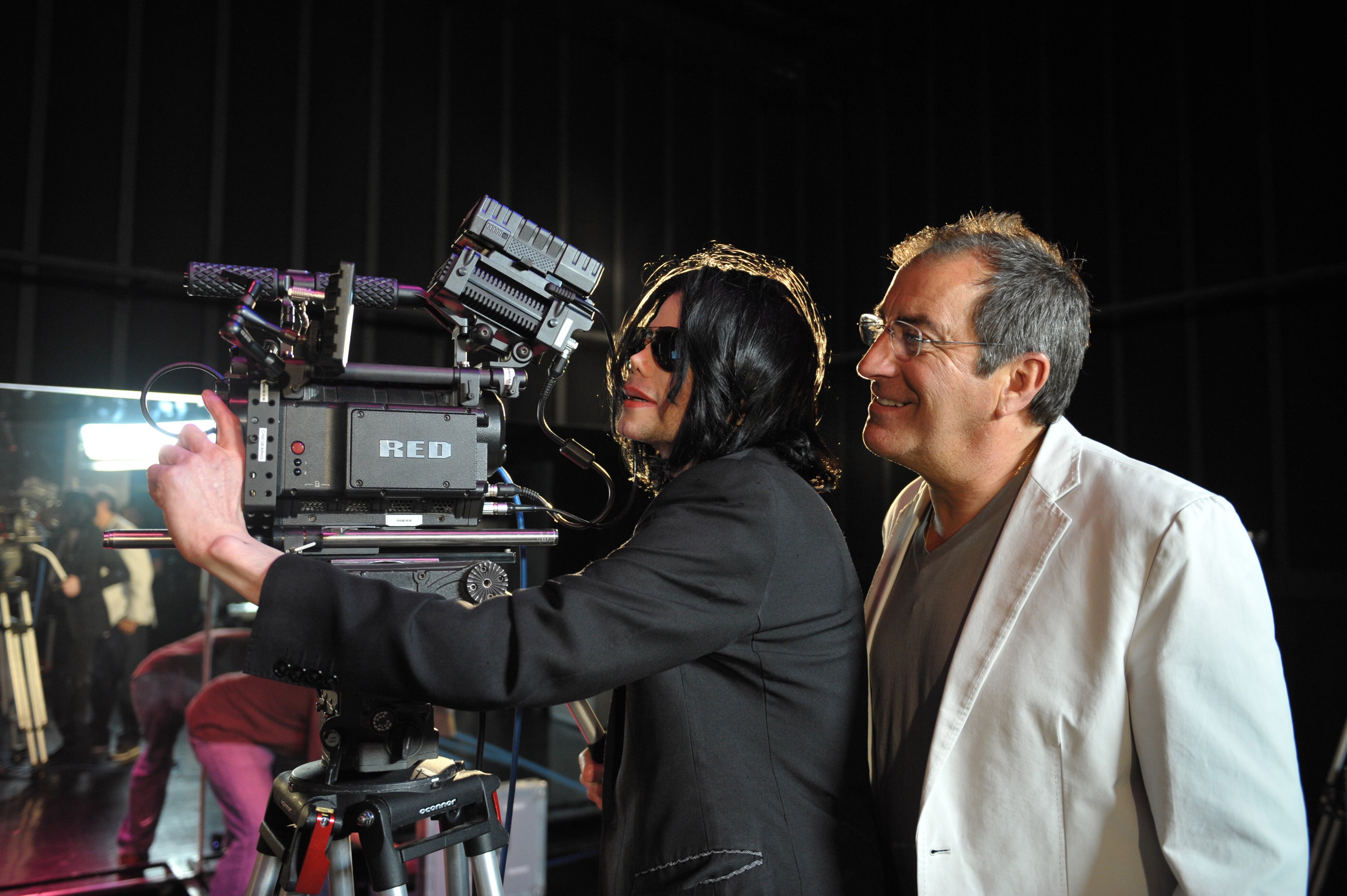 A: Yeah, as the conductor.
Q: Not only in music and dance, but also in his own words as he's talking about the show and his reasons for including different songs or staging different dances?
A: That's right, and in other people's words, too ... Nowhere near the 80 hours did we have Michael in rehearsal. However, we had enough to be able to cut together a pretty big portion of what Michael was planning for the tour. The film is somewhat wall-to-wall music. The band, the singers, Michael live. You see it, you really feel it, you sense it. It's raw, unguarded, it's a unique behind-the-scenes look at the creative process of putting a show together.
Q: When you were sitting in that dark, editing room looking at the video, were there times where you said to yourself, "I have to show that. That is pure Michael"? And what were they.
A: Absolutely. First of all, when I assumed this and took on the responsibility to direct this ... I realized it was my responsibility, the journey wasn't over, and then I called upon Michael immediately, and I was just like, "you're not letting me go in there alone." And everyday, I really did bring Michael with me as best I could. And never forgot he was there. He was in my mind and in my heart, Michael, along with some of the other creative friends that worked with us on the concert.
We started to look at the footage and we had two things in mind: most importantly Michael's integrity and secondly, what is going to serve the fan base. And the footage talked to us. It jumped out at us. There were times, I swear, when we heard Michael say "Use it all; do it all." And I'd look at (my collaborator) and say, "did you just say that?" And he'd say, Michael said, "Do it all." And I'd say, "that's what I thought. I thought I heard Michael say "do it all."
Q: The opposite question is, were there parts of Michael you didn't want to show?
A: It's unguarded, and it's raw, and it's real and it's truthful, and it's not always pretty and he's not always lit, you know. We weren't really overly protective. It has soul and heart and truth and warmth and magic. The real answer to that question would be "no."
Q: For all that has been said and written about Michael, what don't people know that comes through in the movie?
A: That he did it all. He did it all. He wrote the music. He understood the music. He knew every part that everybody was supposed to play. He could sing you the bass line or the guitar part. He could play the horn line or the string line. He knew the harmonies, he sang them all.
I think what we walk away with, for those that might have forgotten ... I think this will remind people, I hope it will remind people, of this incredible talent that existed, you know, and the tremendous legacy he left for us.
Source: MJFC / Reuters
27.10.09
9 years Michael Jackson Fan-Club 3 Generations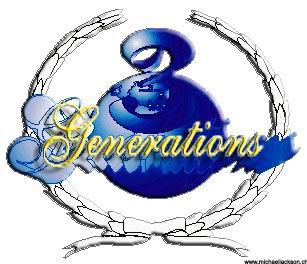 How the years passed ! Already 9 years we are here, without conditions, to pay the most beautiful tribute to Michael Jackson. The one of his real fans. We had to throw him the light when swamped in the shade, many of those who today adulate him, lowered him mercilessly. This man who always reappeared in spite of all the times when he was trailed in the mud, now he'is eternal.
We must continue to draw the road which he begun. The history continues...
Informations and other novelties will always be of current events on our Web space, to offer a true image of Michael. That of a sensitive person, generous and performed with humor.
An human being more normal than what certain persons considered him, and who worried about the problems of our planet by wanting to help to heal it :
We Are The World, Heal the World, etc. …
His universe is so big as we shall never stop speaking about him during the next Generations.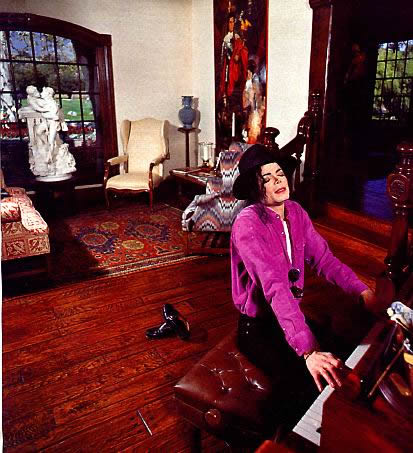 Michael Jackson Fan-Club 3Generations
25.10.09
This Is It' DVD
Michael Jackson's "This Is It" opens worldwide in theaters on October 28th. But according to Roger Friedman, you won't be seeing in on DVD until February 2010.
That's because the movie studios have a deal with DVD companies. There has to be a 90-day window after the movie has played in theaters before it's available in stores.
Source: MJFC / Showbiz411.com
22.10.09
Michael Jackson Movie Screened for Liz Taylor–And She Loves It
Michael Jackson 's documentary, "This Is It," had a special, secret screening the other night at Sony. None other than Elizabeth Taylor got her own private viewing. And the word is, she loved it.
Taylor brought with her several family members. Also in the audience, acccording to sources, were Michael's longtime insiders Miko Brando and Evvy Tavasci . Also there was famed international hairdresser Jose Eber . Michael and his kids spent last Easter with the Taylor clan and Eber. That's who he considered family.
Taylor, who knows from having to go on when you're sick, apparently told everyone involved that Jackson looked great, and that the film was "brilliant." She did not express any concern over his appearance during rehearsals. The others in the screening room, an insider relayed to me, "were very pleased."
Source :Showbiz411.com
19.10.09
New Michael/Janet Duet
Janet Jackson recorded a new duet with her brother Michael some time last year. Entitled "Make Me" it will feature at the end of the double CD Greatest Hits compilation which Janet is expected to release in November 2009. Their only previous duet was "Scream" which was one of the major tracks on Michael's HIStory album reaching number one in charts around the world.
Source: Contactmusic & MJWN
18.10.09
News photos This is It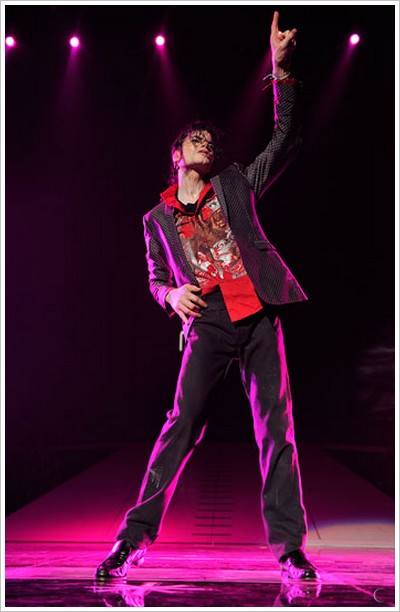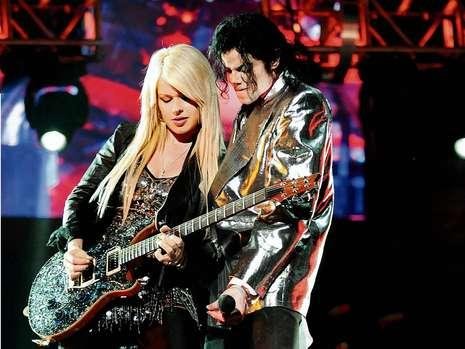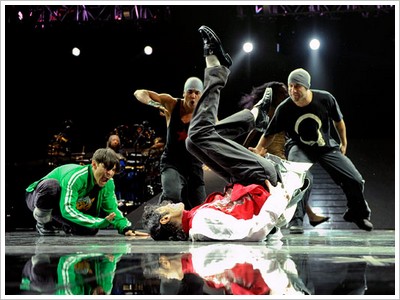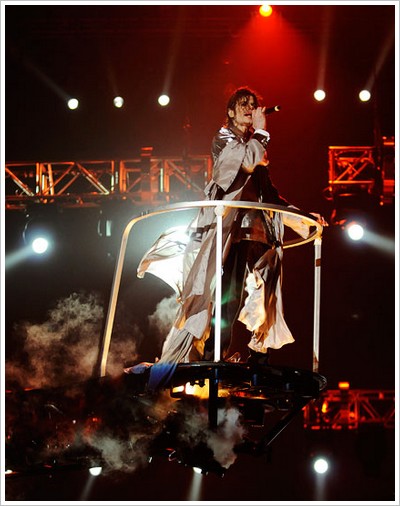 16.10.09
Michael Jackson On The Cover Of Entertainment Weekly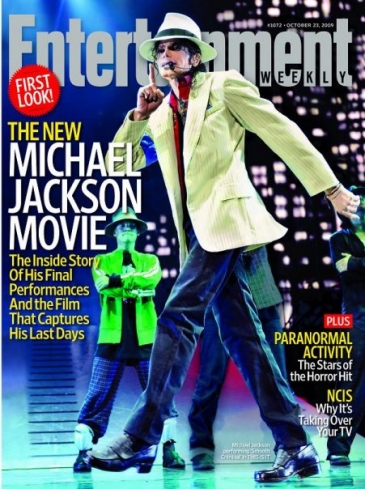 The King Of Pop appears on the front cover of the american magazine "Entertainment Weekly".
When tickets for Michael Jackson's This Is It went on sale on Sept. 27, hundreds of shows around the globe sold out in less than 24 hours, without anyone knowing quite what it even was — a concert movie? A documentary? "It's somewhere in between," says Sony Pictures co-chair Amy Pascal of the film, which consists of behind-the-scenes footage of Jackson rehearsing for his planned comeback concerts at London's O2 arena. "It's a movie about rehearsing for a concert that never happened. It's heartbreaking and inspiring at the same time. It gives you chills."
Now, with the October 28th worldwide release of the movie fast approaching, the late pop star's collaborators open up about working with Jackson during his precarious last days. At age 50 Jackson hadn't toured in more than a decade, but while his team worried at times about his health, his imagination was as active as ever.
14.10.09
MJ Returns To US Radio
In its first day of airplay, the song ranked as the 35th-most played current title on all stations monitored for the Billboard Hot 100. It placed at No. 15 out-of-the-box at R&B radio. The track has received almost two-thirds of its spins in morning drive (6-10 a.m.), radio's most heavily-listened-to daypart.
10.10.09
THIS IS IT – COMPLETE TRACKLISTING
Sony Music Entertainment's Columbia/Epic Label Group will release the two-disc album Michael Jackson's This Is It internationally October 27th to worldwide
Disc 01

1.Wanna Be Startin' Somethin'
2.Jam
3.They Don't Care About Us
4.Human Nature
5.Smooth Criminal
6.The Way You Make Me Feel
7.Shake Your Body (Down To The Ground)
8.I Just Can't Stop Loving You
9.Thriller
10.Beat It
11.Black Or White
12.Earth Song
13.Billie Jean
14.Man In The Mirror
15.This Is It
16.This Is It (Orchestra Version)

Disc 02
1.She's Out Of My Life (Demo)
2.Wanna Be Startin' Somethin' (Demo)
3.Beat It (Demo)
4.Planet Earth (Poem)
9.10.09
The single artwork a new photo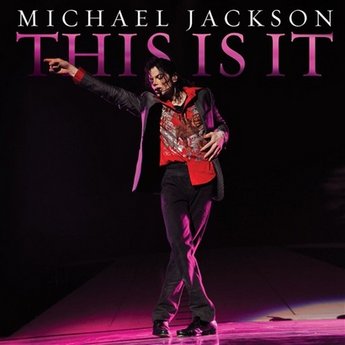 UNRELEASED MICHAEL JACKSON SONG "THIS IS IT" TO BE UNVEILEDat MIDNIGHT ON OCTOBER 12TH ON MICHAELJACKSON.COM
The single artwork a new photo of Michael taken recently at his Staples Center rehearsals
"This is It" 12th of October is the radio Worldwide
Source:Sony music
8.10.09
New J5 Music Coming In November
Just in time to celebrate the 40th Anniversary of the Jackson 5, Motown has ventured into their vaults to come up with fresh J5 music.
"That's How Love Is," on sale today exclusively through iTunes, is the first single from 'I Want You Back! Unreleased Masters.' The album is a collection 12 previously unavailable tracks recorded between 1969 and 1974 by the Michael Jackson-led band of brothers.
The album, along with the re-issued Jackson 5 'Ultimate Christmas Album,' will hit stores on Nov. 10 and can be pre-ordered at Amazon.com, Barnes & Noble and Borders.
Source:MJFC
5.10.09
Details of Michael Jackson autopsy
Here are some of the findings from the Los Angeles County coroner's autopsy of Michael Jackson:
_ He was 5-foot-9 and weighed 136 pounds.
_ There were dark tattoos on his eyebrows and around his eyes, a pink tattoo around his lips and what appeared to be a dark tattoo on the front of his scalp.
_ He was balding and suffered from a skin disease that reduced pigment and left patches of white skin.
_ Osteoarthritis was visible in the lower spine and some fingers.
_ He had multiple scars around his body, including behind his ears, along one shoulder, at the base of his neck and near his navel.
_ His heart was strong but his lungs were inflamed. Other organs appeared normal.
_ The anesthetic propofol, four other sedatives, the pain killer Lidocaine and a resuscitative drug were found in Jackson's system. His stomach had no discernible pills.
_ No illegal drugs or alcohol were detected.
_ The manner of death was ruled a homicide based, in part, on the propofol being administered in a non-hospital setting without any appropriate medical need.
_ Consistent with CPR attempts, Jackson had a bruised chest and his sternum and several ribs were fractured.
Source: Associated Press
3.10.09
Vote For This Is It
Sony Music want Michael's fans to vote for their favorite song featured in the upcoming film 'This Is It' from Columbia/Sony Pictures. The list includes 'Threatened' and 'Speechless'.
Please click here to vote.
Source: Sony Pictures & MJWN
2.10.09
Spike Lee make a short film about Michael Jackson in Gary


The filmmaker Spike Lee and a shooting team filmed a documentary about the King of Pop in Gary, the Michael Jackson's hometown.

"Here... Here is where all it happened! Just here, 2300 Jackson Street ... the greatest artist in the world," said Lee during a brief break of filming.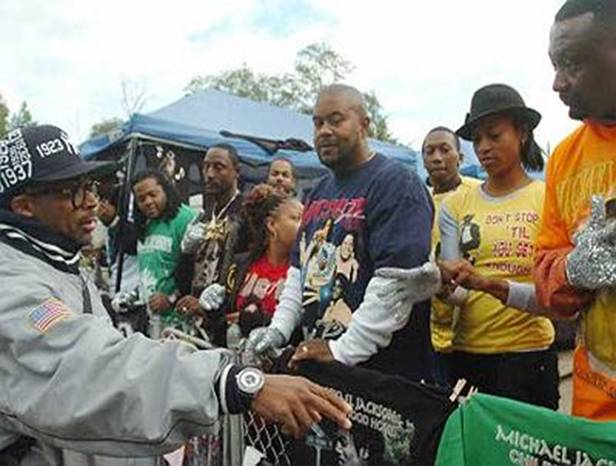 These pictures will be part of a short film about the Michael Jackson's life, and it's scheduled that come out for mid-October.

Asked if this could be coincide with the projection of "This Is It," Lee said "maybe" ...


source: www.post-trib.com
1.10.09
'This Is It' Sells Out
There have been extraordinary and unprecedented ticket sales for Michael's film 'This Is It' being reported around the world by Sony Pictures. The film is the most highly anticipated film release for many years, covering Michael's rehearsal footage for his 'This Is It' concerts, which were to begin in London at the O2 Arena in July.
Fans around the world queued for hours, some overnight, to get tickets to see the film on its opening day and online ticket agencies reported hundreds of sold out shows in North America alone where 80% of all ticket sales were for 'This Is It'.
Sales of more that $1million have been reported in Japan in twenty-four hours and a UK Exhibitor commented; 'I've never seen anything like it in the twenty-five years I have been film buying.'
In London thirty-thousand tickets were sold in twenty-four hours, setting the biggest ever one-day sales record in the UK, eclipsing advance buying for films including Harry Potter and The Lord of the Rings.
Sales show no sign of slowing down. In the USA, more than half a million fans searched the official www.thisisit-movie.com website for show times.
The release of the film is limited to a two week engagement and while reports are still coming in, it is thought that no movie in history has generated so many ticket sales so far in advance of its release.
29.9.09
Black & white final number!
The famous magazine Black & white will reviving for a final number in tribute to the King of Pop. For this occasion the magazine, that will be released in October between the 15 and 30, should take the format of a Book Collector.

The Black & White magazine has always been very close to Michael Jackson between 1992 and 2001. He was considered one of the most complete, offering to the fans information about their idol different from the rest of the press.

His collaboration was also important in projects like the cover of "Stranger in Moscow", the box Ghosts and several posters and concert programs.

A number tribute that we was waiting with enthusiasm.
28.9.09
The package THIS IS IT
The limited edition 2CD including music that inspired MICHAEL JACKSON IS THIS IT contains a luxurious booklet of 36 pages and a souvenir poster of the film.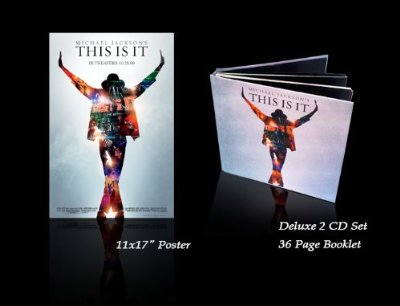 The first record contains the original recordings greatest hits, in the same order of appearance in the Michael Jackson's film "This Is It. The record ends with two versions of the unreleased track "This Is It". This song, whose choruses are singing from Michael Jackson's brothers, appears in the film and serves as the end credits.


The second record contains versions never marketed of the King of Pop classics songs. Also includes a moving poem narrated by Michael Jackson entitled "Planet Earth" which never has been heard before.

The package also contains a commemorative booklet of 36 pages including exclusive photos of recent rehearsals with an 11x17 poster of the film available nowhere else.
25.9.09
Tribute Comic Book
In October there is a new comic book being released by Bluewater Production honouring Michael called 'Tribute: Michael Jackson Comic Book'.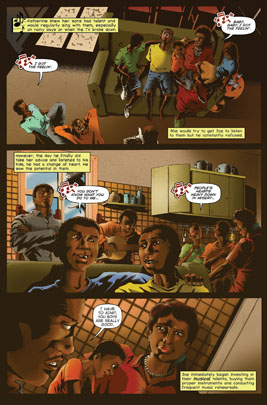 The Comic book has been beautifully illustrated and can be pre-ordered now.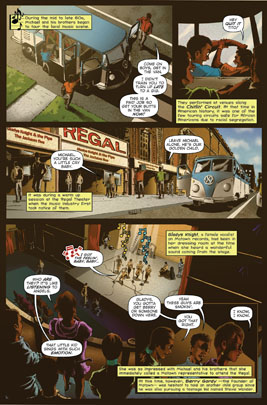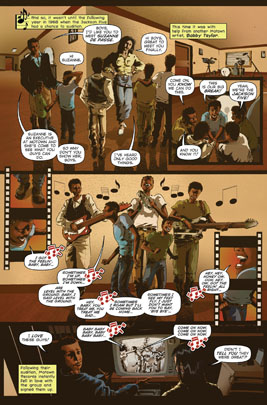 Source: MJWN
24.9.09
On the soundtrack of the film
Roger Friedman Site Showbiz411.com tell us that a song entitled "This Is It" was recorded by Michael Jackson for the concert series of the same name. The title was completed by the producer and executor John McClain. The title should appear in the film and the soundtrack of the film should be a double album.
In will be released as a news single This is it on Oct. 12
Source: Showbiz411.com
21.9.09
Even More Items For Auction By Julien's
On November 21, 2009, Julien's Auctions, as part of their ' Music Icons ' Auction, will be auctioning several Michael Jackson items. Earlier this week, Julien's posted 10 additional Michael Jackson lots which will be included in this sale. The new items include:
Michael Jackson Vacuum Form Life Masks From The Wiz
Michael Jackson Signed Hall Of Fame Induction Program
Michael Jackson Yearbook From 1970-1971
Michael Jackson Signed And Gifted Book
Michael Jackson Frankenstein Sketch
Michael Jackson Sketch Of A Man
Michael Jackson Hand Drawn Sketch
Michael Jackson Hand Written "Beat It" Lyrics
Michael Jackson Played Guitar
Michael Jackson Suit From Men In Black II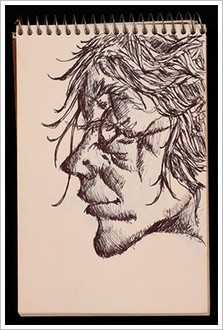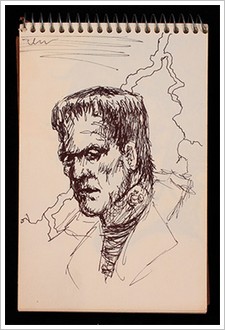 Source: MJFC
19.9.09
Michael Jackson collectible figure (Thriller version)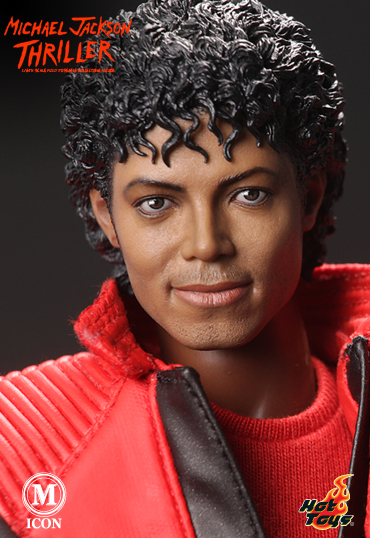 Michael Jackson's performance in the Thriller music video will never be forgotten in our heart. Tribute to the world's greatest entertainer of all time, Hot Toys is proud to present - Michael Jackson -in this 1/6th scale collectible figure. This real-like collectible figure depicts the King of Pop as he appears in his Thriller music video in 1983.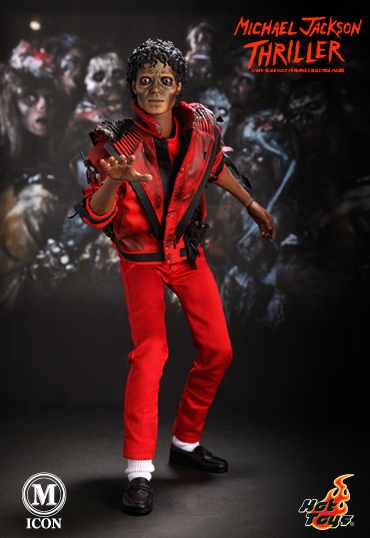 This Michael Jackson - Thriller collectible features:


- Hot Toys' slim version TrueType body, over 32 points of articulation, stands approximately 30 cm high
- 2 interchangeable heads – MJ head and Zombie head
- 2 sets of costumes ( original red jacket and pants & the zombie suit)
- 2 sets of white socks with black shoes
- Five (5) sets of interchangeable hands and one (1) additional posing right hand
- 12 inches figure stand with the classic Thriller title and Michael Jackson nameplate


Artist info:
- Head Sculpt by Kang In Ae
- Head Art Directed by Yulli
- Head Paint by JC. Hong
The doll will be available to Michael's fans in Hong Kong and Japan only, where it will be released later this year.
17.9.09
Previously Unknown MJ Novel Materializes
ESSENCE.com has learned exclusively that a novel written by the "King of Pop" himself is currently being shopped around to New York publishers, according to a source in the industry.
The illustrated novel depicts a rock star at the height of his success who becomes disillusioned with money and fame.
According to the source, the book mirrors Michael Jackson's own rise to superstardom and self-imposed seclusion, reflecting an inner torment and struggle with personal demons.
Working with a collaborator, the source confirmed, Jackson conceptualized the story line, characters and even the illustrations.

The book is expected to sell in the six figures.—Christine M. Gordon
source: ESSENCE.com
15.9.09
Michael Jackson new single set to be released

A secret Michael Jackson single is being produced... and set to be a huge hit.
Michael recorded the song for release with his planner summer tour.
It was shelved after the 50-year-old singer's death in June but now producers in Los Angeles have remixed the vocals with an orchestral accompaniment.
A record label source said: "It sounds awesome. The size and scope of the orchestra hasn't been seen since Ray Charles recorded Georgia . Everyone expects a huge hit.
The song will promote the Jackson documentary This Is It, in cinemas worldwide next month.
Source: Mirrror.co.uk
14.9.09
MTV VIDEO MUSIC AWARDS
Michael Jackson's This Is It' Trailer Premiere
Janet paid loving tribute at last night's VMA Awards by dancing with her big brother one more time. Just after Madonna's moving speach, the musical tribute began with some of the biggest names in choreography dancing along while Michael's videos for "Thriller," "Bad," and "Smooth Criminal" played on the giant screen behind them.
Then the "Scream" video began and Janet comes out from behind shattering glass and dances along with the projection of MJ as their duet played on the big screen.
Source:MJFC
13.9.09
This is it MTV video!
This night MTV will unveil the first ever trailer from "This Is It !
12.9.09
Captain EO Not Returning To Disneyland
As we adverted in our new of the day "3.9.09":
Disneyland has "no definite plans to bring back" the Michael Jackson 3-D movie "Captain EO," Disney Chief Executive Bob Iger said today during an impromptu news conference at D23 Expo in Anaheim.

Iger and other Disney brass watched a screening of the 1980s-era sci-fi fantasy film this week and determined that the old music video needed to be further evaluated before it could be brought back into the Anaheim theme park.
The "Treasures of the Walt Disney Archives" exhibit on the second floor simply cannot be missed. In a comfortable, formal setting, timeless artifacts from our vast Disney Archives shine luminously in the muted light.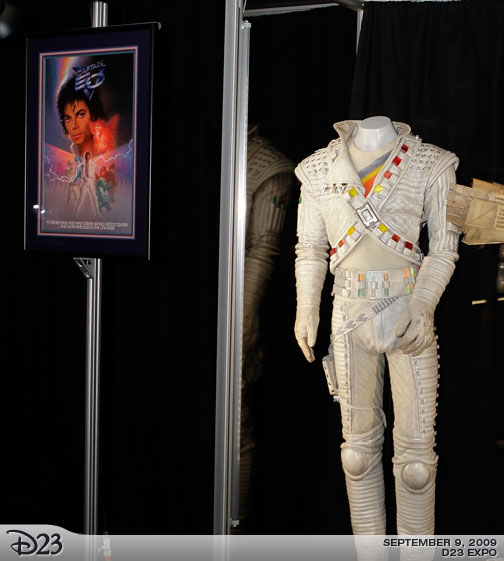 Michael Jackson's Captain Eo costume is a spectacular item, and is lent to the Walt Disney Archives courtesy of Lucasfilm.


Sources : Los Angeles Times / d23.disney.go.com
11.9.09
Michael Jackson's "This Is It" Trailer to Premiere During VMAs
The trailer for the upcoming Michael Jackson concert rehearsal film This Is It will debut during the MTV Video Music Awards, airing live this Sunday, September 13th from New York's Radio City Music Hall. The announcement of the trailer comes just a day after MTV revealed that Janet Jackson will open the VMAs with a tribute to her brother Michael, ensuring that the awards show will also double as a celebration to the King of Pop's legacy. For those who won't be watching the VMAs you can head to the This Is It site , which will simultaneously post the trailer on line when it debuts.
Source: Rolling Stones
10.9.09
THIS IS IT
Sony Pictures has released the official poster
9.9.09
THIS IS IT the Movie Poster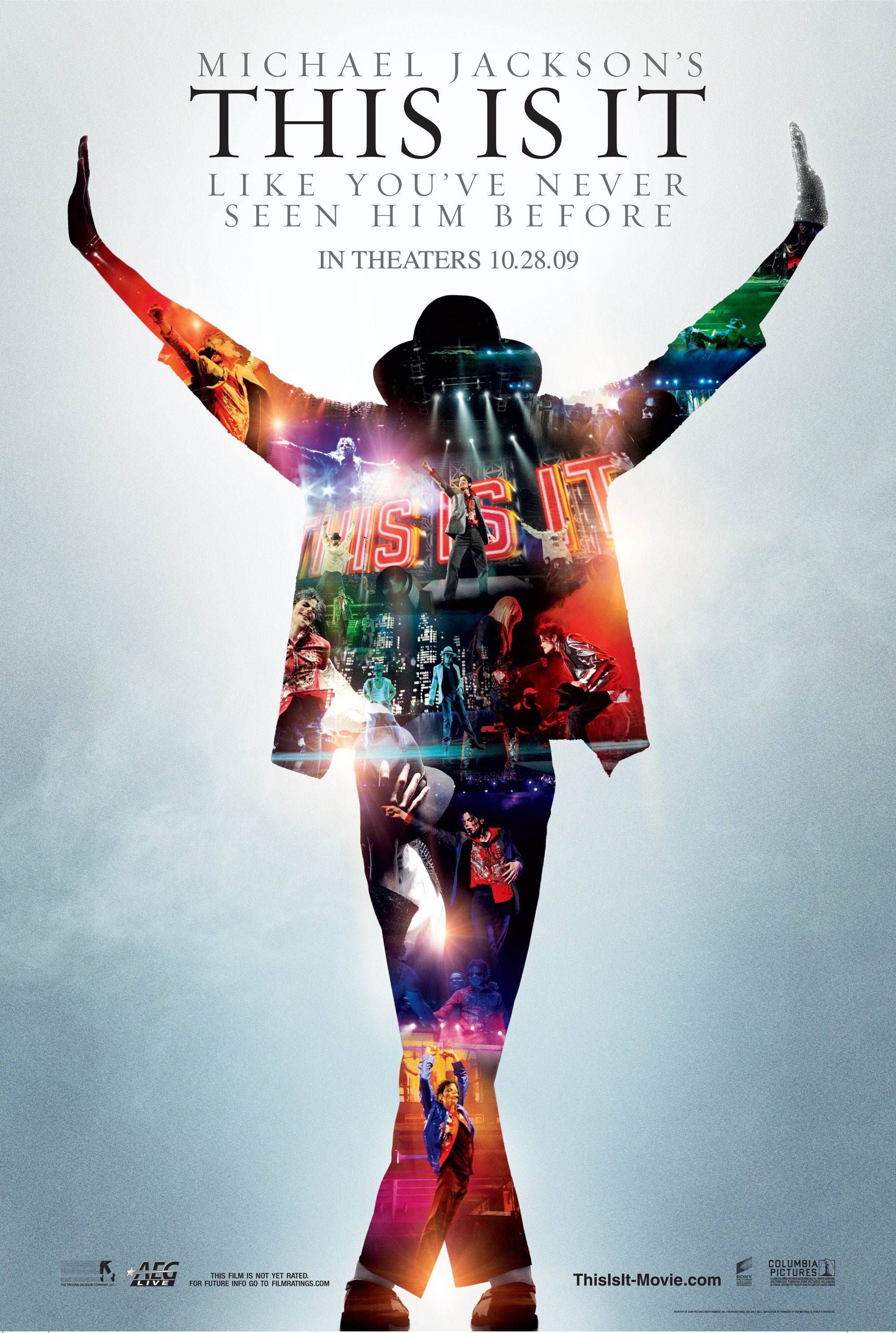 More than a month before the film documentary "THIS IS IT" release, the eBay's site has announced that it, supposedly, would be the Movie Poster. However, there hasn't been any official confirmation from Sony Pictures Entertainment.

We remind you that the film will be released October 28 in a limited number of cinemas and that will be only for two weeks. Tickets go on sale from September 27.
According to the site " that grape juice.net", t he movie is between 100 and 130 minutes in length, and the plan for the DVD is to have it out in late November by Thanksgiving or early December at the latest.

We will keep you informed as soon as we know more about this exceptional event.
7.9.09
Michael Jackson instrumental classical music album started before his death
TV and film composer and conductor David Michael Frank may have been one of the last persons to collaborate with Michael Jackson on an artistic project. The pop singer's untimely death left that project in an uncertain state. Initial reports suggested that Jackson planned to do an album of "classical music" he had written; the pieces were to be orchestrated by Frank. Actually, Frank says, the pieces were closer to film music and would have gone into an all-instrumental album had Jackson lived. The Baltimore-born Frank, interviewed by phone in California, gives an account here of his experience with the King of Pop:
Four or five months ago, I received a call from Michael Jackson's longtime personal recording engineer, Michael Prince, who told me Michael was looking for someone to arrange some music for orchestra. I thought it was going to be for the tour he was going to do. For the next month or two, he would call, saying, 'Michael Jackson says he's going to call you.'
At the end of April, another Michael, Michael Jackson's personal assistant, called me and asked me to come the next day at 10 a.m. and asked me the make and model of my car. I drove to the Holmby Hills home. I drove up to the front door, and was met by an assistant who told me to go inside. I was met there by a woman dressed like a housekeeper, but with a white turban on her head. She said, 'Michael Jackson will be with you shortly.' About two minutes later, he came down the stairs.
I was reluctant to shake his hand because I had heard that he was concerned about germs, but he immediately stuck his hand out and gave me a very firm handshake. He was very skinny, but not the least bit frail. He was wearing a suit and a hat. He was going to rehearsal later for the tour. He said, 'You look familiar.' I told him a long time ago I worked on a TV tribute to Sammy Davis, Jr. at Shrine Auditorium [that he had participated in]. I told him I had met him briefly there.' He said, 'I never forget a face.'
He told me, 'I have three projects going on simultaneously.' One was the tour that the whole world knew about. The other two I believe no one knew about. One was to be an album of pop songs. Then he said, 'The other one is that I want to record an album of classical music' — what he called classical music.
He said he listened to ...
classical music all the time; it was his absolute favorite. I was impressed with the pieces he mentioned: Aaron Copland's Rodeo, Fanfare for the Common Man and Lincoln Portrait ; Leonard Bernstein's West Side Story . I mentioned Bernstein's On the Waterfront . Then Michael mentioned that he loved Elmer Bernstein's film music, too, and he specifically mentioned To Kill a Mockingbird .
I realized that almost all the classical pieces he mentioned are childlike, very simple and pretty, like Prokofiev's Peter and the Wolf and Tchaikovsky's Nutcracker Suite. He also mentioned Debussy several times, specifically Arabesque [No. 1] and Clair de lune . He was very soft-spoken when were talking about music, but when he got animated about something, he was very changed. When he mentioned how he loved Elmer Bernstein, and I said I liked the Magnificent Seven score, Michael started singing the theme very loudly, almost screaming it.
He said, 'I'm making a CD.' Then his son, Prince Michael, came in, and Michael asked him to find a CD player. Paris found one and brought it in with Prince. Michael played the CD. It was very pretty music. He said, 'But a section is missing.' He played a second piece. And he said, 'But a section is missing, too. But I can hum it to you.' I asked if there was a piano in the house, and he said there was one in the pool house. We headed out there, but Michael stopped when he saw the dog was outside, soaking wet from being in the pool. He didn't want us to get splattered. It was kind of funny. Michael got another assistant to hold the dog while we went to his pool house.
I sat at the piano and Michael hummed the missing part of one of the pieces. I had taken a little digital recorder with me and asked if I could record him. He was in perfect pitch. I tried to figure out chords to go with it as he hummed. He said, 'Your instincts are totally right about the chords.'
We talked about classical music some more. I played some Debussy pieces. Michael seemed very happy and I think he felt very comfortable with me. He mentioned Leonard Bernstein again, and I played some of West Side Story . He told me he had met Bernstein once and that Bernstein had said he was a big fan of Michael's.
Back in the house, whenever he'd go from room to room, you'd hear, 'I love you, Daddy.' 'I love you, Paris.' They all seemed pretty normal and happy.
Michael was very anxious to get the pieces orchestrated and record the music with a big orchestra. I suggested we record it at the Fox, Sony or Warner Brothers lot. I asked if he could have someone call me to discuss the budget and he said he would take care of it. When I left there were several fans outside the gate.
[Later] I talked to Michael on the phone. He asked me how the project was going and I said I was waiting to hear from someone so we could set the deal. I suggested we could record the music in London while he was doing the show there. He liked the idea. He again brought up Arabesque .
I laid the music all out on my computer and started on the orchestrations. Finally, a week before Michael died, his manager, Frank Dileo, called and asked me for an email with the budget and an electronic mock-up of the music, the costs of orchestration.
Now I have no idea what's going to happen with this. I'm hoping the family will do something to get this done. I will not bring it up [with them] until after what I think is an appropriate time.
My guess is that each piece would be seven to ten minutes long. [Each one] is more substantial than a song. It's very pretty music. One piece had an Irish quality about it. I suggested that we could use a Celtic harp. The pieces sound like pretty film score music, with very traditional harmony, and definitely very strong melodies. One of them was a little John Barry-ish, like in Out of Africa -- that kind of John Barry score. I could hear [in my head] sweeping strings and French horns in unison.
I told Michael I was going to use one of Leonard Bernstein's batons I had bought at auction when we did the recording. I knew he would have gotten a big kick out of that. I guess I still will use that baton if I ever get to conduct the music.
Source: The baltimore sun
5.9.09
Michael Jackson is laid to rest
In a tree-lined clearing of Forest Lawn Memorial-Park in Glendale, about 200 of Michael Jackson's family and friends gathered for the final leg of the pop singer's odyssey from death to interment on a hot Thursday evening exactly 10 weeks after he was found dead.

Shortly before 10 p.m., with his brothers acting as pallbearers, Jackson's casket was carried into the Holly Terrace for the crypt-side finale.

The Holly Terrace is one of 11 halls in the Great Mausoleum, Forest Lawn's vast granite- and marble-filled palazzo that serves as the star-studded resting place of Clark Gable, Jean Harlow and other screen legends. The Holly Terrace is dominated at one end by an expansive stained-glass window.
Source: Los Angeles Times
3.9.09
It's almost Official! Michael Jackson & Captain EO RETURNING to Disneyland in 2010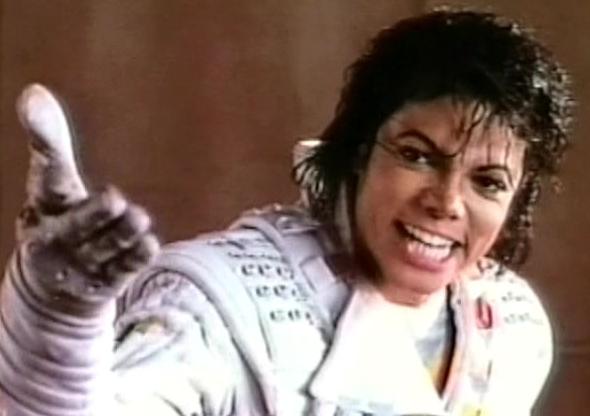 The fans are cheering this Michael Jackson news: Captain EO has been officially welcomed back to Disneyland! The official announcement is supposed to be revealed by Jay Rasulo at the D23 Expo in just a few weeks.
While not all the details have been released, and at this time the only confirmed Disney Resort that will host Captain EO is Disneyland. Placed back in Tomorrowland, this should be an exciting opportunity for Michael Jackson Fans and Disney fans to enjoy one of the most loved pieces of Disneyland!
Disneyland officials are expected to announce the restoration of Captain EO to Disneyland at the D23 Expo in early September.
According to MiceAge.com , the film will open in Disneyland's Tomorrowland in January. MiceAge reports that Disneyland executives expect Captain EO to boost park attendance in the slow winter months.
2.9.09
Michael Jackson remembered with Star at Palms Casino Resort's Walk of Fame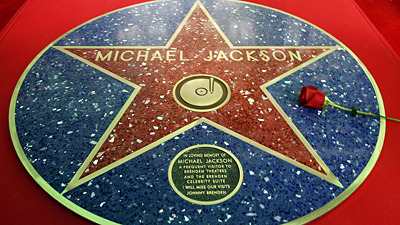 Palms Casino Resort held an event on what would have been Michael Jackson's 51's Birthday. The Event was to commemorate the King of Pop by putting a star on the Palms Casino Resort's Walk of Fame.

Father Joe Jackson was presented with the Brenden Celebrity Star honoring Michael Jackson by Johnny Brenden. Many fans were in attendance as well while the song Thriller played in the back ground after the unveiling of the star.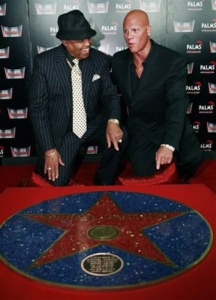 "I wish he was here to see this take place," said the elder Jackson.
In actuality, the singer had been involved in coordinating the ceremony to unveil the star, which began two years ago, according to event organizers.
Emcee Robin Leach said, "The plan was that Michael would accept the star after the run of London shows."
1.9.09
'This Is It' Movie Website
Sony Pictures has launched the website for the upcoming release of 'This Is It', documenting the final stage performances of Michael Jackson.

Fans register to be alerted when tickets will go on-sale.
29.8.09
Happy Birthay Michael Joseph Jackson
For this special day of your coming into the world, Michael, we give you this simplest gift but the most just, true words!
Here are our special section "Michael Forewer" for the 51 years as king of pop would be today if he was still with us.
Source: MJFC3G
28.8.09
MJ Immortalized At Madame Tussauds Hollywood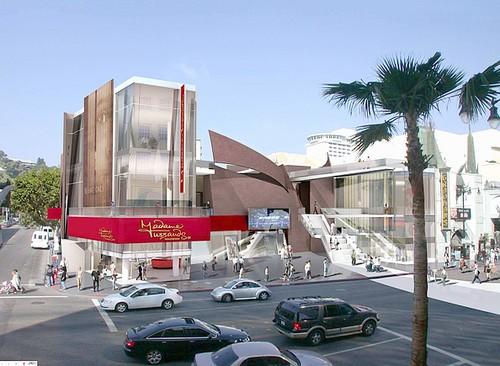 Madame Tussauds Hollywood , the biggest new attraction to Southern California, will welcome Michael Jackson to its star studded wax attraction on Thurs., Aug. 27, it was announced.

The $55 million attraction, located on Hollywood Blvd., next door to the historic Grauman's Chinese Theatre, will host a public unveiling of the pop superstar's wax figure just two days before what would have been his 51st birthday.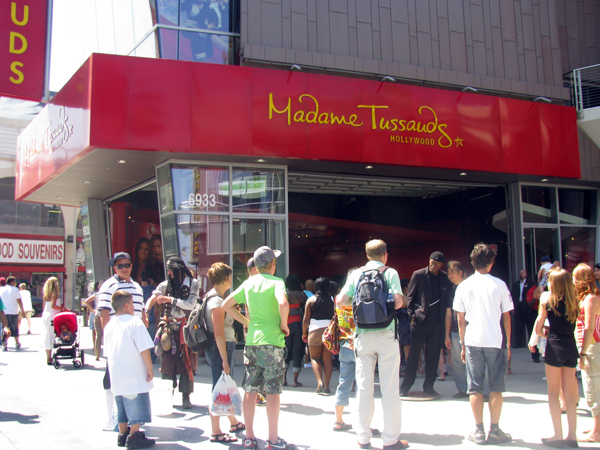 In a special area of the forecourt for the attraction, 250 attraction patrons will get to be the first fans to see the figure up close, pose and have their picture taken alongside the $300,000 likeness, which has been created in the London Studios and is arriving here under heavy guard.

Prior to the 4PM unveiling, Madame Tussauds Hollywood will host a series of related entertainment, starting at 11AM with a DJ-hosted Michael Jackson music marathon, performances and "moon walk" demonstration.

Now open, Madame Tussauds Hollywood is the 9th attraction in the Madame Tussauds world-wide portfolio, joining other locations in London, Amsterdam, Las Vegas, New York, Hong Kong, Shanghai, Washington, DC, and Berlin. 2009 will also mark the 200th anniversary of Madame Tussauds which has played host to more than one half billion guests.
Source: MJFC / Madame Tussauds
25.8.09
Kenny Ortega Talks About 'This Is It' Film
(23-8-2009) Last week Sony Pictures Entertainment and Sony Music Entertainment, the producers of Michael Jackson THIS IS IT announced that Kenny Ortega has been set to direct the motion picture.

Commenting on the announcement, Ortega, director of and Jackson's creative partner on the THIS IS IT concert, said:

"This film is Michael's gift to his fans. As we began assembling the footage for the motion picture we realized we captured something extraordinary, unique and very special. It's a very private, exclusive look into a creative genius's world. For the first time ever, fans will see Michael as they have never seen him before – this great artist at work. It is raw, emotional, moving and powerful footage that captures his interactions with the THIS IS IT collaborators that he had personally assembled for this once in a lifetime project. This film shows a consummate performer working with and guiding singers, dancers, band members, choreographers, special effects creators and countless other creative members of the team as we all assemble this historic concert. I can think of many words to describe Michael as he rehearses for and creates THIS IS IT– inspirational, dynamic, generous, dedicated, loving and the guiding force—you see him as the true architect and driving force of this project – a true master of his craft, the Entertainer of Entertainers. I'm proud of the many years of friendship and creative association I shared with Michael and I'm happy that people will get a chance to see his spirit and drive in action. THIS IS IT may go down as the greatest concert that no one got a chance to see, but with this film, we get a rare portrait of Michael as he prepares for his final curtain call and what I believe was going to be his master work."
Source: MJFC / michaeljackson.com
23.8.09
Heal The World On Michael's Birthday
Michael Jackson Fan Club in the USA has asked to spread the w
ord on a project for Michael's birthday.
Here are their ideas:
"Help "Heal The World" on Michael Jackson's Birthday!
In our efforts to continue with Michael's goal to "Heal The World", the Michael Jackson Fan Club would like Michael Jackson Fans around the world to participate in a wonderful charity event in his honor. This year on Michael's birthday on August 29, 2009, we are asking fans to do something for charity. You can donate to a food drive, donate your time to a soup kitchen or shelter. Take toys to children at a hospital. Hold a yard sale and donate the proceeds to a charity in your community. You can even ask your neighbors to help and make it a neighborhood yard sale. Just remember, whatever you do be sure you do it in Michael's name.
As we all know, Michael was an extremely generous humanitarian who spent the better part of his life making a difference in the lives of others. It's only fitting that we pay our respects to him by carrying on his wonderful legacy.
To mark this occasion, we have created this special page for fans to post their chartiable activities. While the idea is to actually do this on Michael's birthday, you may post your pledge at any time, beginning immediately. Posts should be kept simple, and include your name, home town, State and Country, and your action.
Example:
Deborah D., Texas - Donated blankets, two cans of food, and volunteered at the food bank.
Send you pledges to HTW@mjfanclub.net
This e-mail address is being protected from spambots. You need JavaScript enabled to view it and we will share them with everyone!"
MJFC
Note: This project idea came from a proposal submitted to MJFC by "M.J.J. Fan Lexee", as a tribute to Michael which is what prompted this project.
Source: MJFC & MJWN
21.8.09
The Many Faces of Michael Jackson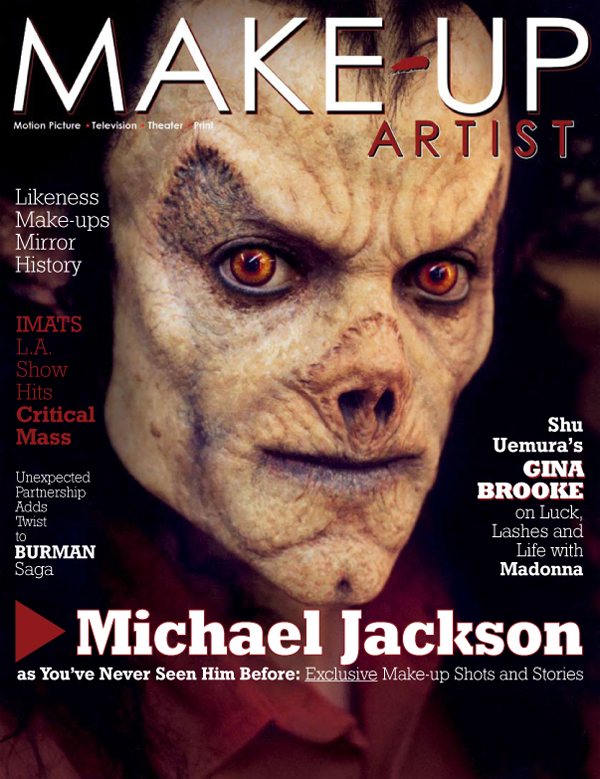 Make-up artists recall working with the King of Pop in this article by Joe Nazzaro, featuring never-before-published photos.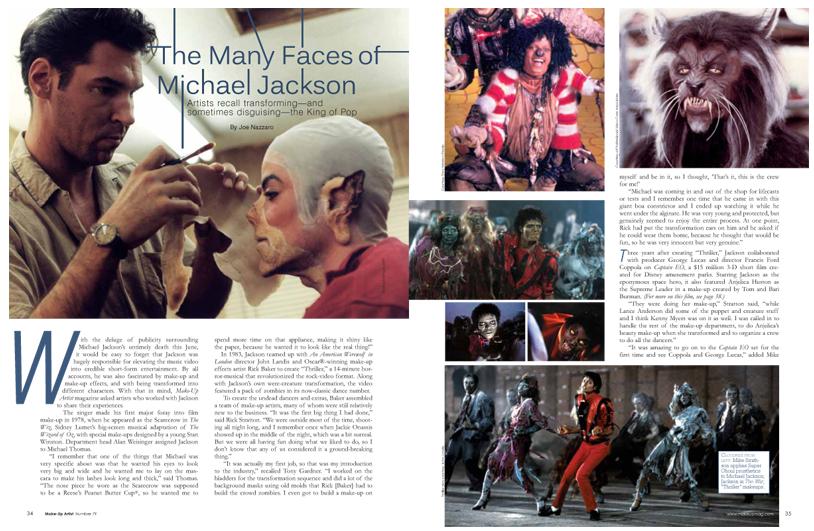 From iconic music video make-up to everyday disguises, Michael Jackson collaborated with some of the biggest names in the make-up industry.
source: makeupmag.com
20.8.09
Spanish firm in talks to stage Michael Jackson exhibit
MADRID — A Spanish firm said Tuesday it is in talks with the executors of Michael Jackson's estate to stage an exhibit of the late star's memorabilia which would tour the world.
The exhibit would contain 120 original objects belonging to the "King of Pop" as well as photos and a recreated stage from one of his concerts spread out over 1,200 square metres (13,000 square feet), the president of Musealia, Jesus Ferreiro, said.
"We want to do this Michael Jackson exhibit because we think it would be interesting. The negotiations are super-complicated but I believe we can reach an agreement," he told AFP a telephone interview.
If the travelling exhibit goes ahead it will be called "Michael Jackson: Black and White of a Life" and an adult entry would cost 23 dollars (16 euros).
Based in the northern Spanish city of San Sebastian, Musealia is behind "Titanic: The Exhibition" featuring items from the sunken ocean liner that has been seen by 28 million people around the world since it was launched in 2000.
Canada, Germany, Spain, Sweden, Portugal and the United States are among the countries that have hosted the exhibit, which includes a replica first-class hallway and state room.
"I don't think anything could surpass the Titanic exhibit anytime soon but the Micheal Jackson exhibit would be without a doubt very popular," said Ferreiro.
He began his talks with John Branca, Jackson's longtime lawyer who was named in the singer's will as an executor of his estate, on July 13, the company said in a statement, just 18 days after Jackson's death at age 50 from an apparent cardiac arrest.
The negotiations over financial terms and other matters will continue once Los Angeles Superior Court Judge Mitchell Beckloff, who is overseeing matters related to Jackson's estate, approves the staging of the exhibit, it added.
Set up in 2000, Musealia's main activity is creating and managing "high quality" travelling exhibitions for museums.
Last year it launched a new exhibit about the human anatomy, "Once Upon a Time...Life: The Human Body - The Exhibition", which recreates a trip through the interior of the human body. It has so far been seen by around half a million people around the world.
17.8.09
Michael Jackson The Visual Documentary
The most comprehensive book ever published on the worlds greatest pop superstar. From the fifties to his death in 2009, it is a complete record of Michael's moves, grooves and music. Illustrated with hundreds of colour and black and white photographs, it includes all Michael's records, concerts, videos and awards, memorabilia and records you never knew existed.
The Visual Documentary presents all the facts about Michael's life and death as never before. Here is everything you need to know about the superstar. 'Michael Jackson The Visual Documentary' has been compiled by Adrian Grant, a writer renowned for his close affiliation with Jackson and a pioneer of many Michael related projects including the stage musical Thriller Live and the founder of MJWN and 'Off The Wall', Michael's first ever Fan Club.
Source: MJWN
15.8.09
Motown 25 Glove And More At Auction
Michael Jackson's glove from his legendary 1983 performance of Billie Jean at the Motown 25 television special where he performed the Moonwalk for the first time will be auctioned at Julien`s Auctions. Included in the auction will also be other Michael Jackson memorabilia.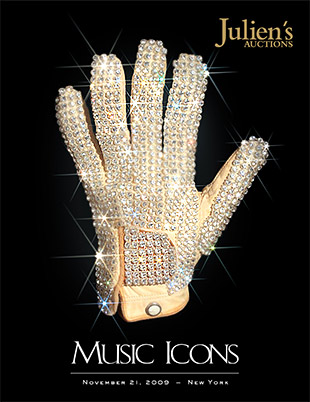 The items will be sold as part of a "Music Icons" auction by Julien's Auctions on November 21 at the Hard Rock Cafe in New York's Times Square (USA). Proceeds from the sale will benefit MusiCares, a group supporting members of the music community in times of need.
The Michael Jackson glove is completely different from the other gloves Michael Jackson wore during this period. It is made using a cream leather, off-the-rack golf glove with an interior label reading "Made In Korea." The glove has a Velcro flap on the back of the hand, which allows the wearer to adjust the fit, and a single white snap at the back of the wrist.
The glove does not feature the more characteristic hand sewn crystals, but uses instead a mesh web of faceted rhinestones, hand cut to the shape of the glove. These strips of rhinestones have been whip stitched to the back of the glove. There are no rhinestones on the palm of the glove. The most conspicuous discrepancy with the gloves Jackson had been wearing up to this point is that this is a left-handed glove.
Julien's Auctions has obtained this one of a kind glove from Walter "Clyde" Orange, one of the founding members of the Commodores. Orange also wrote a letter which accompanies will be included in the sale. The letter reads:
"I Walter "Clyde" Orange, a founding member of the Commodores, knew Michael Jackson and his family from the first time the Commodores toured with the Jackson 5 as their opening act in the summer of 1971. We played forty U.S. concerts with them, traveling coast to coast with the Jackson family on this and subsequent tours.

At that time, and in the years to follow, Michael and I had a long running joke when we would see one another. In his humble way, he refused to give me his autograph, saying that I was more famous than he was. He never did give me his autograph.

Years later, in 1983, we both performed at the Motown 25: Yesterday, Today, Forever tribute show. It was so good to see Michael performing with his brothers again like old times, but he stole the show that night during his solo performance of Billie Jean, in what has now become the famous night he debuted the Moonwalk and changed the face of music and dance, catapulting him to superstardom.

After the performance, Michael came up behind me and put his hand over my eyes and said, "Guess who?" I knew who it was because I felt the one glove on his left hand and no glove on the other. When I once again asked him for his autograph, Michael gave me the glove he wore that night instead, still refusing to give me his autograph! He was always a real prankster, even as a little boy, so I asked him if he was serious about giving me the glove, and he assured me that he was. Remember, it was not yet a trademark for him. Whenever I saw him after that, I teased that I would return the glove in exchange for his autograph, but he always refused, telling me to keep the glove and then, jokingly, asking for my autograph. I have taken very good care of this glove since that historic night at Motown 25 and Michael and his family will always have a special place in my heart."
Source: MJFC / Julien's Auctions
14.8.09
Berry Gordy Will Write "Moonwalk" Intro
Berry Gordy, will write the introduction to the reissue of Michael Jackson's "Moonwalk." In a statement released by the publisher, Harmony Books, it says that Gordy will include personal memories of Michael as a child star and of the Jackson 5.
The Jackson 5 rose to the top of the charts forty years ago with "I Want You Back," and had many other hits before Michael moved on as a single performer.
Source : MJFC/AP
13.8.09
Michael Jackson Official Opus
12.8.09
CD of the soundtrack
Sony Music enclosed the launch of the film with a CD of the soundtrack. This CD would be a huge success when one considers that in the actuality MJ's CDs are numbers 1 of all the charts in the world.
11.8.09
This Is It" is coming to movie theaters



As we adverted in our new of the day "22.7.09" :


It's done, Sony Pictures and Sony Music announced the worldwide release of the film.

The film was made with the hundreds hours filmed during rehearsals and the preparation of shows This Is It. Some sequences will be presented in 3D. Interviews with friends and collaborators are also part of the editing.

This Is It is produced with the consent of John Branca (lawyer) and John McClain (Producer), managers of the property of Michael Jackson (Michael Jackson Family Trust).

Most images were filmed in June 2009 at Staples Center (Los Angeles) and the Forum (Inglewood).

John McClain said that the film is "more a tribute to an artist who has given so much fun on stage. It is also an occasional gift to millions of fans who love him around the world. Michael has dedicated his life to give them dreams. "
10.8.09
Will Captain Eo Return?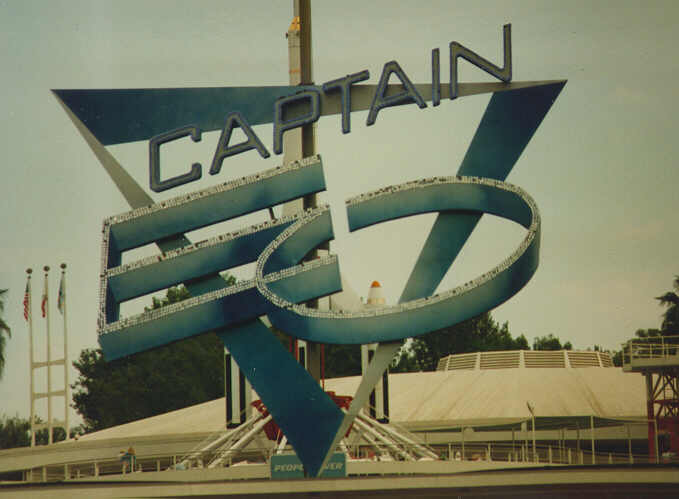 Rumours began some weeks ago that hundreds of fans were calling for the return to Disneyland of Michael's Captain Eo 3D film. Now thousands of fans are asking for its return and Disney are said to be considering it.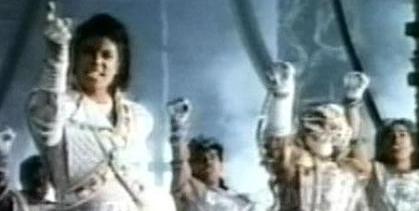 Captain Eo opened at Disneyland on September 18th, 1986 and ran until April 1997.At seventeen minutes long, it was one of Disney's most popular.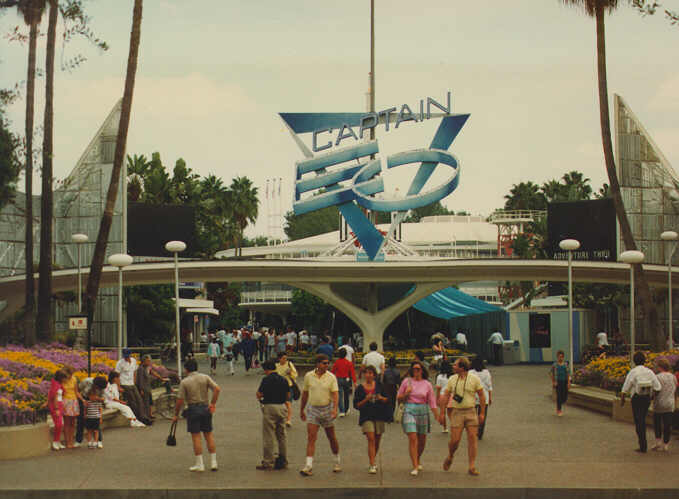 Beautifull movie N1 of the King!
The logistics of reinstalling the attraction would be time consuming, but fans would surely flock to Disneyland to see it again.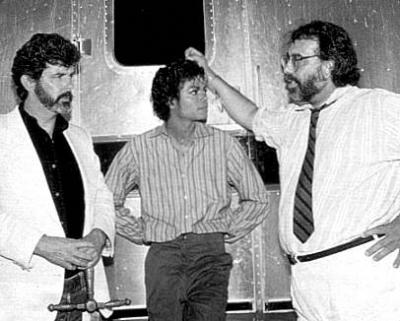 The film's executive producer was George Lucas
Choreographed by Jeffrey Hornaday
Photography by Peter Anderson
Produced by Rusty Lemorande , and written by Lemorande,Lucas and Coppola.
The score was written by James Horner , and featured two songs ("We Are Here to Change the World" and " Another Part of Me ") by Michael Jackson.
The Witch Queen was played by Anjelica Huston
Cinematographer Vittorio Storaro acted as visual consultant.
The story:
The movie tells the story of Captain EO and the ragtag crew of his spaceship on a mission to deliver a gift to a wicked alien leader, the Witch Queen, on her home world of rotting, twisted metal and steaming vents.
Captain EO's alien crew consists of his small flying sidekick Fuzzball, the double-headed navigator and pilot Idee and Odee, robotic security officer Major Domo, a small robot Minor Domo (who fits like a module into Major Domo), and the clumsy elephant-like shipmate Hooter ( Tony Cox ) who always manages to blunder the crew's missions. Upon arriving on the planet, the crew is captured and sentenced to torture. Before being sent away, EO tells the Witch Queen that he sees the beauty hidden within her, and that he brings her the key to unlock it: his song, "We Are Here To Change The World".
The two robot members of the crew transform into music instruments and the crew members begin to play the various instruments. As Hooter runs toward his instrument, he trips over EO's cape and breaks his instrument, stopping the music. The spell broken, the Witch Queen orders her guards to capture Captain EO and his crew.
Hooter manages to repair his instrument and sends out a blast of music, providing EO with the power to throw off the guards. He uses his power to transform the dark hulking guards into agile dancers who fall into step behind him for a dance number.
As EO presses forward toward the Supreme Leader she unleashes her Nich Warriors, two cybernetic defenders each with a whip and shield that can deflect EO's power. The others all run away leaving Captain EO to fight the Nich Warriors alone.
EO is trapped by a closing gate and is preparing for a last stand as both the whip warriors draw their whips back for a final blow. Fuzzball drops his instrument and speedily flies over to tie the two whips together, causing the Nich Warriors to be thrown off balance giving EO an opportunity to transform them as well. With no further obstacles, EO uses his power to transform the Witch Queen into a beautiful woman, her lair into a peaceful Greek temple and the planet into a verdant paradise.
Source: MJWN / MJFC3G
8.8.09
Stevie Wonder Pays Tribute To MJ
Singer and songwriter Stevie Wonder paid tribute to Michael in a recent interview to mojo.com. Wonder said that Michael is 'someone very, very special to the world, to his family and to his friends' and that 'if he wasn't at peace, he is in the arms of God.'
Wonder admitted that he had remained quiet so far because of all the speculations and rumours circulating and people suddenly appearing in the media selling various stories on Michael. He urged the public to rather celebrate Michael Jackson's music and legacy.
He also said that he penned a song entitled 'In the Arms of God' and it might become a tribute song to Michael.
Source: MJFC / Examiner / mojo.com
7.8.09
Michael Jackson: Life Of A Legend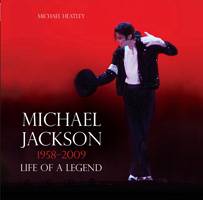 Michael Jackson was one of those rare human beings who can truly be described as a legend. As with Elvis and John Lennon, everyone will remember where they were when they heard about the death of Michael Jackson. He was just fifty when he died, yet had become a superstar by the time he was eleven, ensuring his music was part of the fabric of everyone's life.
Though his days of greatest success were behind him, Jackson was standing on the threshold of what could well have been one of the biggest comebacks in showbiz history. It wasn't to be, but the music, sales figures and the number of current stars who queued to pay tribute to his influence underlined the fact that, for all his controversial personal quirks, Michael Jackson was indeed one of the greats.
This picture-packed tribute charts the life of a legend. It analyses the magical stage moves like the Moonwalk, celebrates the intoxicating music that made him the King of Pop and follows his life right through to the comeback that was to be cruelly cut short before the curtain could rise.
MICHAEL JACKSON 1958 - 2009: LIFE OF A LEGEND tells the larger-than-life story of a unique character whose musical legacy will never die.
Source: MJWN
6.8.09
Katherine Jackson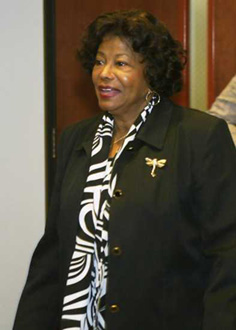 Katherine Jackson talked to Geraldo River:
"All I know that my son is dead, and I don't think he just died of natural causes or whatever He's too young to have that. Something happened. I don't know what it was. And I can't say."
Source: MJFC
5.8.09
THE BOY WHO WOULD BE KING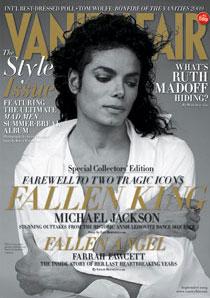 In this edition of the magazine Vanity Fair, Lisa Robinson discovers recordings and notes from his many conversations with Michael Jackson between 1972 and 1989 (The photographs that illustrate the story are made for Annie Leibovitz).
For years, Vanity Fair' s Lisa Robinson followed the Michael Jackson's career, getting to know a singer she describes as "one of the most talented, adorable, enthusiastic, sweet, ebullient performers I'd ever interviewed."
In her article "The Boy Who Would Be King," one cover stories in the September 2009 issue, Robinson recounts numerous interviews with Jackson , beginning with their first meeting at his family's home in Encino , California , in 1972, when Michael was 14.
L.R.: So what do you like to do in your spare time?
M.J.: Swim … play pool … We don't go much out of the gate because we have [everything] here. When we lived in the other house, we would go to the park to play basketball, but now we have it here.
L.R.: Do you ever get scared on stage?

M.J.: No. If you know what you're doing, you're not scared on stage.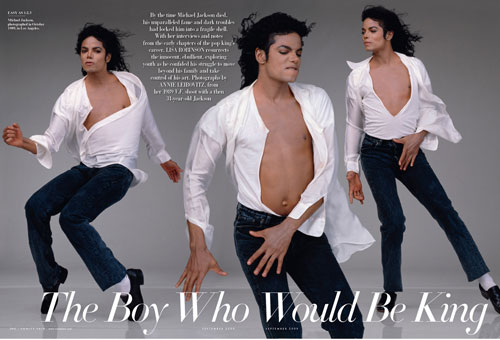 In another phone interview the following year, she asked about his relationship with fans.
L.R.: As for reality, do you still enjoy meeting your fans?

M.J.: I enjoy all that sometimes, seeing people who love me, or buy my records. I think it's fun, and I enjoy meeting my fans and I think it's important. But sometimes people think you owe your life to them; they have a bad attitude, like "I made you who you are." That may be true—but not that one person. Sometimes you have to say to them, If the music wasn't good, you wouldn't have bought it. Because some of them think they actually own you.
In the ensuing years, Jackson would take control of his career to a degree readers may find surprising. Even more surprising, perhaps, was his declaration in 1984 that the original mix of Thriller, his hit 1982 album, had "sounded like crap."
L.R.: What?

M.J.: Oh, it was terrible. And I cried at the listening party. I said, "I'm sorry—we can't release this." I called a meeting with Quincy [Jones], and everybody at the [record] company was screaming that we had to have it out and there was a deadline, and I said, "I'm sorry, I'm not releasing it." I said, "It's terrible." So we re-did a mix a day. Like a mix a day. And we rested two days, then we did a mixing. We were overworked, but it all came out O.K.
Source:Vanity Fair
4.8.09
MUSEUM IN GARY ? |
Mayor of Gary,Rudy Clay, said shortly after Michael Jackson died that the museum or performing arts center could be built on a 5-acre, near Grant Street. Clay said he thinks 5 acres "may be too small." The plan will have to involve a hotel, he said.
Clay also said city officials are working on garnering federal grant money to turn the neighborhood around the Jackson home -- next-door to Roosevelt High School -- into a historic preservation district. Funds could be used to rehabilitate homes and the school, turning the neighborhood into "sort of like a shrine" to the family, Clay said.
City officials and at least one representative of family patriarch Joe Jackson are scheduled to meet Monday to pick someone to lead the project, Clay said.
The idea for the museum was Joe Jackson's. He started talking about the museum last year while attending Gary ceremonies honoring himself and his family. Michael Jackson's death has led Clay, Jackson and others to "step up the pace," the mayor said.
Clay said the plan is in its "embryonic" stage, and he would not discuss details. Clay would not say whether the plan involves a museum, some kind of performing arts center, as was suggested by former Mayor Scott King when Michael Jackson visited in 2003.
2.8.09
"Funeral" for "prince Michael Jackson" in Ivory Coast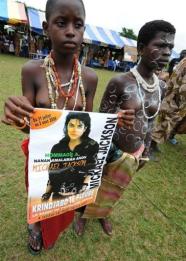 KRINDJABO, Ivory Coast – The Sanwi's kingdom (south-east of Ivory Coast) had begun on Saturday, August 1st the "funeral" in Michael Jackson's honor in the capital Krindjabo.
The singer had been crowned "prince" during a visit in the kingdom 1992.
Accompanied with a prominent citizen escort, king Amon N' Duffu V inaugurated ceremonies, which will last until this Sunday, in front of almost 2.000 persons assembled in " park kings ", the city's stage.
Under a fine rain, several groups of dance traditional come from villages neighbor, succeeded to honor the singer of "Thriller".
Several copies of king of the pop, Congolese Johnny Chancel includes, interpreted his success.
The ceremony will end on Sunday with the name of the successor of "Michael Jackson Amalaman Anoh", because the singer had been crowned " prince of Sanwi " during an African tour.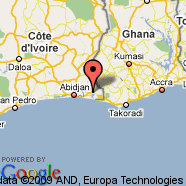 " Michael Jackson, that we cry here, today, is part of line count royal of Sanwi according to genealogist's investigation ", asserts the president of the steering committee, Olivier Kattie.
Source:AFP
1.8.09
Moonwalker Car For Sale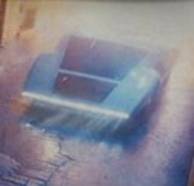 During 'Moonwalker', Michael's great film from 1988, he transformed into a super-car. The car was a Stratos ZERO. That car has now appeared on eBay, for sale at $100,000.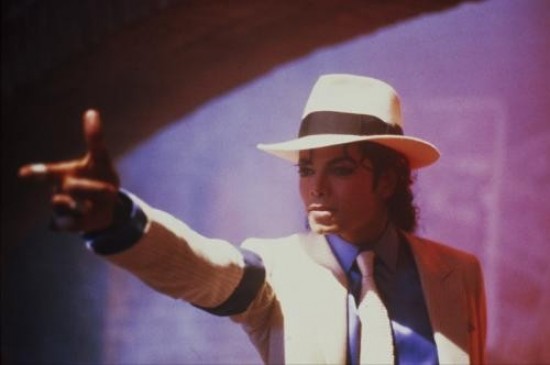 In the movie scene, Michael becomes trapped in an alley and escapes by morphing into the Stratos ZERO and zooming off amidst smoke and fire to finally return and change back into himself.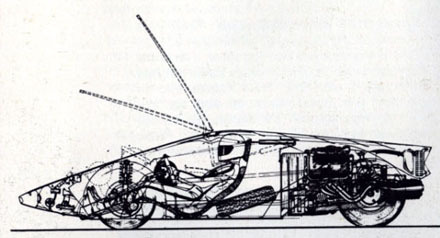 It is reported that Michael himself requested that the Stratos ZERO concept car be used in the movie.
While the original was not used, this re-creation was made for the movie.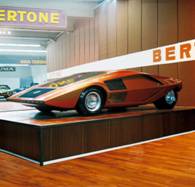 This movie car was recently restored in England, made fully drivable, and re-painted orange to replicate the original concept car, as it appeared in the 1970 Turin auto show.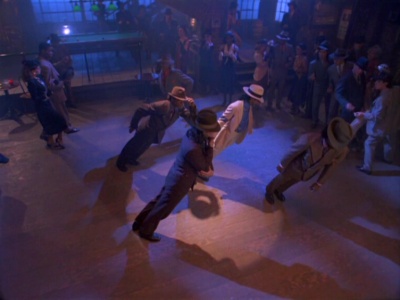 It's important to point out to that the video tape of the film Moonwalker, stays the musical video the most sold of every time!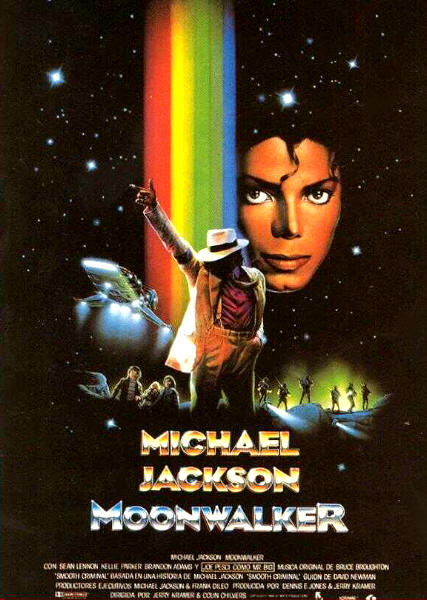 Source: Ebay & MJWN / MJFC3G
31.7.09
Autopsy Results Delayed
The Los Angeles County coroner's office is saying that the results of Michael Jackson's autopsy results will be delayed. They had said that the results would be released this week, but Assistant Chief Coroner Ed Winter today said that the release will probably not come until next week. He gave no reasons for the delay.
Source: MJFC / AP
29.7.09
"Forever Michael"
Our section "Forever Michael" it's at the moment be a new update with more testimony and rare picture, to be continued...

MJFC3G
28.7.09
The Jackson Brothers at Reggae Sumfest 2009
Tito and Jackie Jackson, brothers of the late King of Pop Michael Jackson was perform live on Saturday, July 25, 2009 for Reggae Sumfest at Catherine Hall, Montego Bay, Jamaica.
Reggae Sumfest 2009 was be dedicated to Michael Jackson to honour his phenomenal contribution to music and entertainment, and to celebrate his extraordinary life.
Organisers of the festival was present a Lifetime Achievement award to Michael Jackson which was be received by his brothers.
Sumfest Organisors were honoured to have been given the opportunity to host the Jackson brothers on their very first performance together since the death of their beloved brother.
According to Images ( http://www.imagesnewsletter.com ), "Michael Jackson had visited and performed in Jamaica in 1975 as a member of the Jackson 5. The group was hosted then by former Prime Minister, Edward Seaga, at his home in Temple Meads, St. Andrew. The Jackson 5 was the opening act for Bob Marley and the Wailers at the outdoor National Stadium."
Source: reggae sumfest webline
27.7.09
"Jackson 5 in Africa" At LA Film Festival
The West Coast premiere screening of "Jackson 5 In Africa," a film of rare footage documenting the Jackson 5 during their 1974 tour in Senegal , will be the centerpiece of the Closing Night Gala for the 2009 Downtown Film Festival=2 0 L.A.; it was announced today by festival organizers. The film will screen twice at 7 pm and 9 pm on Saturday, August 22 with a venue to be announced later. Tickets will go on sale August 1st.


The screening of the film, which will debut in New York on Wednesday, July 15, 2009 at the National Black Theatre in Harlem, is being co-presented with the nonprofit Downtown Film Festival L.A. by ImageNation Cinema Foundation and Hines Media Group .
Narrated by renowned actor Robert Hooks, the camera follows Michael Jackson and family cinema-verité style on their first-ever visit to Africa. The film includes live footage of their visit to an African market, classic live footage of the group spontaneously performing "Hum Along and Dance," and extraordinary footage of the Jackson 5 performing on stage before a packed audience at the height of their career in the mid-Seventies.
"We're thrilled to have the privilege of being the organization that brings this fascinating film to the West Coast," said festival director Greg Ptacek. "As a film festival committed to showcasing the diversity of cinema, we wanted to honor the memory of Michael Jackson with a fitting motion picture p rogram of fresh material. Our L.A. premiere screening of 'Jackson 5 In Africa' amply fulfills both goals."
"The history of the film is nearly as interesting as the footage itself," explains Jaymes A. Hines, President of Hines Media Group. "It was made by a group of African investors who ran out of money trying to finish the film. In 1982, the owner of this film, an anonymous businessman bartered with one of the original producers, acquiring a 16mm print of this rare documentary, in exchange for a rough diamond. Years later, the film's owner reached out to Gregory Gates, Exec Producer of ImageNation Cinema Foundation, a nonprofit organization dedicated to progressive media created by and about people of color, to help him find a collector/buyer for the never-before-screened work. " The makers of this movie shared of our mission to unite throughout the African Diaspora using film and music," said Gates. "We are extremely proud to help further their agenda, while honoring Michael Jackson and the Jackson 5."
Source: MJFC / JK|YM & Associates
26.7.09
Honor MJ with the publication of a comic Manga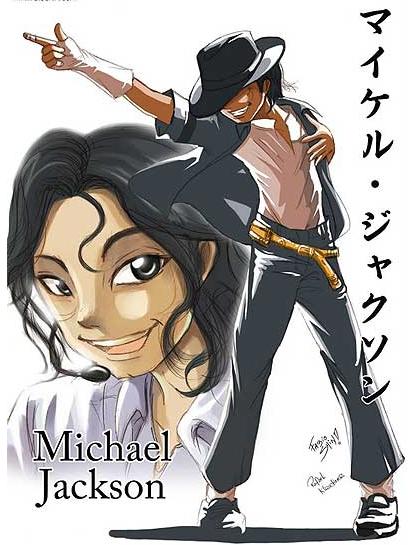 Three Brazilians honor MJ with the publication of a comic Manga. The project was planned before the death of the artist and investigate his dreams, his conflicts and his whims.
The draftsman Fabio Shin, Rafael Kirscher, and the writer Ledo Viera, will publish next year a comic strip about the history of his life.
The creators explained that the book was planned to celebrate the return of MJ on the scene. The end of the history will have to be, unfortunately, rewritten.
" All the participants, for this project, we are fans of Michael Jackson ", explained Fabio Shim. They thought that " the production of a manga would be the best way to honor the artist who influenced a whole generation ".
The book which will be publish by the editorial Seoman, will have more than 180 pages.
25.7.09
Update of "Shop"
A wide selection of Michael Jackson's articles are at present on-line to reach diverse products, among others:
Michael Jackson's only biography written by himself. CD, DVD, VHS, Poster, Pins, rare Collector, Picture disk, LP, etc...
24.7.09
Declarations of Michael Bearden, technician of This Is It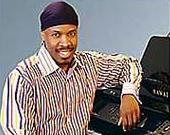 Urbansoul17 from MaxJax:

He said that despite all of these reports on the news, that you hear everywhere else, first and foremost, Michael was in TOP physical shape and he said that Michael was very well read as he knew a great deal about politics, music, and technology. He discussed that Kenny wanted to introduce him to MJ because wanted to work with him on the tour. Michael Bearden is a musician, and kenny wanted him to be the musical director for TII and he knew that michael would love his energy. They brought MJ into the room as Bearden played a funky version of Workin Day and Night on the keybord. Right away, MJ started dancing and singing on the spot. Bearden describes that he had exceptional energy.

They talked and worked every day (except sundays) on THIS IS IT, even though that the rehearsals were not everyday. He said that Michael was very intelligent and he doesn't understand how these recent stories even take from and how these "sources" come about because they completly contradict what michael was. He says that they were working for three months on this is it, and that Michael wanted to extend these shows to encompass 3-5 years. Bearden laghingly said that " we were kind of trying to hold the brother back because of all the things that he was trying to do with the show" when asked about reports that michael was exhausted and forced to do these shows. He said that Michael was so happy all of the shows sold out so quickly, and wanted to take this to another level. He said that the true meaning of "THIS IS IT" was not that these are my last shows, MJ just said that to tease his fans, but the real meaning was that "this is our last chance to do something about the world and the environment before it is destroyed." This is it so we better do something .

When asked to describe the last night with michael jackson, he said that they were working from 5pm to 12:30 am. Michael held meetings, they were taking care of all of the technical stuff, and then after that, from around 10-12:30am, michael went through most of the numbers, some of the one's that he really wanted to work on. He said the band was increadible, the dancers were great, and that Michael had so much energy, he was focused, and he sang and danced exceptionally. And that when it was time to go, he had to wait for michael because his bodygurds car was blocking his, so he went to michael's dressing room, and Michael said that he was happy, and said "I'll see you tommorow at 2 o'clock sharp, God bless you".

Then when bearden was asked what the one unique thing was about michael, he replied "michael's kindness" He said that michael was genuinely king and that he genuinely care about people and that that's what made michael great.
23.7.09
Michael Jackson leaves his mark in the world of the dance
Michael Jackson leaves behind him, an enormous space in the entertainment world's. Many dancers confess his influence through his steps and his movements.
" It was the reason for which I learn to dance ", says Anthony Rue II, a 27-year-old dancer and choreographer who lives in New York.
For many young professionals of the dance, Michael Jackson's singular movements were an unforgettable experience, accessible immediately thanks to the MTV's videos.
Rue adds that, " it's as it that we took dancing lessons, looked a television ", " When you see these Michael Jackson's videos, and which you see how he moved, the only thing that you can think it's that it's a great hero, an unreal guy, it is magic ".
When Michael danced, he transformed him and he left all his problems behind him with an enthusiasm and pure talent full of elegance.
Jackson was not only an inspiration for young artists as Justin Timberlake, Usher, Britney Spears y Chris Brown, but also for artists contemporary as Madonna or Lionel Richie. This last one asserts having begun to incorporate choreographies into his videos had to in the influence of Michael.
22.7.09
80 hours filmed, and by 3 video clip in 3D
The producing AEG Live company, made an offer to the diverse channel of TV, to give up copyright on the material recorded during the rehearsals of " This is it ". This offer would be 50 millions dollars for a film, elaborated from a selection made by Ortega between 80 hours filmed, and by 3 video clip in 3D (one would be a new version of Thriller) which who would have served as musical interludes during concerts. But it would also be planned that the sale of copyright for a documentary which price would be 10 millions dollars. AEG spent between 25 and 30 millions dollars in the production of " This is it " among which 17,5 were paid off by the insurance company.
Besides, Randy Phillips declared that: " we have enough audio to edit 2 albums live, what he has never made ". And that: " it is the last big work of a genius of the XXIth century ".
Three weeks after the death of the artist, the figure of the profits in the name of his memory doesn't stop increasing. Many try to benefit one way or another. Family, producers, press, etc.... Must to believe the words of Latoya Jackson who told, some days ago, that :
" my brother be worth more dead than living "?... That each deducts own conclusions...
21.7.09
`This Is It`TV Special
Besides offering footage from the 'This Is It' tour rehearsals AEG Live is reportedly also offering for sale the broadcast rights for a prime-time tv special based around staging and choreography that Michael personally created for his "This Is It" concerts. That property prompted fevered competition among television networks over the weekend.
Reportedly, the special would be broadcast in September and it would be directed by Kenny Ortega ("Dirty Dancing", "High School Musical") who also worked with Michael Jackson as director of his "This Is It" performances. It is described as featuring an ensemble of superstars that might include Janet Jackson, Justin Timberlake and Will.I.Am performing Michael's hits using the costuming, choreography, aerial ballet and special effects-driven illusions that had been engineered for the singer's comeback.
Although it's been reported that NBC is the front-runner in bidding for the TV special, the network declined comment and denied rumors of a deal. However, sources close to NBC say it is in negotiations to air the special.
An announcement about both the television and film projects might be expected today.
Source: MJFC / LA Times
18.7.09
David Garrett uses his 300-year-old Stradivarius to play Mozart and Michael Jackson!
Not every classically trained musician has the gumption to interpret Michael Jackson on the violin. But German-born virtuoso David Garrett re-imagines "Smooth Criminal" with such fervor that you'd think Jackson had intended the song to be played by the instrument all along.
"I always loved his performances because as a lot of classical musicians are perfectionists, he was," said Garrett of the late singer. "He was really one of those people who was really old school, always looking for better performances. He was definitely a big influence on me."
This young 28-year-old musician, makes no bones about the fact he's trying to attract a younger audience to classical music by injecting shots of rock and pop.
17.7.09
MoonWalk new edition of Michael Jackson's autobiography
Moon Walk is the only autobiography written by Michael Jackson appeared in 1988. Today this autobiography will be publishing again for the biggest pleasure of his fans in edition collector limited on next August 13th.
Michael Jackson reveals his childhood, the personalities who influenced him in his career, the way it works, the relationships with his family, the real sense of his songs. His love for the music, his family as well as his fans.
16.7.09
Michael Jackson, will receive Awards
On July 24th, Michael Jackson, will receive in Austria, of the foundation World Awards and in title postume, the prize " Save the world " for his social and humanitarian compromise.
This distinction will be presented to Jermaine Jackson, brother of the King of Pop, during a ceremony broadcast in more than 50 countries, and where several artists shall interpret the most famous songs of the arti
The prize was named " heal the world " in homage to Michael Jackson.
" The objectives of the prizes "Save the World" are similar to those for whom Michael Jackson was fighting all his life: the peace, the tolerance and to save our fragile planet ", observed Georg Kindel, director of the foundation.
15.7.09
Edition Collector Vibrations Michael Jackson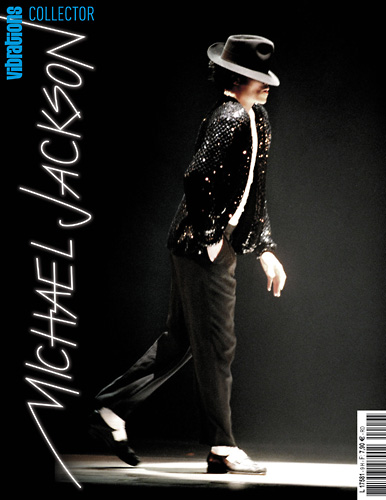 This magazine to collector is at present in kiosk. It's the only one to honor really the artist, because it was planned for a long time ago. Before the tragedy. His objective is not strictly material but to honored the genius. New photos, reports, etc... real journalism!
It's not the case of other publications which, after the disappearance of " King of Pop ", have gave is tribute making gutter press and people. There are the same who blasphemed him alive with the aim of increasing the profits.
14.7.09
Michael Jackson had to give the start of his tour to O2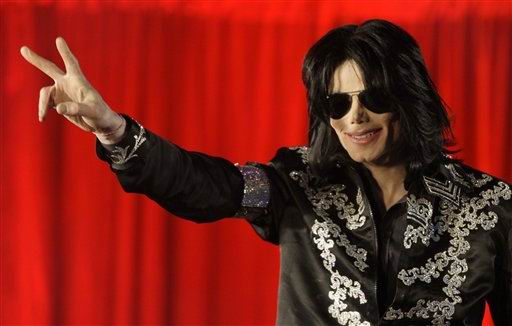 Michael Jackson had to give the start of his tour to O2 Arena of London on July 13th. Yesterday evening, several fans' hundreds liked all the same in come honor him. They gathered to share again their big sadness. Look at this video of CNN, it is very moving.

It is necessary to remember that 900.000 places of " This is it tour" had all were sold in some days.
13.7.09
US magazine Ebony is releasing a Michael Jackson special tribute issue.
The 100-page commemorative book celebrates the life of the King Of Pop.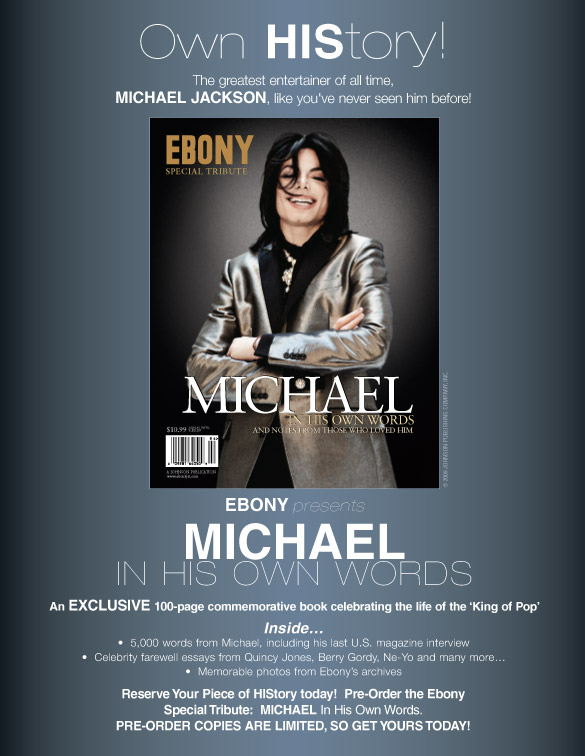 To pre-order, just click here . Price is $10.99 + shipping (Shipping per copy: U.S.$6.00; International: $9.00)
Source:MJFC
12.7.09
12.7.09
Michael Jackson remembered in hometown of Gary, Indiana
On Friday, thousands of fans in Michael Jackson's hometown of Gary, Indiana paid tribute to the superstar, who died June 25.
Jackson spent his first 11 years of life in Gary, where some the area's best young performers displayed their artistic prowess in honor of Jackson.
Rev. Jesse Jackson said, "This is the origin of it all. This is where Michael learned to dance, where he learned to sing, where he learned to sacrifice."
According to the Associated Press , the singer's father, Joe Jackson, 80, arrived over two hours after the tribute had begun at the city's baseball stadium.
11.7.09
Madame Tussauds Unveils New MJ Statue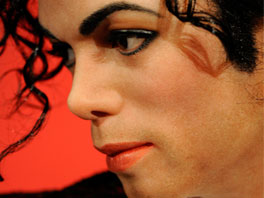 A brand new figure of the King of Pop, Michael Jackson, was revealed this morning, 9th July 2009. Depicted in the classic performance pose of his 'This is It' tour poster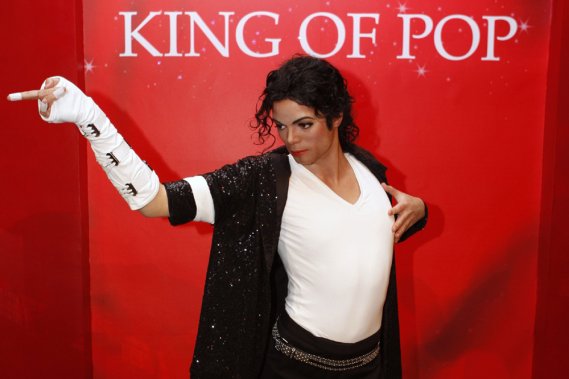 arms outstretched, pelvis thrusting forward, on tip toes with his trade-mark fedora pushed forward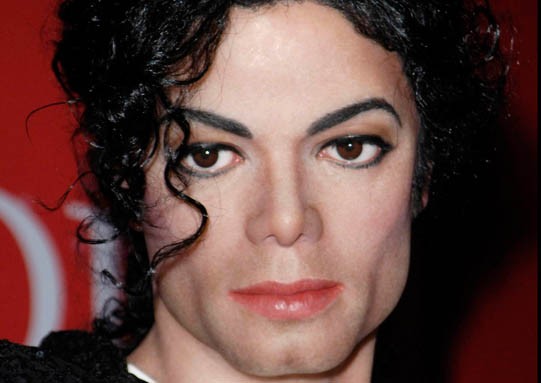 the figure is a celebration of his extraordinary career.
Source:www.madametussauds.com
10.7.09
Danilo 2010
This calendar is a tribute to the Pop legend Michael Jackson.
THE EXCLUSIVE SUN READERS SPECIAL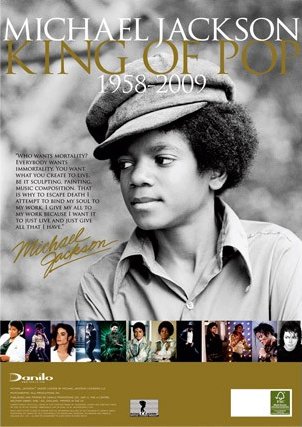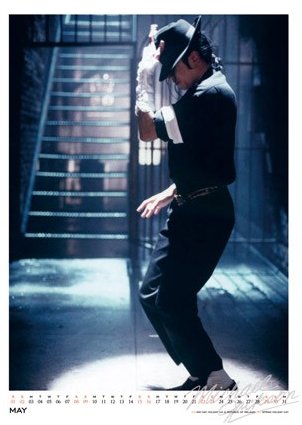 source: danilo.com
9.7.09
Top 100
In Switzerland a lot of albums of King of Pop has moving up in the top 100. INCREDIBLE!
Thriller25 N 1
Michael Jackson King of Pop N0 2
Michael Jackson The Essential N0 3
Michael Jackson The Collection N0 7
Michael Jackson Number Ones N0 19
Michael Jackson Bad N0 20
Michael Jackson Dangerous N0 32
Michael Jackson Off the Wall N0 37
Michael Jackson History N0 65
Michael Jackson Invincible N0 89
8.7.09
Liz Taylor is a real friend
I've been asked to speak at the Staples Center. I cannot be part of the public whoopla.And I cannot guarantee that I would be coherent to say a word. I just don't believe that Michael would want me to share my grief with millions of others. How I feel is between us. Not a public event. I said I wouldn't go to the Staples Center and I certainly don't want to become a part of it. I love him too much.
8.7.09
Memory The Final Goodbye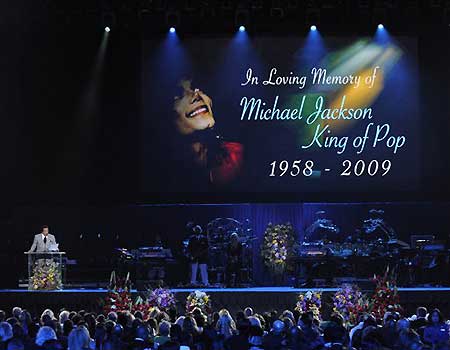 The world said a final goodbye and paid tribute to Michael Jackson during a moving memorial service in Los Angeles (USA) that lasted for about 2 hours.
Nevertheless, the channels of tv TSR (Swiss), M6 and TF1 (French) was very disappointing. His commentaries over the words of those who were honouring the King of Pop denote, once again, his lack of respect towards the artist and the family. The mass media were absent of professionalism since the funeral some were confusing with a spectacle...
The ceremony included performances by Mariah Carey ('I'll Be There'), Usher ('Gone Too Soon'), Lionel Richie, Stevie Wonder, Jennifer Hudson and speeches by Queen Latifah, Kobe Bryant, Magic Johnson, Brooke Shields, Martin Luther King III, Smokey Robinson, Kenny Ortega, and Berry Gordy. "Michael made us love each other. Michael taught us to stand with each other," Sharpton said.


Then, Mariah Carey and Trey Lorenz sang "I'll Be There."
Oscar- and Grammy-winning singer and actress Jennifer Hudson covered "Will You Be There." Hudson wore a knee-length white dress as she belted out a gospel-tinged version of the song. Toward the end, lyrics from the song appeared on a large screen while a recording of Michael's own tear-soaked voice softly spoke the words:
"In my anguish and my pain/ Through my joy and my sorrow/ In the promise of another tomorrow/ I'll never let you part/ For you're always in my heart."
"We love you, Michael," Hudson said after the song drew to a close.
John Mayer performed "Human Nature" on his guitar and Lionel Richie sang his Commodores song "Jesus Is Love."

Holding back tears, Brooke Shields told the crowd that the two former child stars were always "two little kids having fun" when they were together. She recalled Michael trying to teach her unsuccessfully to do the moonwalk.
"He was caring and funny, honest, pure, non-jaded and a lover of life," she said.


Then, Michael's brother Jermaine sang one of Michael's favorite songs, the Charlie Chaplin song "Smile".
Lakers star Kobe Bryant called the singer a "true humanitarian, who gave as much off stage as he did onstage."

Motown founder Berry Gordy said that Michael "was like a son to me". Gordy called Jackson "the greatest entertainer who ever lived." The pronouncement was greeted with massive applause.
"He was driven by his hunger to learn," Gordy said, "to confidently top himself, to be the best, the consummate student. He studied the greats and became greater. He raised the bar and then broke the bar."

Near the end of the service, the immediate Jackson family, clad in black, gathered on the stage. Most of Jackson's brothers wore matching yellow ties, with roses on their lapels and the signature white glove.
Brother Marlon said that "we will never understand what he endured, never being able to walk across the street without a crowd gathering."
"Maybe now, Michael, they will leave you alone," he said.
Perhaps one of the most touching moments came when Michael's daughter Paris (11) made a short statement under tears:
"I just wanted to say that...ever since I was born daddy has been the best father you can ever imagine. And I just wanted to say I love him so much."
PASTOR LUCIOUS SMITH
To millions around the world Michael Jackson was an idol, a hero, even a king. But first and foremost this man before us today was our brother, our son, our father and our friend. Michael Jackson was, and always shall be, a beloved part of the Jackson family and the family of man.

DIANA ROSS

I'm trying to find closure, I want you to know that even though I am not there at the Staples Center I am there in my heart. I've decided to pause and be silent. This feels right for me. Michael was a personal love of mine, a treasured part of my world, part of the fabric of my life in a way that I can't seem to find words to express.

MAGIC JOHNSON

I want to thank Michael for opening up so many doors for African Americans to be on daytime shows, late night shows. He allowed Kobe [Bryant] and I to have our jerseys in people's homes across the world because he was already there.


BERRY GORDY

When he did his iconic moonwalk, I was shocked. It was magic. Michael Jackson went into orbit and never came down. Though it ended way too soon, Michael's life was beautiful.

STEVIE WONDER

This is a moment that I wish that I didn't live to see come. But as much as I can say that and mean it, I do know that God is good and I do know that as much as we may feel - and we do - that we need Michael here with us, God must have needed him far more.

SMOKEY ROBINSON

You don't think you'll live to see them gone... He is going to live forever and ever and ever and ever.

Source: MJFC / MTV / NBC / BBC / LA Times
7.7.09
Forest Lawn Cemetery
On the eve of the memorial, activity was spotted late Monday at the Forest Lawn Cemetery involving the Jackson family. The cemetery is the location where relatives were expected to hold a private funeral.

7.7.09
Below follows a list of TV station and websites worldwide which will feature the Michael Jackson Memorial Service.
USA: CNN at 6 am; HLN; CNN en Espanol; E! Entertainment at 1 pm (ET); ABC; MSNBC; NBC; tvOne
Canada : CTV (online); GlobalNational.com at 1pm (ET); CTV News Channel
Italy: Italia 1 starting at 7pm
Australia : Sunrise on Channel 7 at 3am (EST) on July 8
The Netherlands : Nederland 3 (NOS) at 7 -8:30pm, sbs6 6-8:30 pm
UK : Sky Arts 1 (Channel 256) at 6pm; Sky News (Channel 501) at 5.30pm (GMT); Channel Five at 6.30pm
Russia : MTV Russia at 9:30 (Moscow time)
Germany : NTV at 6.30 pm; N24 at 6 pm
Ireland : TV 3 News at 5.30 pm
Romania : MTV Romania; Pro TV at 8 pm (EET)
Greece : Star
France : TF1, M6, LCI, BFMTV, i-Télé, NRJ 12 at 7 pm
Austria : ORF at 6:05 pm
Croatia : RTL Hrvatska 6:55 - 9:15 pm (CET)
China : phoenixtv (online) at 1 am on July 8; http://ent.sina.com.cn/y/mjdead/index.shtml (online) at 10 pm on July 7
Sweden: TV4+ at 7 pm; Tv4 at 7.28 pm
Portugal: RTP 1 at 6pm; maybe also SIC
Slovakia : TA3 at 7 pm
Denmark: DR1, DR Update and TV2 at 6.50 pm (CET)
Faroe Islands: KvF at 9 pm (GMT)
Iceland: RUV at 11.50 pm
World : CNN International
Internet: E! Online at 1 p.m. (ET), Yahoo 7, http://www.expressen.se/ (Sweden), http://www.aftonbladet.se/ (Sweden)
Source: MJFC
3.7.09
Michael Jackson's giant statue set up near Zurich !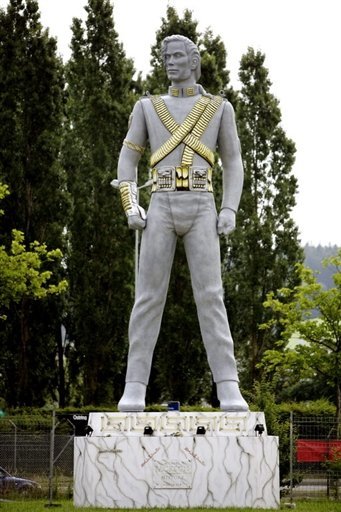 ZURICH, Switzerland (AFP) - A giant statue of the" King of the Pop" Michael Jackson, who died on June 25th, was set up near Zurich on the occasion of an organized ceremony this weekend in tribute to the American singer, explained AFP the organizer of the event.
The statue of 12 metres height and four tons was set up the day before on the lawn in the village of Regensdorf , in the northwest of Zurich , representative Michael Jackson standing and with golden belts.
"There are only 19 copies of this statue of grey plastic in the world and two of them in Europe ", told the organizer, Andreas Grassmann.
The organizers, who expect about tens of thousand admirers of the idol, will sell candles and roses and they put a book of condolences at the public disposal.
Source:AFP
3.7.09
More Info On Tuesday's Memorial
On Thursday, AEG and representatives for the Jackson family announced a memorial service for Michael Jackson will take place at the Staples Center in Los Angeles (USA) on Tuesday at 10 am.

Michael's family will hold a private ceremony before the public memorial service, his brother Jermaine said speaking to CNN's Larry King on Thursday.
Source: MJFC / CNN / TMZ
3.7.09
Jermaine Jackson's brother speaks out+ news video of Michael This is it
http://edition.cnn.com/video/#/video/showbiz/2009/07/02/vo.aeg.jackson.rehearsal.cnn
Source: CNN
3.7.09
BRAVO Spécial King of Pop .
1 Booklet 24 Pages the poster of This I's It accompanied of 6 poters..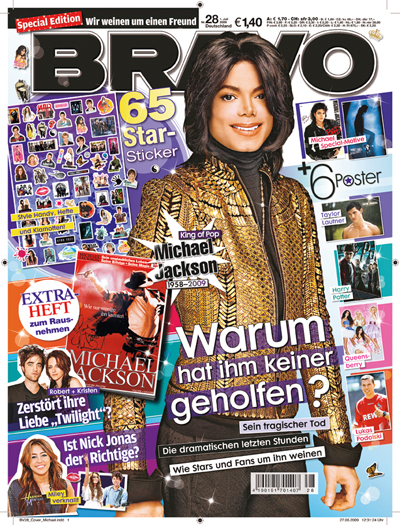 2.7.09
He's a part of our family
His fans explain why:
" He arrived in the depths of each. I understand hardly English but his music, his clips and his shows filled me. He made move the soul of all. " " For my generation he is the real king, because we didn't know an other like as Elvis. " Asserts Marcos Aguilar.
Gabriel Oré inspires profoundly before speaking: " I am touched " " Michael is and will always be the mainspring. All his songs had a positive message, and that, that marked my way of being. For me, it's a big brother. " This musical producer there known him personally during the edition of 2006 by World Music Awards, in London. " As soon as I saw him, he removed completely all the doubts which I had: his tendency to make you feel well, his immense smile " remembers.
The perception of Oré coincides with that of Sánchez-Moreno which also knew personally Michael Jackson in Tokyo in 2005: " he possessed one special aura. There is many artist sensitive, but him went to farther. "
Raúl Conejero tells us that: " for us, Michael he's as part of our family. We have grows with him. " And he doesn't exaggerate because, in 2005, when Jackson waited for the sentence of the court (where he was declared INNOCENT) Raúl traveled with all his family to Los Angeles to give him they support.
When we see all this media circus and these persons who they say they are fans, we wonder where they were, when Michael was in obscurity and when everybody attacked him? Nowhere, because the true fans, them, cry in the anonymity and love him more than everything, through the soul.
Gabriel expresses that: " the media were extremely cruel. We listened everything and it's something that was never made with anybody. "
Michael's songs remained orphan and each appropriates the words which they needs.
Source: Journal Público (Madrid).
30.6.09
"I am so proud of my son, Michael"
Flanked by the Ref. Al Sharpton, Michael Jackson's father spoke briefly to a gaggle of press and fans outside their home in Encino.

"I am so proud of my son, Michael" the Jackson family patriarch stated.

He told the press that Katherine had been granted guardianship of Michael's three children and reported that they were fine and playing with the other children at the Encino home. Asked about Debbie Rowe, the biological mother of two of the children, Mr. Jackson stated "She has nothing to do with this." When asked about Mrs Jackson, he said that she "was fine."

In response that ex-nanny, Grace, would be returning to assist in caring for the children, Mr. Jackson acknowledged that she was "a friend of the family," but that had not been decided yet.

Mr. Jackson said that no plans for a funeral have been made yet and assured the press that they would be told as soon as that information would be available. The time and place are, naturally, up to the family. Mr. Jackson said that Michael will not be buried at Neverland, as had been speculated.
He also said that he had not seen Michael's will yet.

On the entertainment side, it appears that there is a project in the works to assist talented underprivileged artists in Michael's name.

Source: MJFC / MSNBC
30.6.09
World Exclusive: THIS IS IT - The First Pictures!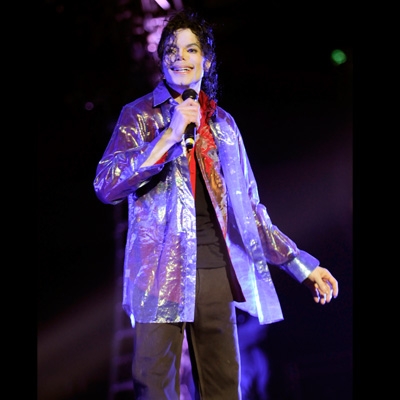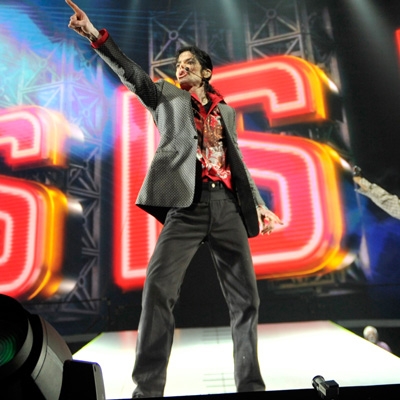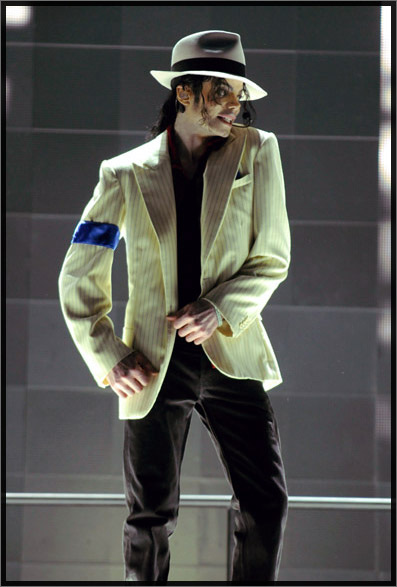 30.6.09
Christian Audigier
He repeated :
I'm dancing ! I'm dancing ! I'm dancing ! it will be great ! ! About his physical appearance, I saw him in the fitting room, he had a dancer's body, slender shape. He was slim but not thin. He was on form. Nowadays I hear people saying that he took things, that he was sick. During our dinner, I absolutely saw him absorbing nothing as medicine. Later, I do not know. I did not live with him 24 hours a day. The last time I saw him, he had a few make-up on his face and got dressed with a T-shirt of my brand Ed Hardy, a coat and a black jeans before going out. He was really super indeed, just like that.
29.6.09
Bet Award Video
28.6.09
Memory of the star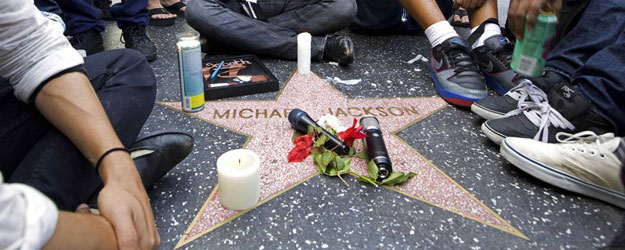 All around the world, the tributes still to flock to greet the memory of the star. In the festival of music of Glastonbury (West of England), artists and public covered spontaneously his biggest successes, as "Billie Jean" and "Thriller"
.On the " boulevard of the glory " in Hollywood, numerous admirers always marched around his star, on Saturday.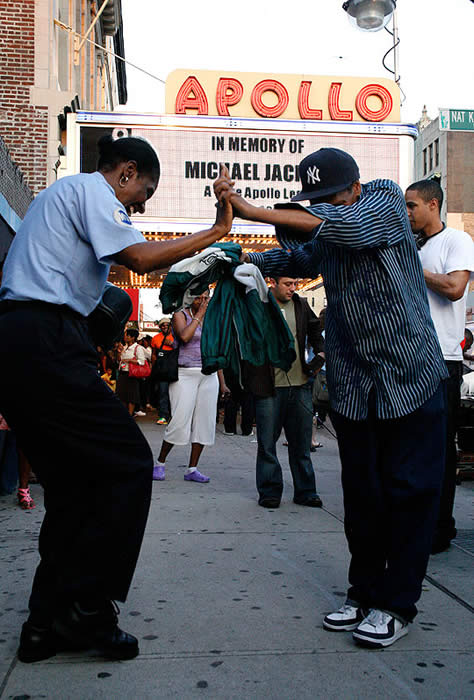 At Apollo
28.6.09
Time Special Commemorative Edition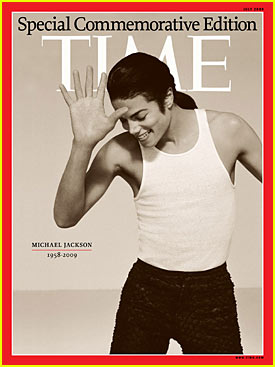 Us magazine Time will run a Special Commemorative Edition honoring Michael Jackson. The magazine is expected to be available on newststands next Monday.
The last time the magazine published a special edition in between weekly issues was in the days following 9/11.
27.6.09
Elizabeth Taylor
Close friend to Michael Jackson, Elizabeth Taylor has recently posted the below statements to her Twitter page.

"My heart...my mind...are broken. I loved Michael with all my soul and I can't imagine life without him."

"We had so much in common and we had such loving fun together."

"I was packing up my clothes to go to London for his opening when I heard the news. I still can't believe it. I don't want to believe it.
"
"It can't be so. He will live in my heart forever but it's not enough. My life feels so empty."

"I don't think anyone knew how much we loved each other. The purest most giving love I've ever known. Oh god! I'm going to miss him."

"I can't imagine life without him. But I guess with God's help I'll learn."

"I keep looking at the photo he gave me of himself which says, "To my true love Elizabeth , I love you forever." And I will love HIM forever."
Source: MJFC / Twitter
26.6.09
It is with pain that Jermaine Jackson declared to the press that our Michael let us and to respect the private life of the family.
For you Michael Joseph Jackson:
We can't believe that you have passed away. It is as to say "impossible". It is as to lose a member of the family. You gave us so much and you had all your genius in front of you, because as you said it so well, " the best remains to come ".
The most sad is that the history repeats, as for Chaplin (who is the only one at your level), Elvis, Marilyn and many others, the press and the society does not stop to tarnish your image, your private life and to blast the dream. Why? At the end, the cash!
The journalists of everywhere inconsiderate to get informations about your disappearance, but when you were alive they didn't let you breathing. That they leave you alone once and for all !...
Now you're flying to join your idols who, like you, prospered the industry of the disk, and the delight in every heart, even from the most sceptic...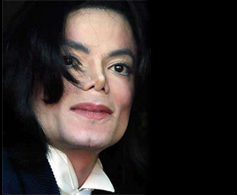 All the team of the Michael Jackson Fan-Club 3Generations, and the dreams, continue. We, the fans, will make living this spark with an eternal strength!
26.6.09
Michael Taken To Hospital
At present, the whole world press and all televisions of the world speak about this information, there surprises news just before his return in the scenes...
Michael has been taken in ambulance to the hospital, in Los Angeles. He would have been victim of a heart attack in the evening (about 30 after 21 European hour).
After having being notified, as the rest of the planet, early this morning, we are waiting of being able to confirm the sad news, what is not a simple word!
Still official press release has not reported
MJFC3Generations
25.6.09
New MJ Video Game
According to website 9Lives, a new Michael Jackson video game is currently being developed. Hopefully it will be issued for the Christmas holiday period.
Available for Playstation2, Playstation3 and Wii.
Source: 9Lives
19.6.09
Madame Tussauds The new wax figure!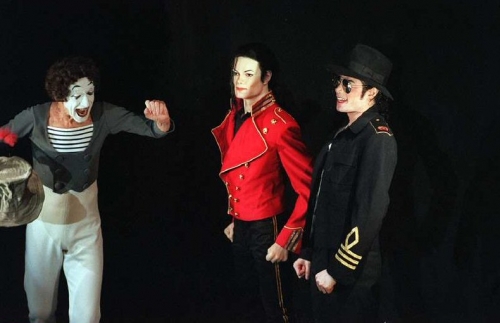 In acknowledgement of his upcoming 'This Is It' concerts, Madame Tussauds Wax Museum in London (UK) unveil a brand new figure of Michael Jackson.
This will be the tenth time the world renowned museum will have portrayed Michael Jackson, making him the most featured star ever, with only The Queen having been portrayed more.

PR Manager at Madame Tussauds London. "But Michael Jackson is totally unique and his iconic status makes him on"It is extremely unusual for a personality to have been portrayed so many times", remarked Liz Edwards, e of the most popular stars here. He has 'appeared' at Madame Tussauds as Thriller Jackson, Dangerous Jackson and with the huge excitement and buzz around his upcoming return to the stage we wanted to take the opportunity to celebrate his amazing 40 year career and present the 'This is It' Jackson for the 21st century."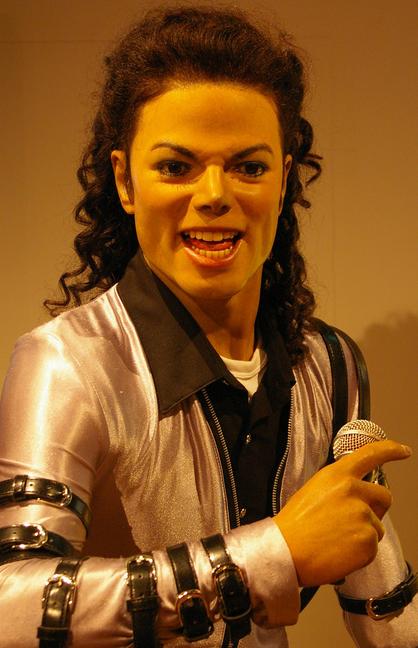 The new wax figure recreates the classic Jackson pose found on the new tour poster- arms outstretched, pelvis thrusting and tip toed with his trade-mark trilby angled forward. The figure will be revealed before the anticipated start of the shows in July. Michael Jackson's current figure was created from a sitting with Madame Tussaud sculptors 15 years ago.
Source: MJFC / Madame Tussauds
11.6.09
Official 'This Is It' Merchandise
The O2 Arena in London (UK) will soon open an online
shop offering official merchandise for the 'This Is It' tour.
Source: MJFC / O2
New photographs of Michael Jackson reveal the look that has made him famous.
The beautiful curls that has defined an icon are back.
Many Hip Hop producers have sampled Michael's music and now Ethan Hein has produced an easy to follow map of these samples. The map ties in Kanye West to Monica, Tupac to MCLyte and De La Soul to Puff Daddy.
This is something music lovers may find very interesting and it can be checked out by clicking here .
Citing challenges presented by a "massive and technically complex show," "This Is It" director Kenny Ortega and Randy Phillips, chief executive of AEG Live, announced in a video press conference today that the first 4 of Michael Jackson's will be rescheduled. The opening show will take place July 13, pushed back from its original start date of July 8. Three makeup performances will take place in March 2010.
A new video was posted on michaeljacksonlive.com of the recent dancer auditions and rehearsals for the upcoming shows in London. The video shows the many dancers from around the world who came to Los Angeles, CA (USA) in April 2009 to audition for the once in a lifetime opportunity to share the stage with Michael Jackson.
Michael Jackson's spokesman Tohme Tohme has told the Daily News that a rumour which was started by the British tabloid 'The Sun', is not true. The Sun had claimed Michael had been diagnosed with skin cancer last month after cancerous spots on his body and pre-cancerous cells on his face had been found. Tohme insisted that Michael is in "the best of health." "He is great.

"He's in perfect health ... he doesn't have any diseases whatsoever."
Yesterday, Michael and his children were out again in Los Angeles on a shopping trip. For example they visited Tom's Toys.
On July 8, 2009, in conjunction with the start of Michael's concert's in London, Song BMG will release a compilation titled " The Hits ." The album will be a 2 CD set containing classics from the Jackson 5, The Jacksons and Michael's solo career.
The streets of Hollywood are buzzing; Michael Jackson mania is in full swing 5,500 miles away from The O2 arena – the home of his historic 50 concerts this summer.
Kenny Ortega, the renowned Director, Producer, Choreographer and creative talent is hard at work collaborating with Michael Jackson in the overall design and direction for the upcoming 'This Is It' concert shows. Ortega previously worked on Michael Jackson's Dangerous and HIStory tours, some of the most spectacular shows ever staged.
Last week, thousands of dancers flew in from every corner of the globe including Japan, Australia, South America and Europe to audition for Jackson and Ortega – all of them were chasing their dream of winning a spot to perform on stage with their idol Michael Jackson.
Even after the selection process narrowed the competition from thousands of submissions to over five hundred top international dancers, there was still no dance space large enough in Los Angeles or New York to house the auditions. The producers ended up booking LA's Nokia Theatre L.A. LIVE, part of the site where the Grammy Awards are held each year, to handle the unprecedented numbers of performers who flocked to these auditions.
Ortega, having once been in partnership with Gene Kelly, is most recently known for his work as the Director and Choreographer of Disney's, High School Musical 1, 2 & 3. Ortega also Produced and Directed the Barbra Streisand's Millennium concert tour and is a two time Emmy award winner for his work as Director and Choreographer of the 2002 Winter Olympics opening and closing ceremonies in Salt Lake City, Utah.
In receiving the phone call from Michael to lead the team, Ortega said, "My answer without a beat was nothing could keep me away. Collaborating with Michael on the Dangerous and HIStory tours were two of the greatest creative experiences of my life, to be invited to partner with him again is a dream come true. Working with Michael is always a true and full partnership, he is a creative mastermind, he assembles top professionals to lead his team and then inspires each and every one of us to climb to new places, break out of the box and conquer new challenges. He is the most significant artist and entertainer of our generation."
"This Is It" is a spectacular concert experience incorporating iconic Jackson songs and choreography mixed with original new works. Ortega says, "Our show goals are to create more than a concert but a complete theatrical musical experience with a dynamic balance that features Jackson in both spectacular production and intimate settings. The stage set, choreography, costumes, lighting, effects and overall production will be of the highest standard and pushing the state of the art."
Michael is dedicated to every detail and aspect of the show working closely with his creative and talented production team. He is "tremendously excited" about sharing his stage show with hundreds of thousands of fans this summer in London.
Ortega goes on to say, "It has been over a decade since Michael and I worked on the HIStory tour together. We had been in discussion in the last couple of years about finding a new project to work on. When I got the call to join him for these concerts I was in-between gigs, catching my breath. I had just finished a World Press tour for High School Musical and was about to start a new film. In accepting the invitation I had to move a few mountains to clear my schedule, but I'm thrilled to say I'm fully on board."
Casting is in final stages for dancers and the band. The dedication, passion and determination of these performers, who are all personally inspired by Michael Jackson brings an unprecedented intensity to the stage. Michael Jackson, The King of Pop, has influenced a generation of performers through his music, dance and stage shows impacting an art form.
This week with rehearsals in full swing the impossible has become possible as details to this complex and dramatic show are being put together. And when moments get intense and exciting in rehearsals an age-old British tradition has been adopted – a tea break!
Ortega adds, "I go to work each day with a huge sense of joy just knowing what is in-store. Michael, the team and I will hash out a creative idea, we're ready to implement it and Michael will say let's sleep on it. The next day he is back in studio raising the bar to the next level and pushing us further for greater dynamic results."
Randy Phillips, President & CEO of AEG Live, commented, "The unprecedented demand for these shows turned a normal public on sale into a cultural phenomenon and pushed the boundaries by which we measure success. Michael and Kenny are creating an escapist adventure that will take the audience on an entertainment experience only imagined in dreams or big budget motion pictures. This is the perfect pairing on unique creative talents with the greatest repertoire in contemporary music."
Ortega concludes, "I am looking forward to the creative days ahead as we build a Michael Jackson experience like no other, and to ultimately arriving at The O2 - a magnificent venue and a worldly place. I am thrilled to be a part of the team that once again is bringing Michael Jackson, the greatest entertainer of our generation, back to the stage and into the light and love of his devoted fans."
By the end of the 50 concerts, 1 million fans will have witnessed one of the greatest musical events in history. This will be the last chance to see the King of Pop in London in what will be a historic stage show, and once in a lifetime concert experience - this really is it!
Note To Editors - One of the world's most popular entertainers, Michael Jackson has sold over 750 million units worldwide and is one of the very few artists to be inducted twice into the US Rock and Roll Hall of Fame. The Guinness Book of World Records has recognised Michael Jackson as the Most Successful Entertainer of All Time and Thriller as The Biggest Selling Album of All Time. Jackson won 13 Grammy Awards and received the American Music Award's Artist of the Century Award.
Michael Jackson's "This Is It" 50 concerts sold out in a matter of hours on March 13th smashing box office records.
Kenny Ortega, Producer / Director · Michael Cotton, Production Designer · Patrick Woodroffe, Lighting Designer
Starpulse.com's Fred Topel has interviewed Will.i.am about working with Michael last year when he was in Ireland. During the interview, Will.i.am was very enthusiastic about Michael's work ethic and his leisure time activities and spoke of how Michael took him out on horseback to pick apples. "He (Michael) says; "Why don't you take the horse? Take the horse and pick apples. It's wonderful. We love doing it. The horses love going apple picking." I'm like; "All right, I'll f'ing go." I swear to God. I'm on a f'ing horse. Michael Jackson's like, "Wow, it's great!" The horse is picking apples. I'm like picking apples and junk, putting them in a bag. I'm like wow this is like picking apples with Michael Jackson on horseback. Look at that s… right?"
He went on to speak about the songs he worked on for 'Thriller 25' which were included on that album, but added that other projects had not yet been released. "If he uses any of the original things that we've done, great. If he didn't, I have my memories and the things that we've done is awesome. I learned so much from the dude. He's cool."
Will.i.am then spoke of Michael's techniques prior to recording with him saying; "He was in my house. It's one thing you hear rumors, but when the guy's in your house, laying on your floor as you're playing beats, he's like, 'Will.i.am, I love this beat". He's laying and his feet are up on the chair, he's kicking his feet. I'm like dude, Michael Jackson's laying on my floor. He's testing his voice and three hours has passed. He's just "mi mi mi mi mi mi mi mi mi, mi mi mi mi mi mi mi mi mi". He's doing both voice testing just to sing for five minutes. He's testing his voice for three hours to sing for five minutes. I don't know. Fergie don't do that s…. Usher don't do that s….None of the people that you think still got it do that. I've seen it, in my house. That's because he's a perfectionist and he just likes testing his voice. I'm like, 'Dude, can we record now? Because it's three hours, and it's only going take five minutes." "No, I just want to warm it up". "Like dude, that's hot. It's warmed up". And he has it. I've seen it. He "mi, mi, mi'd" for three hours. Perfect pitch."
As you could observe our Web space changed his visual structure and new sections have been created and much more....
That dancers from all over the United States have flown into Los Angeles in order to audition for the King of Pop. The backup dancer hopefuls have had almost daily rehersals, with the male and the female dancers being auditioned seperately. Several dancers who took part in the audition process shared details of their experiences on their Twitter pages. According to Twitter, the female dancers not only had to learn the "Smooth Criminal" choreography but also had to learn how to walk and strut like Naomi Campbell. Those dancers who were hired have been told that they must be free for two years for a national and international tour. Rehearsals begin next month and then move to London (UK) in June.
The highly anticipated auction of Michael Jackson's property from the Neverland Valley Ranch will no longer proceed as scheduled.
On Tuesday, auctioneer Darren Julien and MJJ Productions announced in a joint statement that they had agreed to cancel the sale and return the property to him. The terms of the agreement were not revealed.
While the auction will not continue, MJJ Productions and Julien's said that the exhibition of Michael Jackson memorabilia would remain up until April 25. It is displayed at a former Robinson's-May department store in Beverly Hills, CA (USA).
Following the exhibition, all items will be returned to Michael Jackson. In the announcement, Julien's and Tohme R. Tohme, spokesman for Mr. Jackson, said they had "made arrangements that will allow the collection to be shared with and enjoyed by Jackson's fans for many years to come."
"From an artistic standpoint we are very disappointed. It's just kind of a relief for us, because it's a resolution. Litigation is not fun for anybody."
Kent Twitchell is most well-known for his famous outdoor murals which have adorned various Hollywood buildings over the past years. Currently, he is about to present an indoor exhibition at the LOOK gallery in downtown Los Angeles, which begins today, April 2nd and will run through until April 27th.
His new exhibition: 'Thriller: The King of Pop Meets the King of Cool: Exploring the Lost Works of Kent Twitchell' shows the mural of Michael and a mural of Steve McQueen, a.k.a. the King Of Cool.
Michael Jackson's album 'Thriller' has been named the Greatest Album Ever on MTV UK. It was chosen from a selection of 300 international albums.

MTV Base, MTV Two and VH1 selected 100 albums each. 'Thriller' was included on two of the lists (MTV Base, VH1), VH1 also listed the 'BAD' album. Trevor Nelson (MTV Base), Zane Lowe (MTV Two) and Edith Bowman (VH1) discussed the merits of all abums in a bid to select the 10 best rock, urban and pop offerings. Of course 'Thriller' was one of the 30 albums selected and finally turned out to be the overall winner in a viewer`s poll - securing almost a third of the total vote. More than 40,000 votes were cast.
"I don't think there'll ever be another album like it in the history of music.
There will never be a marriage of producer and artist, or songwriting and pop sensibility like that again. Due to the way people buy records now, there'll never be an album that sells as many copies."
'MTV's 'Greatest Album Ever: The Results' will be broadcast on MTV1, MTV2, MTV Base and VH1 on April 11 at 9pm.
1. Michael Jackson - 'Thriller'
2. Craig David - 'Born To Do It'
3. Guns N' Roses - 'Appetite For Destruction'
4. Radiohead - 'OK Computer'
5. Nirvana - 'Nevermind'
6. Oasis - '(What's The Story) Morning Glory?'
7. Oasis - 'Definitely Maybe'
8. U2 - 'The Joshua Tree'
9. Arctic Monkeys - 'Whatever People say I Am, That's What I'm Not'
10. Amy Winehouse - 'Back to Black'
11. The Strokes - 'Is This It?'
12. Kanye West - 'The College Drop Out'
13. The Stone Roses - 'The Stone Roses'
14. Eminem - 'The Marshall Mathers LP'
15. The Smiths - 'The Queen Is Dead'
16. Rage Against The Machine - 'Rage Against The Machine'
17. Prince and The Revolution - 'Purple Rain'
18. REM - 'Automatic For The People'
19. Usher - '8701'
20. Pixies - 'Doolittle'
21. The Notorious B.I.G - 'Ready To Die'
22. Lauryn Hill - 'The Mis-education of Lauryn Hill'
23. Human League - 'Dare'
24. Jay-Z - 'Blueprint'
25. Dizzee Rascal - 'Boy In Da Corner'
26. Mary J. Blige - 'What's the 411?'
Beverly Hills, CA (March 27, 2009) – Michael Jackson, universally acclaimed as the King of Pop, today named Leonard Rowe, the legendary concert promoter from Atlanta, as his new Manager. Rowe succeeds Dr. Tohme Tohme.
"I am very pleased that Leonard has accepted my offer to manage my business affairs during this important period in my career. Leonard Rowe has been a long-time friend and business associate whose judgment I have come to trust."
Rowe has worked closely with Michael and the Jackson Family since promoting the family's 'Off the Wall Tour' in March 1979.
"For the past 30 years, I have had a great feeling of admiration for Michael and his family. We worked hard together and made history on the 'Off the Wall Tour'. I am grateful to Michael for this opportunity and look forward to once again working with my friend to ensure a successful and historic comeback."
Rowe has been a staunch advocate for African-American rights in the concert promotion industry for the past 35 years. His landmark antitrust and civil rights litigation against nearly every concert promoter and agency in the music industry won the promoter a no-nonsense reputation for challenging the status quo.
Renowned Civil Rights leader Dr. Joseph Lowery recently said:
"Rowe has fought hard to preserve the rights of both African-American promoters and artists in the music industry against rampant industry discriminatory practices."
Rowe has dedicated his career to successfully promoting and touring hundreds of acts, including the Jacksons, Prince, R. Kelly and the late Marvin Gaye.
According to the Recording Industry Association of America (RIAA), 'Thriller' has now been certified 28 times Platinum just in the United States alone! While originally released in 1982 'Thriller' has been re-released in various special editions, most recently with 2008's 'Thriller 25.' However, in spite of the different special editions, the original album continues to fly off the shelves; proving that it truly is the greatest album of all time!
What are your favorite songs? What would your dream set list include? Old and new, popular or obscure, your favorite songs may have a special meaning to you, recall a fond memory, or simply be a great dance tune.

Everyone can vote! Everyone should create your ideal set list. Even if you weren't one of the lucky ones to buy tickets to the sold out concerts at The O2 arena in London you may still see songs from your ideal set list performed! The Michael Jackson shows are being recorded for future viewing, more details to follow in the upcoming months!
So hurry, your votes must be received by Tuesday, 24th March, 2009.
In an interview to German magazine 'Bunte', AEG Live concert promoter Randy Phillips said that after the London concerts a world tour could be a possibility and is in the talks.
First could be concerts in Europe, including concerts in Germany (eg Berlin, Hamburg), then Asia and finally North America.
However, he said this would depend on how well everything in London will take place. There are no contracts yet.
At next soon time...
Thousands of people queued through the night outside the O2, with many more jamming phone lines and websites for a chance to get tickets for Michael Jackson's concerts at the O2 arena in London (UK).
Ava Zadkhorvash and student Ayesha Obi (19) were first in the queue at the O2 and secured tickets shortly after they went on sale. The pair, both from London, had been waiting in line since Wednesday evening to make sure they got the chance to see their idol. Ayesha Obi said the experience was a thriller.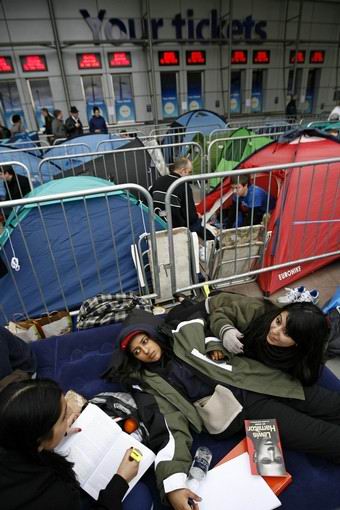 AEG have released the dates of the final five shows Michael will be performing at the O2 in London. This bring the total to a record breaking 50 shows, which will be watched by approximately one million people.
Presale tickets to Michael Jackson's summer concerts at London's O2 Arena have already sold out, despite 11 more dates being added.

Organisers AEG Live said demand for his shows had been overwhelming. So this morning organisers added 17 additional concerts, and further shows are possible.
Beforehand the tour web site had crashed with fans registering for and buying presale tickets. Chris Edmonds, Ticketmaster's managing director, said:
Organisers also said half the number of seats to each show have been held back until the official sale starts on Friday, March 13 at 7am. They also said to expect further announcements.

Michael Jackson, who has meanwhile returned to the US for rehearsals, is said to be "ecstatic" about the way the shows are being received.
Ticketmaster has added more concert dates to their listing and offer them for sale for fans with a presale code.
The following info has been published on the web site of the O2 arena concerning the public ticket sale starting Friday, March 13 at 7am:
The first 10 dates for the upcoming July 2009 Michael Jackson concert series in London have now been revealed at
Michael Jackson attended a performance of the musical Oliver! with two of his children in London (UK). However, things got a little out of hand after the show when the large crowds of fans tried to get close to their idol.
The scenes began when Michael Jackson left his hotel, The Lanesborough in Knightsbridge. He appeared happy with the warm reception from his fans, smiling and waving at fans, signing autographs and shaking hands before leaving in a minibus.

He then descended on London's Drury Lane to watch the show starring Mr Bean actor Rowan Atkinson, with his two youngest children, Prince Michael II and Paris. At the show, the trio were joined by Michael Jackson's friend Mark Lester, who played Oliver in the original 1968 film.
Editor's note: While we of course understand fans being very happy to see Michael, MJFC kindly asks all fans to take care of the security of Michael Jackson and especially his children.
The King of Pop strode onto the stage proudly and said these few words to the cheering crowd:
Thank you all. This is it! These will be my final shows in London. And when I say this is it, I mean it, because....
I will be performing the songs that my fans want to hear. This is the final curtain call. I will see you in July and...
I love you. I really do, you have to know that. I love you very much; from the bottom of my heart. This is it! See you in July!"
Ten shows were announced initially, to begin on July 8. Tickets are expected to go onsale March 13 and will be available through www.MichaelJacksonLive.com. You can go to michaeljackson.com for info on presale tickets. Ticket prices are expected to be £75 / £65 / £50, plus booking fees.
"We are delighted to facilitate the return of The King of Pop, long may he reign! Michael at The 02 this summer will surely be the highlight of the musical year. When Michael Jackson performs, the eyes of the World will be watching. Look out for an International flavour to the audience, as this will be his only concerts in the WORLD this year!" -Rob Hallett, President International Touring, AEG Live.
"We are delighted to facilitate the return of The King of Pop, long may he reign! Michael at The 02 this summer will surely be the highlight of the musical year. When Michael Jackson performs, the eyes of the World will be watching. Look out for an International flavour to the audience, as this will be his only concerts in the WORLD this year!" -Rob Hallett, President International Touring, AEG Live.
An exclusive new Michael Jackson video showcasing his electric performances over the years will make a record breaking debut on March 8, 2009 at 9:30pm on UK channel ITV. Michael Jackson will be the only artist ever to take over an entire ad break.
Just before the press conference Michael Jackson was spotted leaving London's Lanesborough hotel before offering up a peace sign and boarding a bus.
Source: MJFC / Outside Organisation / AP / http://www.celebrity-gossip.net / michaeljacksonlive.com
AEG Live inviting you, as Michael's fans, to attend the press conference at the O2 arena this Thursday, March 5th where Michael will be making a special announcement. Entry is on a first come, first served basis but we have been assured that there is a large public area where you will be able to see Michael.
This is the information we have received and been asked to pass onto you.
Attention Fans! AEG Live is inviting you down to the O2 in London for a very special announcement from Michael Jackson. Access is granted on a first come first serve basis.
Julien`s Auctions has put another catalog of the auction of Michael Jackson property in April online. You can flip through the catalog for "Session V-VI: Amusements, Arcade Games and Disneyana".
Michael dans Moonwalker bust.
On February 7, 2009, The GRAMMY Museum in Los Angeles (USA) unveiled 'Michael Jackson: HIStyle'. This one-of-a-kind exhibit features a selection of the elaborate clothing that has come to define the "King of Pop's" uniquely personal style. Located on the Museum's third floor, this limited-time exhibit will offer visitors the unprecedented opportunity to get up close and personal with one of pop culture's most iconic looks.
"The GRAMMY Museum is excited for this rare chance to share this material with our visitors," said Chief Curator Ken Luftig Viste. "Michael Jackson is undeniably one of the most significant entertainers in pop music history, and the pieces' starpower – and design -- is striking. Few, if any, have ever before been made available to the public in this way."
Including eight elaborately embellished jackets, two gloves, and more, the exhibit will be on display until mid-April 2009. Highlights include jackets worn on the Victory tour, at Jackson's 1984 American Music Awards appearance, and at the dedication of his star on the Hollywood Walk of Fame. All are elaborately bejeweled, beaded, and detailed – with one piece weighing nearly fifteen pounds.
"As a 21st Century museum, we will update our exhibit content frequently," said Executive Director Robert Santelli. "Though we've only been open a short time, Michael Jackson: HIStyle allows us to demonstrate our steadfast commitment to putting that goal into practice. Plus, it's an amazing collection."
Programs related to Michael Jackson: HIStyle will be announced shortly.
The GRAMMY Museum at L.A. LIVE is located at 800 West Olympic Boulevard, Los Angeles, CA 90015. With an entrance off of Figueroa Street (one-half block from STAPLES Center), the Museum is located within the L.A. LIVE sports, residential, and entertainment district, at the intersection of Olympic Boulevard and Figueroa Street in downtown Los Angeles. For more information visit www.grammymuseum.org
On the official website of his fashion line Ed Hardy, designer Christian Audigier published a recent photo of himself posing with Michael Jackson in leather jackets.