23.12.07
Akon Hints At 2008 Project
Singer Akon gave an interview on the radio show 'Courtney & Kiss Ìn The Morning' on the Hartford, Conneticut radio station Kiss 95.7. During the interview, he talked about working with Michael for the Thriler 25th Anniversary Edition album and also hints at an upcoming project 2008 around Super Bowl time (Super Bowl XLII will take place on February 3, 2008).
To listen to the interview, click here .

Source: MJFC / Kiss 95.7
21.12.07
Thriller 25 Teaser 2
To view another teaser for the upcoming 'Thriller 25th Anniversary Edition', click here .
Please note that you need Quick Time Player to view the video and that it can take some time to load.
Source:MJFC/Sony
20.12.07
Exclusive: 'The Girl Is Mine' Single Cover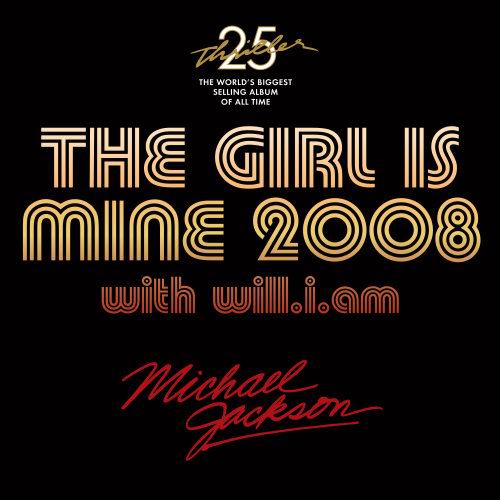 In Switzerland, the first single from the upcoming 'Thriller 25th Anniversary Edition` will be released on January 25, 2008. It will be a 2-track single:
The Girl Is Mine 2008 with will.i.am
The Girl is Mine 2008 with will.i.am (Club Remix)
We additionally received information that in Switzerland the Thriller 25th Anniversary Edition will also be released on vinyl.
Souzrce: MJFC / Sony Switzerland
19.12.07
Thriller 25 Updates: New Teaser
Epic Records has relaunched the 25th anniversary of the Thriller album. There you can watch all the videos from Thriller and you can also view a new teaser for the 25th Anniversary Thriller.
Additionally, in January 2008 an updated version of MichaelJackson.com will be launched. Stay tuned...
Source: MJFC / Epic
15.12.07
More On Thriller 25
The team of the UK fan club MJWN have attended an exclusive hearing of 3 songs from Michael's upcoming album 'Thriler 25th Anniversary Edition'. Below follow parts of their review:
THE SINGLE:

'The Girl Is Mine' [...] has a heavy beat and Paul McCartney's vocals from the original song have been removed. New unheard vocals from Michael also appear at the end of the song. The song is just over three minutes in length. It's absolutely FANTASTIC and could easily be a number one single. Probably the best re-mix to be given to a Michael song.

'Wanna Be Startin' Somethin'' – Akon has given this classic song a new modern touch. It's predominately a cover (rather than remix) with Michael providing backing vocals and one verse.

'For All Time' – This is a wonderful ballad with loads of emotion driving through it. Many know that it has unfortunately been leaked in the past. For those who have heard this version around the Internet, this is the same version but re-mastered to sound brilliant as well as featuring a bridge in the song that has previously not been heard. The song is just over four minutes in length.

THE ALBUMS:

The album will be released in four different ways:

Classic CD Edition:
This will be an audio CD featuring the tracklist as per the Press Release. It will have a cardboard slip on case with the traditional 'Thriller' picture. The only twist will be that it is a holographic cover.

Zombie CD Edition:
The content is identical to the Classic Edition, but has the famous picture of Michael with the zombies around him as the slip on case display. This will also be a holographic cover.

Deluxe Limited Edition:
This comes as a hardbound book, containing the same CD and DVD as above. However it will also come with a booklet containing more photos and extra content. This will be limited to only 20,000 copies.

12" Vinyl:
The album will be released as a gatefold double LP. A must have for all collectors! PROMOTION:

As well as planned posters and radio advertising, the album will get a thirty second TV advert; the first time 'Thriller' has ever been advertised on TV. The advertisements are due to start on February 11th.

The single 'The Girl Is Mine' will get its first radio airplay on the same day as the digital release, January 14th.

The Classic and Zombie CD Editions, with an audio CD and DVD, will be printed up to near the end of 2008. They then plan to revert to just the audio version of the CD being sold."
For the complete MJWN review, click here.
Source: MJFC / MJWN
14.12.07
Jet Cover Featuring Michael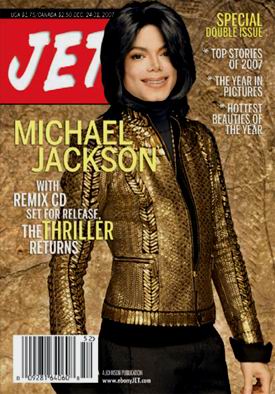 Michael will be featured on the cover of a special 2-weeks (December 24-31) double issue of the US magazine Jet . The cover reads:
Source:MJFC
4.12.07
2 Versions Of Thriller 25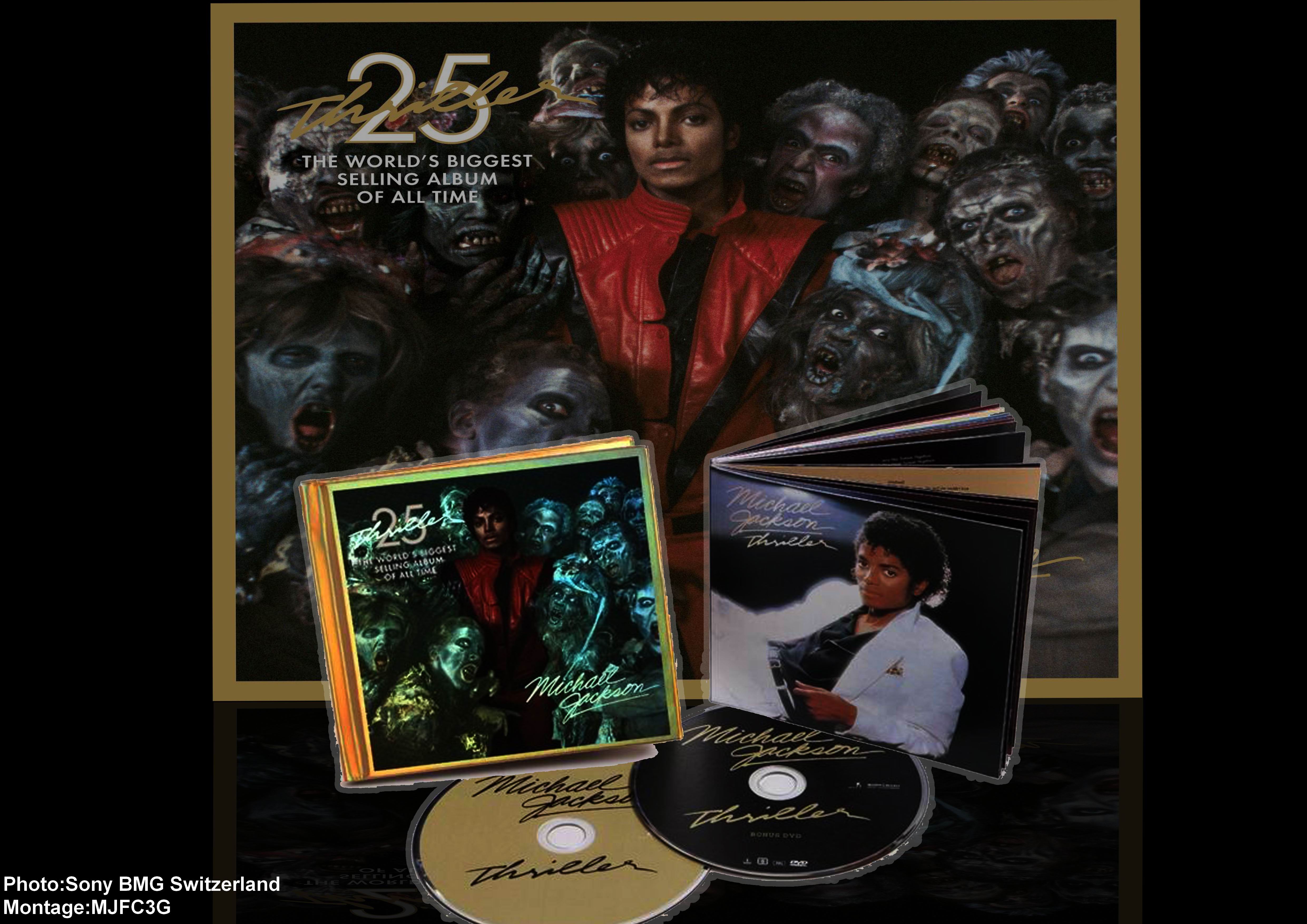 In Switzerland, the Thriller 25th Anniversary Edition will be released on February 8, 2008.
Especially interesting for collectors is that the set will be released in 2 versions:
Standard Edition : Zombie cover, special O-card, brilliant box, 20 page booklet

Limited Casebook Deluxe Edition : Pozzoli book, 48 page booklet
Source: MJFC / Sony Switzerland
1.12.07
Celebrating the 25th anniversary of the legendary 'Thriller' album.
21.11.07
More Musings on Michael...
Just a few more random stories that I didn't manage to include in my original article...

--Once, Michael asked me to run down the street to McDonalds to grab some lunch for him. This was a pretty rare request, as he usually had a personal chef come in every day to prepare his meals. Anyway, when I asked him what he wanted, he admitted that he had no idea what they served, and that he had just heard from people that the food was good there!

I ended up getting him one sample of nearly every item from the menu. He took a small bite of each, and then told me what he liked and what he didn't. If I remember correctly, he really liked their fish sandwich.

--When the title track "Dangerous" was being recorded, Michael was injured in the studio and had to be rushed to the hospital! A temporary recording booth that we had built for him collapsed and knocked him on the head just as he started singing.

He ended up being just fine, and for a long time, we used to play an early mix of the song which started with a sample of him screaming in pain as the walls came tumbling down!

--He was amazing in the studio. He has the equivalent of a photographic memory for music. He could sing something 40 different ways, and then two weeks later, remember that takes # 6 and 27 were the best ones.

--We recorded so much music for Dangerous , that it was nearly impossible for MJ to pick out what was going to end up on the album. At once point, it was going to be a double album, as he had well over two hours of music chosen for the release.

When Sony decided they wanted it all to fit on a single CD, Michael kept coming back with lists of his his "final" selections, but they almost always added up to over 74 minutes--the maximum running time for the disc. I remember them going back and forth on this for weeks.

--Madonna visited MJ in the studio exactly one time. They spent a little while in his "private" room in the back, and then she left. When I asked Micheal later about her visit, he said that she "scared" him.

I think we all speculated that she tried to make a "move" on him, but Michael never said. In any event, we never saw her again after that...

--Brooke Shields used to call him on the phone a lot. This was the pre-cell phone era, so I would usually answer his calls and then have to go find him in the studio. She was always really nice to me.

The Backstreet Boys came by one day, too. And, in the whole time I worked there, Janet only stopped by once as well.

--There were originally three production teams working in our studio. After working up about a half a dozen songs with one of them, Michael decided he didn't like any of the stuff they had come up with, and fired them. I think some of these songs eventually came out in later releases...

--When Teddy Riley was brought on board, he didn't want to work in our studio. So for three months, our studio sat empty, and my whole job consisted of driving tapes back and forth between our place and Teddy's.

--MJ was very concerned about the Gulf War. Once, he asked me if I was going to have to go fight with the Army. When I told him I was planning on staying right where I was, he said "that's good--because if you go to the war, you could die."

--Michale had some $900 remote-controlled motorcycles delivered to the studio one day. He asked me to come out to the parking lot to try them out, and when we were messing around with them, he drove his motorcycle out of the lot and into the alley, when a car came by and ran it over!

He thought that was really funny. I couldn't believe that he could laugh so much at losing a thousand-dollar toy.

--He still has my ink pin !
11.11.07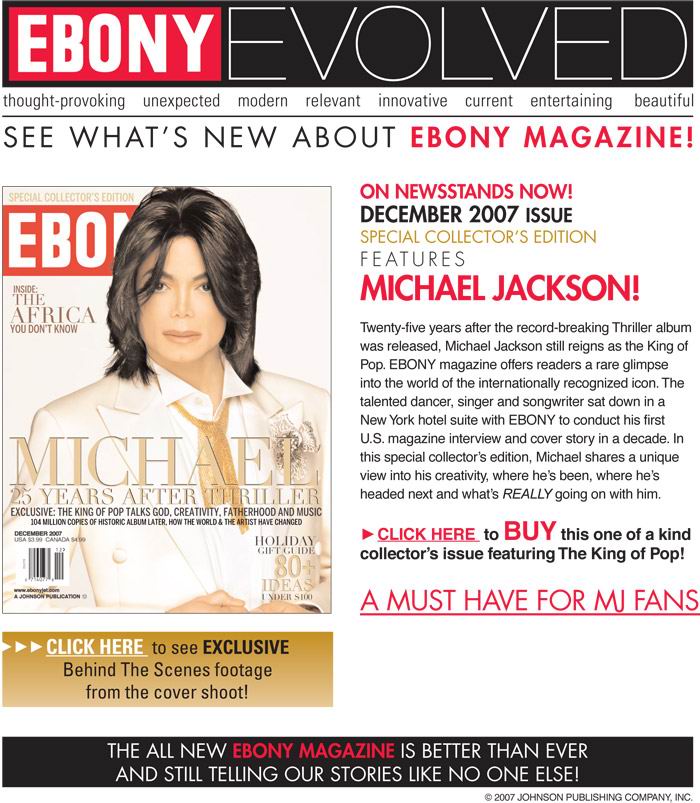 10.11.07
Rolling Stone Japan
As reported earlier, Michael Jackson is featured in the December 2007 special 80s issue of the Japanese Edition of Rolling Stone Magazine that includes an extra 44 pages book 100% dedicated to the King if Pop. The extra book cover design features a classic drawing.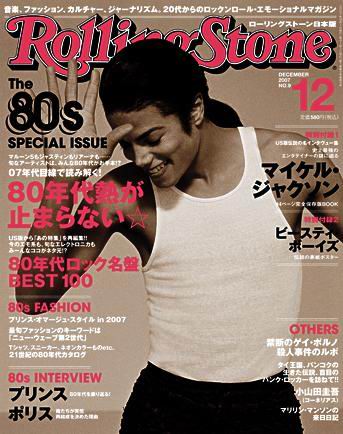 Extra Book Specifications: 166 x 209 mm, 44 pages, not sold as a separate piece.

Extra Book Contents: 5 interviews that have been previously published by Rolling Stone US edition: #81 (1971), #389 (1983), #417 (1984), #509 (1987), #621 (1992), a complete gallery of US edition's covers dedicated to Michael Jackson, discography of Rolling Stone Japan's (6 albums recommended by Rolling Stone Japan) and the latest news about MJ's new album.

The magazine will be soon available at MJJSHOP.COM - the Michael Jackson worldwide shop, that has been finally launched!

Source: MJFC / MJJMAGAZINE.COM / Rolling Stone Japan
9.11.07
Michael Attends Birthday Party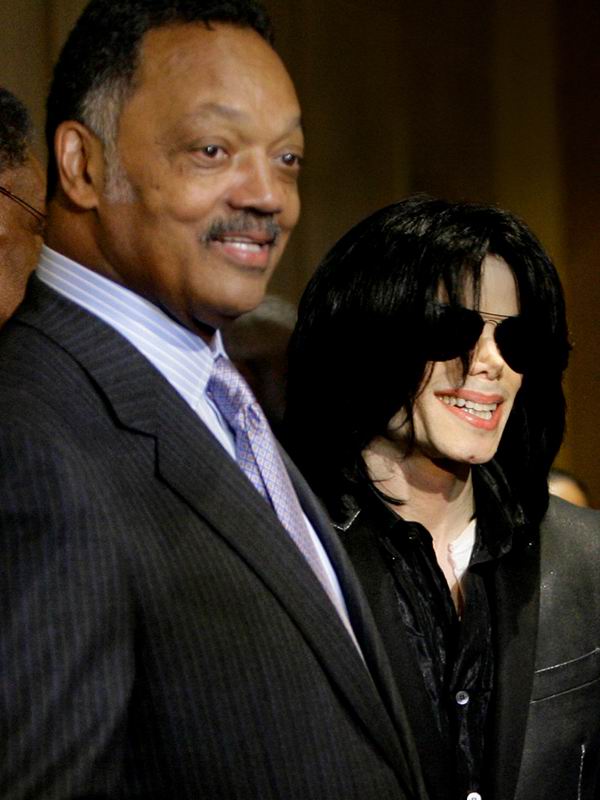 Michael Jackson was at the Beverly Hilton Hotel Thursday evening to celebrate the 66th birthday of the Reverend Jesse Jackson. The birthday was celebrated at the RainbowPUSH Coalition Los Angeles' 10th annual awards dinner.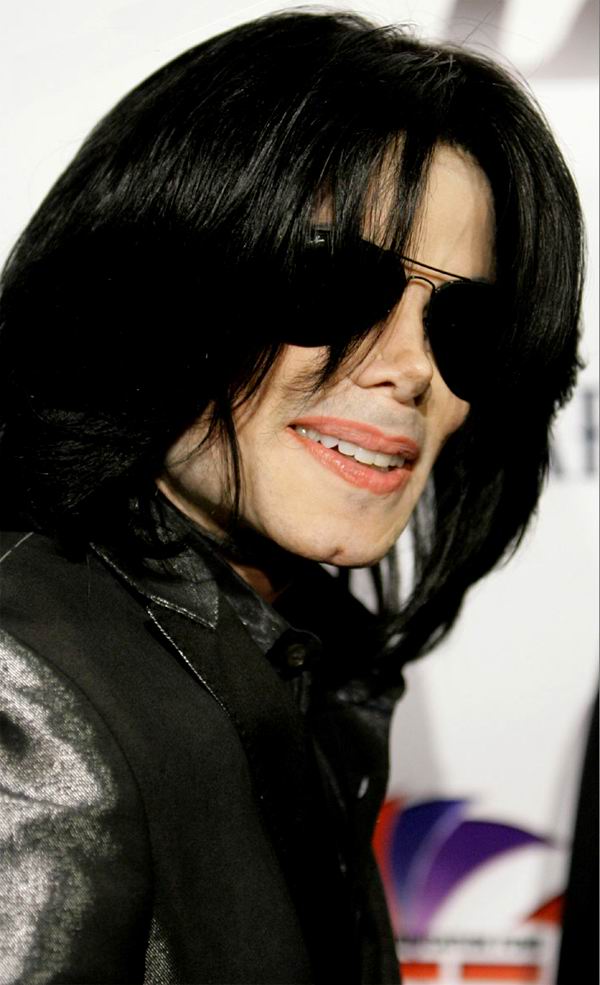 He led the crowd in a rendition of "Happy Birthday," and commiserated with talk show host Larry King.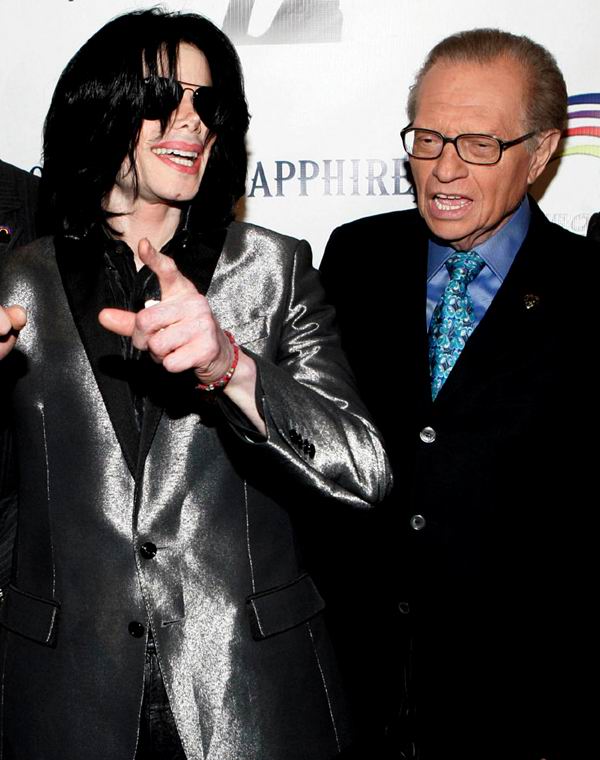 Source: MJFC / KNBC / AP / Examiner
8.11.07
Ebony Interview Extracts
(07-11-2007) In his latest interview, Michael told Ebony magazine that he's "just about wanting to do wonderful music." He said:
I'm writing a lot of stuff right now. I'm in the studio, like, every day."
Michael didn't say though if and when he'd have a new album coming out.
He did talk at length about the making of the album 'Thriller,' his unveiling of the moonwalk during the 25th Motown Anniversary Special, and breaking barriers at MTV.
I'm very proud that we opened doors, that it helped tear down a lot. Going around the world, doing tours, in stadiums, you see the influence of the music. When you just look out over the stage, as far as the naked eye could see, you see people. And it's a wonderful feeling, but it came with a lot of pain, a lot of pain."
Michael also explained that being a pioneer and "on top of your game" makes artists targets to people that want to "get at them." Nevertheless he's grateful:
All those record-breaking things, to the biggest albums, to those No. 1's, I still feel grateful."
Looking ahead to the future, Michael doesn't see himself performing in 30 years:
The truth is, umm, no. Not the way James Brown did, or Jackie Wilson did, where they just ran it out, they killed themselves. In my opinion, I wish [Brown] would have slowed down and been more relaxed and enjoyed his hard work."
And what does he think about all the rumors about him?
I don't pay attention to that. In my opinion, it's ignorance. It's usually not based on fact. It's based on, you know, myth. The guy who you don't get to see. Every neighborhood has the guy who you don't see, so you gossip about him. You see those stories about him, there's the myth that he did this or he did that. People are crazy!"
The complete interview is featured in the December issue of Ebony magazine which is hitting newsstands on November 12, 2007.
Source: MJFC / CBS / http://www.showbuzz.cbsnews.com
6.11.07
Michael Jackson Ebony Video Online
Check out the latest video of Michael Jackson appearing in Ebony: WATCH VIDEO
3.11.07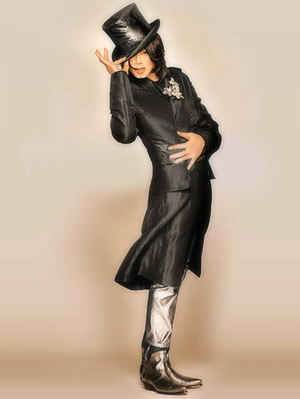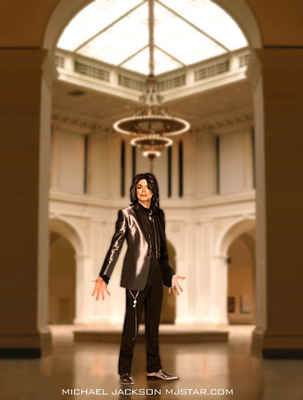 2.11.07
Michael On Ebony Magazine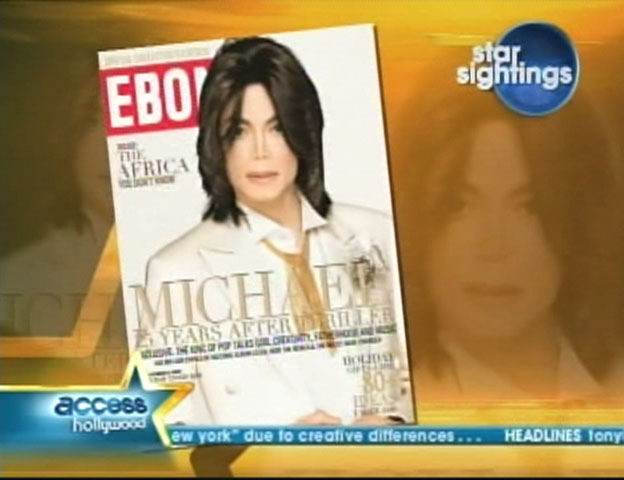 (01-11-2007) Michael will be featured on the cover of the December issue of 'Ebony' magazine. The issue will be celebrating the 25th anniversary of 'Thriller'.
For the photoshoot Michael was in New York City's Brooklyn Museum. He posed to his own classic hits and showed off his untouchable dance moves for Ebony magazine. According to the NY Post, he acted "sweet" and was curious about everyone on the crew, asking questions about their lives.
Ebony magazine is to hit newsstands on November 12, 2007.
On the Ebony web site you can also view the teaser for this special issue.
Source: MJFC / Access Hollywood
31.10.07
'The Wiz' Anniversary Edition
Celebrating the 30th anniversary of legendary movie 'The Wiz', Universal Studios Home Entertainment is planning to release a special DVD edition on February 5, 2008.
The original recording will be digitally remastered and will be presented in 1.85:1 anamorphic widescreen, along with an Dolby Digital 5.1 surround sound. Bonus material will be a 'Wiz On Down The Road' featurette, the theatrical trailer, and an 8-track bonus CD featuring songs by Michael Jackson and Diana Ross.
You can already pre-order this item at Amazon USA.
'The Wiz', originally released in 1978, is an African-American adaptation of the famous Broadway musical 'Wizard Of Oz' and features Michael Jackson as the scarecrow. It was nominated for 4 Oscars in 1979.
Source: MJFC / Amazon / DVDActive.com
13 Octobre 2001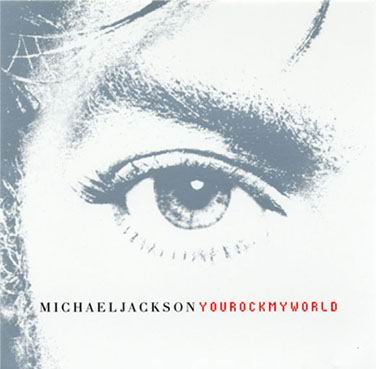 The single "You Rock My World" of Michael Jackson 6 Years!
10.10.07
From Michael Jackson To His Fans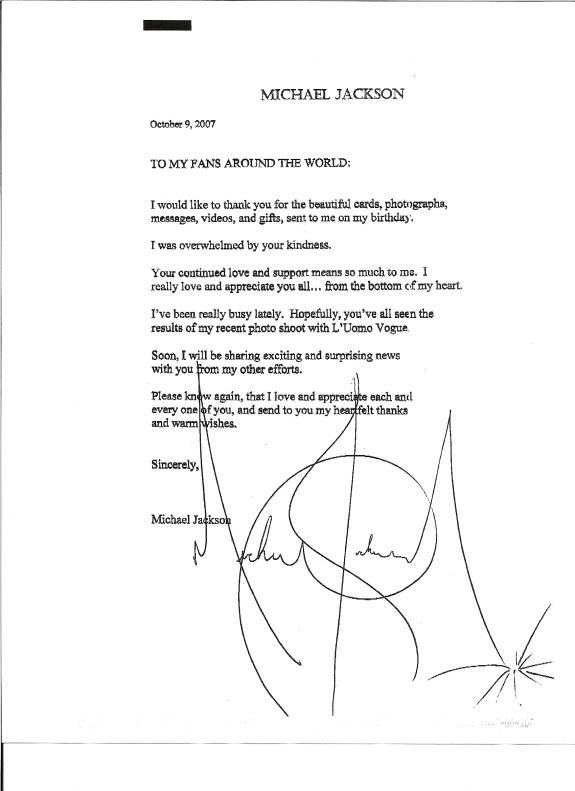 1.10.07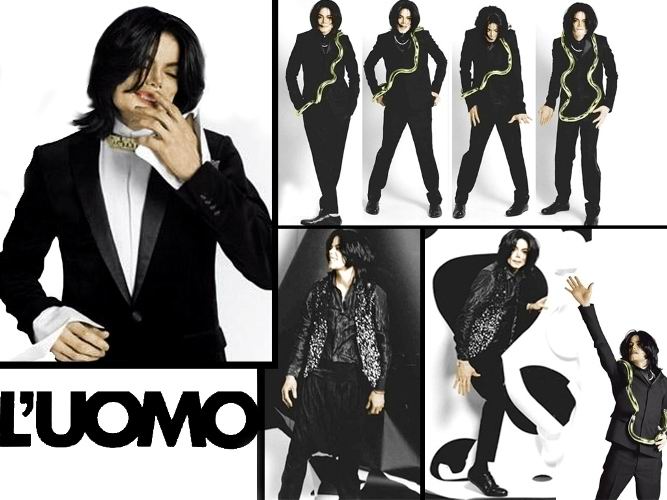 24.9.07
Marcel Marceau Passes Away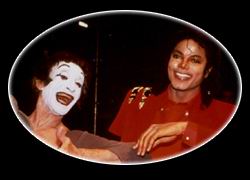 The famous French master of mime, Marcel Marceau, passed away in Paris at the age of 84. Former assistant Emmannuel Vacca told French radio that the performer died on Saturday, but gave no details.

Marceau was inspirational to performers and artists around the world, including Michael Jackson. It has been said that the moonwalk was based on a performance piece titled "Walking Against The Wind" by Marcel Marceau. Both performers found shared inspiration from silent film star Charlie Chaplin.

Offstage, he was famously chatty. "Never get a mime talking. He won't stop," he once said.

Marcel Marceau revived a form of art that had its beginnings in ancient Greece. His famous character, Bip, was developed in 1947. Bip was a direct descendant of a 19th century harlequin. Marceau said that his clownish gestures were partly inspired by Charlie Chaplin and Buster Keaton. He likened his character to a modern – day Don Quixote, "alone in a fragile world filled with injustice and beauty."

Marcel Marceau traveled around the world, performing in Asia, Europe and the United States. He called the United States his "second country," performing first in 1955 and returning every two years. In September 2005, he traveled to Cuba to perform there.

He took his art to stages across the world, performing in Asia, Europe and the United States, his "second country," where he first performed in 1955 and returned every two years. He performed for Lyndon Johnson, Gerald Ford, Jimmy Carter and Bill Clinton.

Tireless, Marceau took his art to Cuba for the first time in September 2005.

Marceau continued to perform as he aged and retained the nimble agility that made him famous. He received the Legion of Honor and countless honorary degrees and was invited to attend the United Nations as a goodwill ambassador for a 2002 conference on aging.

"If you stop at all when you are 70 or 80, you cannot go on," he told the AP in 2003. "You have to keep working."

In a statement, President Nicolas Sarkozy said that "France loses one of its most eminent ambassadors. Prime Minister Francois Fillon spoke of Marceau as being "the master" with the rare ability of "being able to communicate with each and everyone beyond the barriers of language."


Source: MJFC / AP
23.9.07
L'uomo Vogue Photoshoot
21.9.07
Michael On Cover Of Italian Vogue - Update
Michael was in New York (USA) last week (September 9-13, 2007) to be photographed for the cover of Italian Vogue magazine. According to the New York Post he stayed in a Midtown hotel and left only once, at 5 am, to take part in the 10-hour photo shoot.
The respective issue of the Italian Vogue is due out in October 2007.
Raymone K. Bain, official spokeperson, confirmed to the Italian Fan Club that the King of Pop himself posed for the October issue of Vogue Magazine (Italian edition). According to Miss Bain, Michael has only shot photos for the magazine. The Italian Fan Club will be able to provide all non-Italian fans with the magazine via http://www.jacksonland.co.uk
Source: MJFC / Raymone K. Bain / NY Post / The Italian Fan Club / Special thanks to Invyncible!
4.9.07 Teddy Riley Interview
On October 8th 2007, Teddy Riley will be inducted into the 4th Annual VH1 Hip Hop Honors. This legendary producer who helped define a pop culture throughout the 90's has given an exclusive interview to Lucy Diamonds talking life, music and god.
Here is what Teddy have to say about Michael:
Lucy Diamonds: There have been rumors going around the news that you and Will.i.am are both working on the new Michael Jackson album? Any truth to that?
Teddy Riley: Yes, it's true Michael and I are supposed to be working together. I don't know exactly which direction Michael is going in right now, but when the call comes in, I'm there.
Source: MJSTAR
29.7.07
Happy Birthday, Michael!!!
28.7.07
Will.i.am Interview
An interview of singer and producer Will.i.am by the German newspaper 'Süddeutsche Zeitung' has been published by the web site jetzt.de. In the interview, he also talks about meeting and working with Michael Jackson: SZ: So what's your opinion as a businessman: Will the new Michael-Jackson-album, which you take part in, be a success? Will it ever appear at all?
Will.i.am: I think it will appear. But to all the rest: no comment. The deal between Michael Jackson and me is pretty simple: Whenever he calls I get into the studio with him. There have been already some recordings and we will meet again in the studio in November. He is supercool. So is Prince.
SZ: So you've also worked with Prince? The guy just has offended the recordindustry again, in making his new CD just an extra gift in a daily newspaper.
Will.i.am: A visionary. I performed on stage with him. A few month ago I was with the Black Eyed peas in Las Vegas. Prince called me, while he was gambling in a Casino: " Hey, do you wanna perform with me today?" "Sure", I said, "of cuz!" The next day an assistant of Prince called and said: "Prince would like to know, if you'd like to perform with him again this evening." if I would like? What's cooler than to perform with Prince? Exactly: Two days in a row to perform with him! A few minutes later I got another call: "Hey this is Mike! What are you doing around?" Mike? Michael Jackson? Wow! He had changed the studio around that time from Ireland to Las Vegas. So I said: " Hey, I'm performing with Prince here this evening!" - "Prince? That's great!" - "You should be there!" - "Really? You think that would be cool?" - "That would be so damn cool!" - "Okay, then I'll be there also." You must imagine that: I'm performing with Prince and Michael will be there in the audience! Holy shit! How likely it is, that a person first gets a call from Prince and only minutes later Michael Jackson calls?
SZ: The likelihood should be around zero.
Will.i.am: Exactly. Okay so in the early evening I'm on my way to the concert and - stuck in the traffic! F ! % K, I think, there is no worse moment possible to stick in a traffic jam? So I'm jumping out of my car and start running. I make it in time in the last second into the club. Everything goes wonderful, after three minutes I'm going off stage, Prince shouts into his microphone: " Give it up for Will.i.am!" and I sneak through the hall and sit down at the table of - Michael Jackson. He really attended! "How did you like me?" I ask him. He answers: "I didn't know at all that you're rapping." What? The guy let me come to Ireland and he didn't know that I'm not only a producer but also a rapper! I said: "You're never hearing my music, never watching my videos? I'm the damn main rapper of the Black Eyed Peas!" Anyway. Aside from Michael Jackson is sitting the actor Chris Tucker und then Prince comes down from the stage right into our direction...
SZ: ... and see Michael Jackson at the table with you?
Will.i.am: Yo. He wears his bass with its belt and stops in front of our table. So there are sitting: Michael Jackson, Chris Tucker and me. Prince stands right in front of Michael and improvises on his bass: slap! He's not doing anything else, nothing else! Doesn't say a thing. He's just playing! What a scene. After Prince returned to the stage, Michael says to me: " Prince has played his bass right into my face! What the heck?" Well, I say: "You're incognito! Imagine Prince had said: 'Yay and you know Michael Jackson is sitting here.' Ppl were already crazy cuz of Prince but would have been completely out of mind if they'd have known you were here also." Well that was the craziest night of my life!
SZ: And if you tell the story, nobody believes you.
Will.i.am: I wouldn't believe it myself! But what can I say: It's true. Every word. The next morning I had breakfast with Michael Jackson, we worked a bit on some songs - and that was the last time I've seen him.
The complete interview in German can be read
here
.
Source: MJFC / jetzt.de, SZ & JAM-FC; Translation by MJFC JAM (ww.mjfc-jam.com)
28.6.07
Press Release On Recent Rumours
STORIES DISSEMINATED IN THE MEDIA REGARDING MICHAEL JACKSON NOT TRUE
Washington, D.C. …. There have been several news reports regarding Mr. Michael Jackson that are untrue, defamatory and malicious in nature.
Mr. Jackson is not bedridden nor on any type of medication…including painkillers. In fact, Mr. Jackson is doing very well, and conducted a meeting with his advisors yesterday, which included Former Attorney General Benjamin R. Civiletti, and Rev. Jesse L. Jackson, Sr., among others.
There was no press release issued from Mr. Jackson's organization regarding any European tour plans. Despite reports to the contrary, Mr. Jackson is currently in the studio putting finishing touches on his music.
Mr. Jackson has not "left" Las Vegas nor is he being "evicted" from his residence in Las Vegas. He decided not to exercise the option to purchase the house. Period.
Mr. Jackson does not believe that his brother, Randy Jackson, has stolen monies from him, nor does he believe that Randy, or any of his family members, would ever steal from him. Reports regarding the same were untrue and malicious.
Contrary to published reports, Mr. Jackson is neither losing, nor is he selling his share of the ATV/Sony partnership. Reports regarding the same are ludicrous, without merit, and are being written without sufficient personal financial information to make such an unwarranted pronouncement.
Mr. Jackson is concerned that his assistant, Grace Rwaramba, is constantly being attacked by Fox News' Roger Friedman. There have been vicious and untrue reports concerning Ms. Rwaramba, who lives a very private life and has done nothing wrong, but is being attacked for her professional relationship and proximity to Mr. Jackson.
While in his entire career, Mr. Jackson has never uttered a disparaging word to any reporter, nor has he ever used or instructed his security to use any force toward any reporter, there are those whose vehement hatred for Mr. Jackson has reached a level where all journalistic integrity has been lost, in order to write reports for which there is no substantiation, are untrue, written to create a frenzy, or used to try and destroy Mr. Jackson's image. They know who they are; and, this is a sad commentary…a commentary which Mr. Jackson's attorneys will address.
Source: MJFC / Raymone K. Bain
3.6.07
Jackson Spokesperson Denies Prince Story
Michael Jackson's spokesperson has denied a recent story recently published by a UK newspaper:

"The article is completely false. These respective publications remain consistent in that reporters did not contact us regarding the validity of the story before writing it," Bain says. "Mr. Jackson has not approached Prince to perform with him on a 'planned comeback tour.' There have been no discussions with Prince. Period. We have been consistent in stating that Mr. Jackson is readying his music for release, which is his main priority at this time"
28.5.07
Jackson Bails Birthday Party Early
Michael Jackson had to cut short his visit on the second day of HRH Prince Azim of Brunei's 25th birthday bash on Saturday night.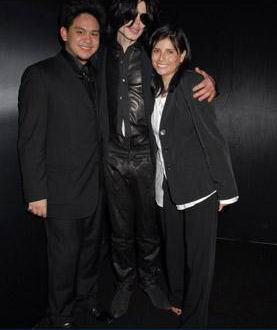 25.5.07
King Of Pop Arrives In England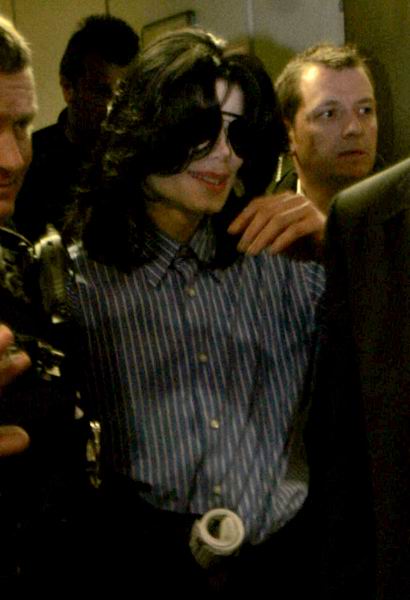 Michael Jackson has made a surprise visit to Britain.

The singer flew in from Los Angeles and swept through Heathrow Airport with a police escort.

Dressed in a smart, blue-and-white pin-striped shirt with dark sunglasses, the former King of Pop waved to fans before being whisked away by minders.

There was no sign of his children Prince, 10, Paris, nine, and five-year-old "Blanket".

It is believed Jackson, 48, will be meeting record company executives in London and hooking up with old friend David Gest.
Source : AP
30.3.07
Official Press Release
For Immediate Release Contact: Raymone K. Bain


RUMOR REGARDING HOSPITALIZATION OF MICHAEL JACKSON
NOT TRUE

Washington, D.C. …….

In response to media inquiries, Mr. Michael Jackson

is not currently in the hospital nor has he been hospitalized with pneumonia.

Thank you for your inquiries and your concern

Contact: Raymone K. Bain
27.3.07
Is A Vegas Show In The Cards?
Unconfirmed reports suggest that a fifty-foot robotic replica of the King of Pop may be built in the desert sands of Las Vegas should he decide to launch a regular show in that city, according to a US report in the New York Daily News.

The statue, that reminds fans of the HIStory statue that was placed prominently on a hillside in the city of Prague at the start of that fabulous tour, will be visible by incoming flights. It will be capable of "stalking the desert shooting laser beams" according the firm that is behind the design. A definite upgrade from the impressive but static HIStory likeness.

Andre van Pier designed the robot and sketched out a stage set that features a giant audience – interactive video game with human cyborgs that are controlled by the audience. His partner at Luckman Van Pier, Mike Luckman, said, "Michael's looked at the sketches and likes them." "Laser beams would shoot out of (the robot) so it would be the first thing people flying in would see. Neon is wonderful, but it's old school."

Raymone Bain confirmed last month that Michael was "reviewing and evaluating" several proposals for his future, that included offers to perform in Las Vegas.

The Daily News also reported that, according to one unidentified source, Sir Paul McCartney was considering investing in the potential long – term show. A spokesman for Sir Paul told the newspaper: "I don't comment on the business of his business

Michael is currently living in Vegas. Ms. Bain told the Daily News: "He hasn't made up his mind about whether a Vegas show is in the cards for him.

"He's been in the studio since November working on his music. He's been presented with various proposals. A Vegas show isn't a priority."

Source: MJFC / www.metro.co.uk
15.3.07
Michael Jackson Arrives In The UK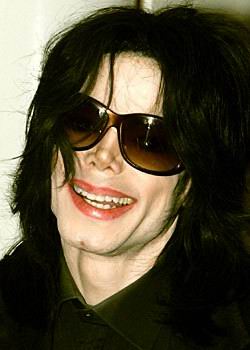 The latest image of Michael Jackson arriving in the UK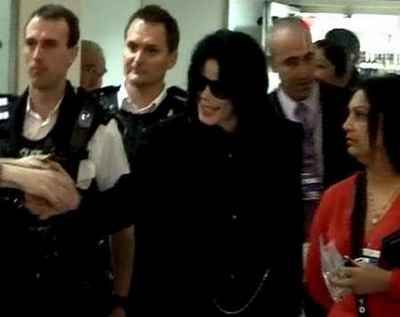 10.3.07
New Image Online at Camp Zama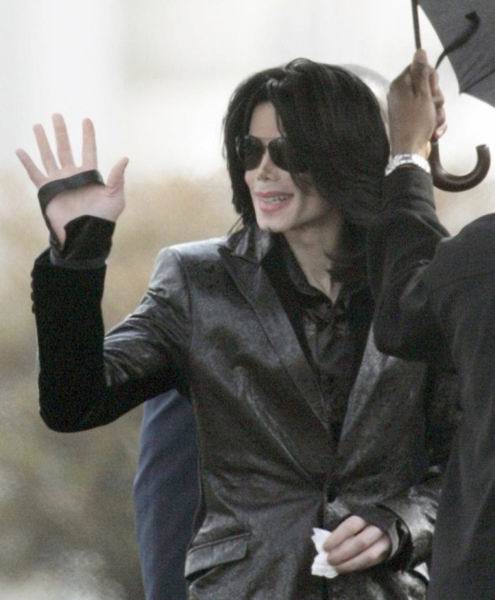 Michael Greets Troops, Families
Michael Jackson greeted thousands of U.S. troops and their families at an Army base south of Tokyo on Saturday. About three thousand troops and family members gathered together at a fitness center at Camp Zama.
Michael shook hands and spoke to individuals, thanking them for their service.

"Those of you in here today are some of the most special people in the world," Jackson told the crowd, reading from a statement. "It is because of you in here today, and others who so valiantly have given their lives to protect us, that we enjoy our freedom."

Michael has been in Tokyo attending fan appreciation events, featuring an extravagant party held on Thursday that included 100 handicapped and orphaned children who were invited to attend for free.

On Friday, he made an appearance at another party for his less affluent fans. More than 1,000 people crowded a popular night club.

Source: MJFC / Associated Press
10.3.07
Fan Appreciation Day
New Images Online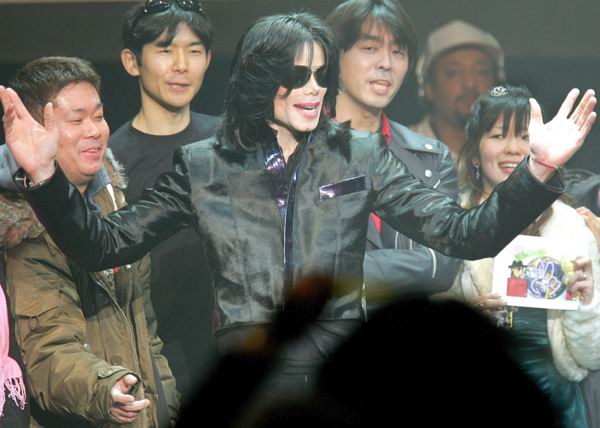 Video here!
We have updated the Image with nine new photographs taken from Michael Jackson's .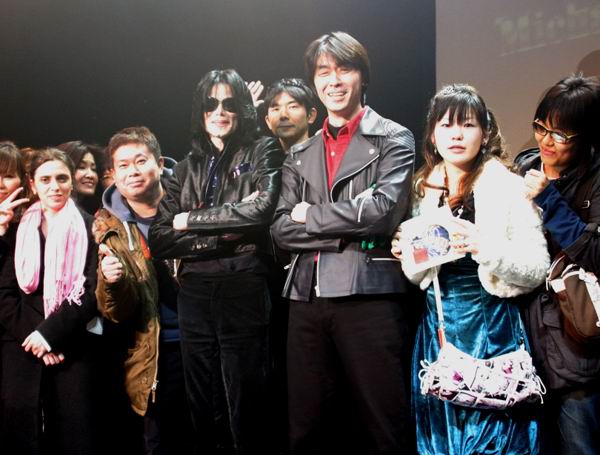 9.3.07
Michael Attends Fan Event In Tokyo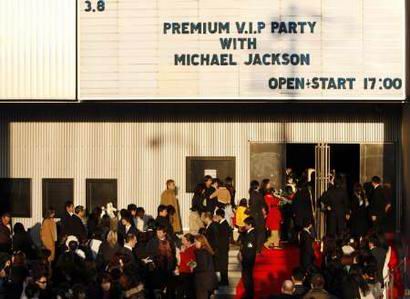 Michael Jackson was doing defiantly in his element as the guest of honor at the fan appreciation event in Tokyo. The party hosted about 400 people for a buffet dinner, a show featuring several MJ tribute performers and the opportunity to have your photo taken with Michael. More than 100 orphans and handicapped children were invited to attend for free.
Michael did not perform, but took to the stage toward the end of the six hour program. Dressed in a black and gold Roberto Cavalli suit and wearing sunglasses, Michael addressed the crowd with a prepared speech.
In his comments to the Associated Press, Michael reflected on his career. "I've been in the entertainment industry since I was six years old. As Charles Dickens says, 'It's been the best of the times, the worst of times.' But I would not change my career."
Michael seemed relaxed and comfortable and happy to be back with his fans. He said that he was not bitter over the past few years that have been fraught with difficulties.
"While some have made deliberate attempts to hurt me, I take it in stride because I have a loving family, a strong faith and wonderful friends and fans who have, and continue, to support me," he said.
The fans have been out in full force since Michael's arrival in Tokyo on Sunday.
A mob met Michael at the airport and tickets to the scheduled events sold briskly. Michael was also scheduled to tour a U.S. Army base south of Tokyo on Saturday.
Source: MJFC / washingtonpost.com
5.3.07
Michael Arrives In Japan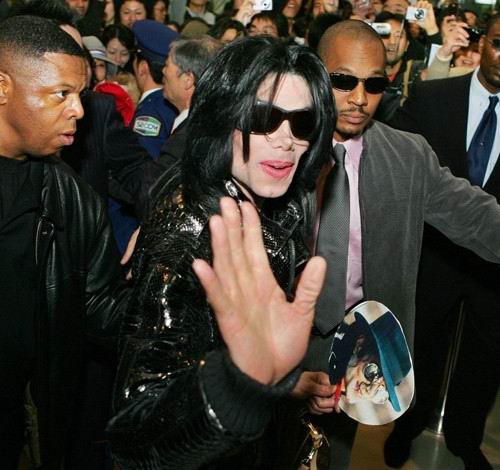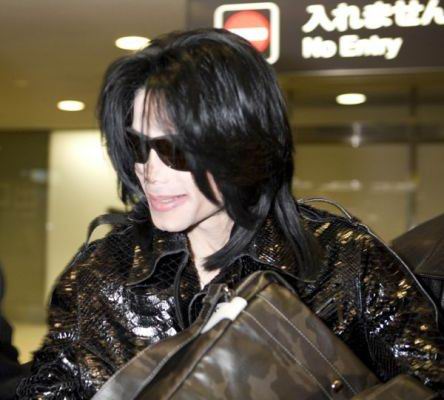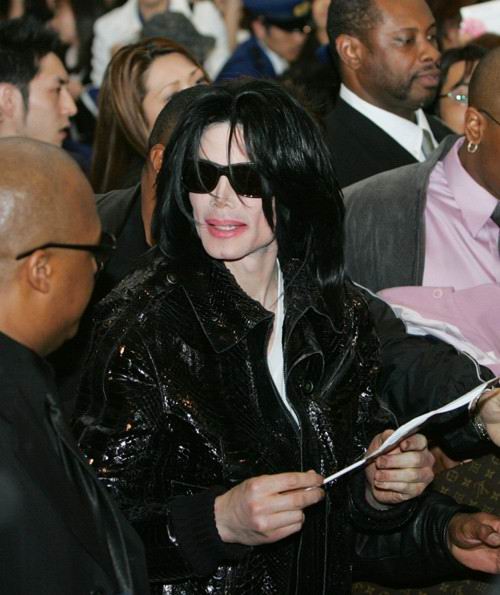 Smiling and waving to hundreds of fans, Michael Jackson arrived at Narita Airport in Japan Sunday afternoon (local time).
Michael looked relaxed, wearing sun glasses and a black leather jacket. He was ushered by guards past hundreds of screaming Japanese fans, some carrying signs that read "We love Michael" and "Welcome to Japan."
While in Tokyo, Michael will host an exclusive fan party and also a fan art contest for those who cannot afford VIP tickets, organizer Broderick Morris said in an e-mail. "Over the years, as Michael Jackson has performed in cities around the world, he has been pleased, honored, and impressed by the large amount of fan art of him. He would like to meet fan artists, and more fully appreciate and enjoy their creative expressions." Three winning artists chosen by Michaeln will have brunch with him and their picture taken together.
Michael Jackson's VIP meet-and-greet party is scheduled for Thursday, with the fan art contest on Friday. Currently, there is no official information available when he will leave Japan again.
Source: MJFC / AP
1.3.07
Press Release - Adressing Rumours
MICHAEL JACKSON SETS THE RECORD STRAIGHT REGARDING RECENT RUMORS
Washington, D.C. ….. Several unsubstantiated rumors have been reported in the media regarding Mr. Michael Jackson, all of which are erroneous and untrue.
- Mr. Jackson is not planning a concert tour with members of his family.
- Mr. Jackson has been presented numerous proposals…proposals which he has not solicited, but were presented to him, several of which include performing in Las Vegas. Mr. Jackson is currently reviewing and evaluating each proposal. He does not believe that he is under any time constraint for making his decisions. Therefore, reports that he has "been unsuccessful in finding a Las Vegas casino for his show, resulting in his having to turn to his family" are false.
- Mr. Jackson did not move to Las Vegas to shop a Vegas show. Mr. Jackson is in Las Vegas because he likes the city, and found it a convenient location to record with the artists, songwriters and producers who are working with him in the studio.
- Mr. Jackson has no current plans to appear or perform on "American Idol."
- Mr. Jackson did not either solicit, ask to be given, or attempt to buy tickets to the recent NBA All-Star Game, as has been widely reported. Mr. Jackson was invited by several owners of NBA teams, as well as players, to attend the game as their guest. However, Mr. Jackson declined these kind invitations. Widely spread reports that Mr. Jackson sought tickets, and was denied his request, are completely false.
- Mr. Jackson never leased property from Michael Flatly in Ireland. Therefore, reports stating that he was "evicted" from property owned by Flatly are erroneous and defamatory.
- Mr. Jackson has not recently released or recorded a single with Pras.
Source: MJFC / Raymone K. Bain
22.2.07
Brand New Music From Michael Jackson

BREAKING NEWS: MC/DJ, Producer and Engineer Tempamental has recorded a remix of "No Friend of Mine", and this time around, enlisted the help of Pras and Michael Jackson.

The King of Pop's vocals are a major feature on the new track, and you can listen to it now by visiting Tempamental's MySpace page.

Little more is known at this stage what plans have been developed for the song. Rumour has it that it may feature on Pras' next album, but this is still unconfirmed.

The feedback from visitors to Tempamental's MySpace page is tremendous - and 100% positive. That's no surprise - this is an amazing track, and Michael's voice is smooth, powerful and guaranteed to give you goose-bumps!

We'll let you know more as we get it - in the meantime, get over there now and turn up your speakers!

Tempamental MySpace Page
Source:MJNI/mySpace
10.2.07
Michael Collaborates with Will.i.am
Michael has been collaborating with Will.i.am on his eleventh solo album. Says Will.i.am, "I hope it will sound like 'Off the Wall,' but for today." Michael and Will.i.am have eight song "sketches," and they've already "tracked" one song entitled "I'm Dreamin'." Will.i.am says that Michael told him, "Let's do something unprecedented!" Michael and Will.i.am will soon convene in Ireland for a month. Among their works-in-progress are up-tempo, dance-floor-ready tunes and a ballad that Will.i.am co-wrote with John Legend. Will.i.am said that Michael told him that he'd like the album to have, "Great melodies." Will.i.am also said about Michael, "...As far as his vocal abilities are concerned, he's still killing everybody."
Source: MJFC / Rolling Stone
5.2.07
Please Respect Privacy Of Michael's Children
MJFC is kindly but also urgently asking all fan clubs, fans, and also the general media to NOT publish and/or spread recent photos of Michael's three children made during a private trip in Las Vegas. Michael feels that the publication of these unauthorized photos is a violation of the children's privacy.
Source: MJFC / Raymone K. Bain
14.1.07
Will.I.Am: Will He Won't He?

Friday ,12th January 2007
William James Adams Jr, better known as Will.I.Am, one quarter of the Black Eyed Peas and a certified premiership producer, has worked with artists ranging from Sergio Mendes and Sting to Justin Timberlake and Busta Rhymes. But with musical surgery to undergo with Michael Jackson, will the cool façade last? Chantelle Fiddy finds out.

Where are you right now?
I'm in Brazil, it's one more show here, then we're off to Argentina. I'm just going online in my hotel.
Everyone has to catch up on emails and MySpace, right?
Yeah, I got a lot of catching up to do. I check the comments on the MySpace and I look on YouTube after every concert to see who posts up phone clips first.
Do you give a prize?
No, they get arrested (Laughs).
The main talking point right now has gotta be you working with Michael Jackson?
Yeah, I'm going back to him in December. He called me up and I thought someone was joking around. I hear (he puts on high MJ voice) 'Hello it's Michael' and I was like 'Yeah right, stop playing!' Then he said 'I want to congratulate you on all your success, you're doing a powerful thing for the world with your music and staying true to what you believe in. I've been following you for a long time... do you mind if I call you in a couple of days at 4pm?' Then he started ringing me everyday at 4pm. We were on tour with The Pussycat Dolls at the time, so I started working on music for him on the bus.
Did you approach working with Michael differently compared to other artists?
Well, it was more like, how would I like Michael to sound now, what would I want him to do? When I finally sat down with him, I was nervous. I couldn't be the way I would be like when I'm with Justin or Nas. I've idolised Michael my whole life. I had to be honest with him. I told him it was hard and he asked why, so I explained I didn't grow up listening to Justin's music, so it's easy to work with him. We're equals and when you're in the studio with someone you have to be equal, never above or below. When I worked with Nas I wasn't like 'Ok, here's the greatest lyricist.' You have to put yourself on the same place and make sure you compliment or better the stuff you love. I had to really get over it with Michael.
How was it on a personal level? Did you like him?
On a personal level, it was cool. I spent the whole first day asking him questions like 'What was it like when you first did the moonwalk, how did it feel?' It turned into a freakin' interview; everything we're doing today is like branches from his tree. The seed came from Michael Jackson and James Brown. Michael told me for him, his influence was James Brown all the way. I was like 'Damn, I worked with James Brown!' 'He said 'You worked with James Brown, I always wanted to work with James Brown...' I said, 'Ok let's do it...' So those were the kind of things that gave me confidence to move forward.
You do a great impression of him by the way...
I can do James Brown too (Laughs).
Is there a lot of pressure on you now to deliver a big album?
We talked about what we wanted to accomplish, because how are you gonna compete with Thriller? I said, 'Michael, when you wake up in the morning how do you compete with yourself? I know how to compete with the market place but when you influence the marketplace in every way possible, from fan clubs to sponsorships to videos...' He was like 'Oh God bless you', but I said 'No seriously, I'm not trying to compliment you Michael, I need to know this for when we get in the studio cos the music has to represent that...' Me and him had this deep conversation and started talking about the experience today; ringtones, the computer, iTunes, movies, YouTube, MySpace...
Does he know about all that stuff?
Yes, but this arena still needs to be defined. People are using it, but they haven't defined what to do with this platform yet. We need to think about how music's going to be experienced. Think about all the great songs that come out every week - their life span is like a week. You probably aren't playing stuff from eight weeks ago but people are still playing Billie Jean and Beat It.
Things have changed a lot since you were with Eazy-E on Ruthless Records. When was the last time you saw him before he passed away?
It was about two weeks, early March. I spoke to Eazy when he was in hospital and he was like 'See you soon.' For the last three years him and Jerry Heller would take me to this place called Monty's for my birthday party. March 15, we went to Monty's and Jerry told me it wasn't looking good. It was a shock; he'd been coughing a lot and had only gone to hospital for bronchitis.
When you came out with Where Is The Love, the hip hop community weren't that complimentary. Does criticism bother you?
You can't be like 'I'm going to jump off this building', cause that's suicide. But if you say 'I'm gonna jump off this building and make sure the rope's tied', to someone who doesn't know about bungee jumping, they're gonna think that person's crazy. But when that person jumps and springs back up, then trends happen. With BEP, everything we've done is thought out. Some fans were like 'That's suicide, you're putting a white girl in your group, that's not hip hop.' What are you talking about? What is hip hop to you? People that make those comments, I don't think their knowledge of hip hop goes that far.
Have you ever made a record, gone back to it and wished you'd done something differently?
Yeah! A song called Request Line we did with Macy Gray. I don't like the song we did with Wyclef either, Rap Song and I don't like Hips Don't Lie that much.
Having accomplished so much, when was the last time you felt proud?
When I'm onstage. It's been a long journey to get here, Eazy passing away, being homeless... but we stuck to our dreams and the community who gave us a hard time for what we did, are coming to you to produce their records. Journalists fed us to the wolves, wrote us off, and those artists, those journalists are now applauding us. I'm proud of sticking to my guns.

Source : RWD Mag
8.1.07
Michael Jackson Dines With Choreographer
Michael was seen dining with Emmy award winning director and choreographer Kenny Ortega who choreographed the HIStory tour. The two were seen having dinner in a private room at Wynn Las Vegas.

Although this article states that Michael has not communicated with his mother and father since Michael moved to Bahrain in May of 2005, Angel Howansky the Family Publicist and Spokesperson has called "Norm" with a correction to the article namely:

"That the parents have spoken to MJ since the trial and they even visited him after the trial."

Both Michael and Ortega have been associated with Steve Wynn. Michael was often a guest of Wynn's at The Mirage and there was talk that Wynn was bringing Michael back to Las Vegas.

Ortega's credits include work with Madonna, the Pointer Sisters,Cher, Gloria Estefan, Kiss and Diana Ross.
Source: MJFC / reviewjournal.com, Angel Howansky